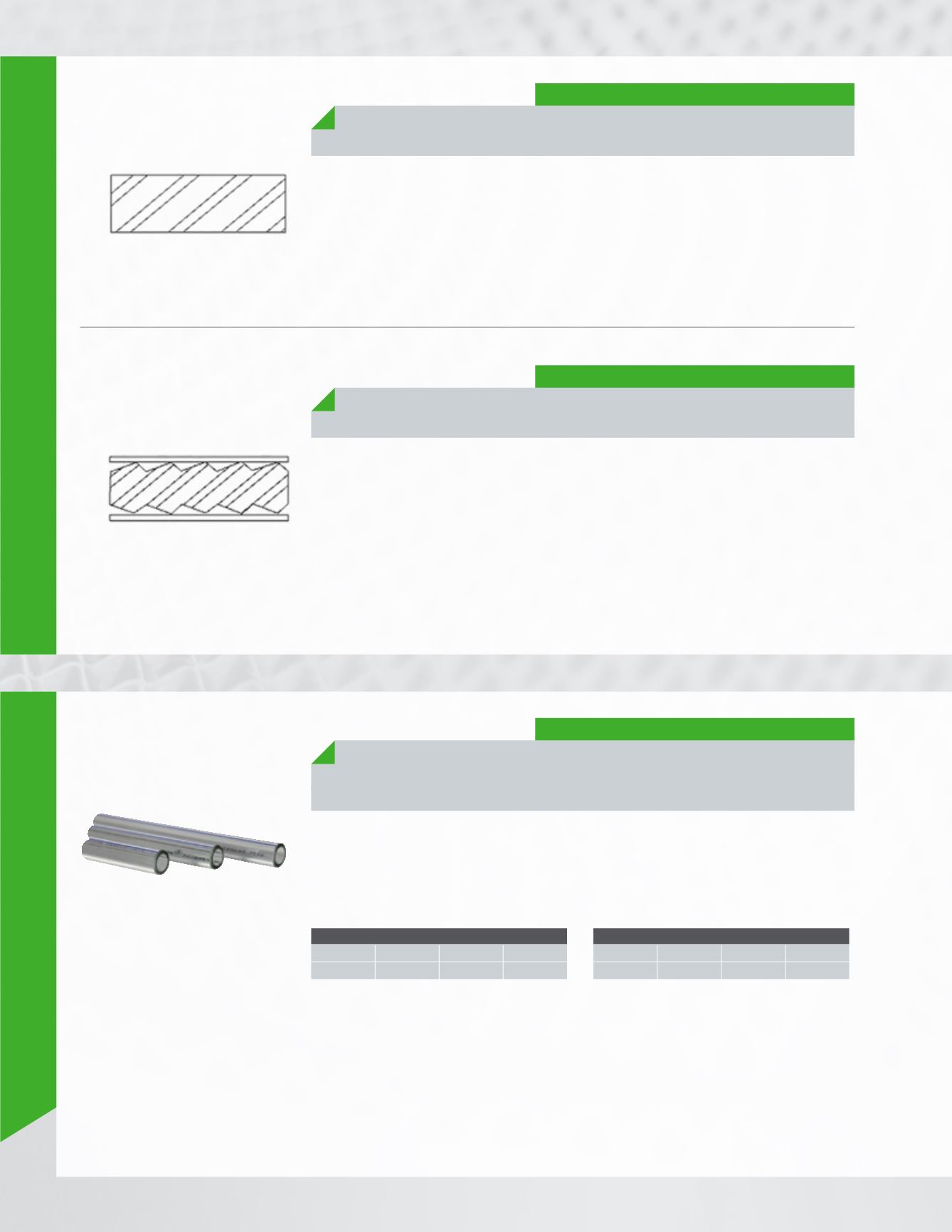 Le style 940 est un joint d'étanchéité métallique possédant
une surface lisse et étanche. ll est utilisé dans les valves,
les échangeurs de chaleur, les presses hydrauliques et les
brides. Le style 940 peut être fabriqué dans plusieurs dif-
férentes formes, mais la largeur de la surface d'étanchéité
du joint doit être minimalement égale à 1,5 fois son
The style 940 is a metallic gasket that has a smooth
sealing surface and can be manufactured practically
in any shape. Typical applications are in valves, heat
exchangers, hydraulic presses and tongue and groove
flanges. The width of the gasket sealing surface should
be at least equal to 1.5 times its thickness.
Le joint d'étanchéité camprofile combine la résistance
à la pression d'un joint d'étanchéité en métal plat
et les excellentes propriétés scellantes du graphite
flexible ou du PTFE dilaté. Il peut être utilisé pour des
pressions de 3700 lbs/po² (250 bar), à des tempéra-
tures maximales de 600 °C. Le graphite flexible mince
ou le PTFE expansé épouse les formes inégales des
brides et empêche le métal d'endommager les brides.
The Camprofile gasket style 942, combines the
pressure resistance of flat metal gaskets with the
excellent sealability of the flexible graphite or the
expanded PTFE tape. It can be used up to 3700 psi
(250 bar) operating pressure and up to 1100 °F
maximum temperatures. The flexible graphite or
expanded PTFE fill the flange irregularities and
prevents the serrated finish from damaging the
flanges.
TUBE DE VERRE/GAUGE GLASS
TUBE DE VERRE INDICATEUR STANDARD/ 
Tube de verre indicateur de niveau le plus économique
utilisé dans les bouilloires à basse pression, les réservoirs
à circuits fermés et les équipements hydrauliques et de
restauration. Il est utile dans les endroits où la colonne
d'eau est bien visible. Longueurs disponibles : 12" à 72".
DIMENSIONS
It is the most economical tubular gauge glass used
for low pressure boilers, closed tanks, hydraulic
equipment and restaurant equipment. It is practical
where the water level is easy to see. Available lengths:
12" to 72".
DIMENSIONS
TUBE DE VERRE/ GAUGE GLASS