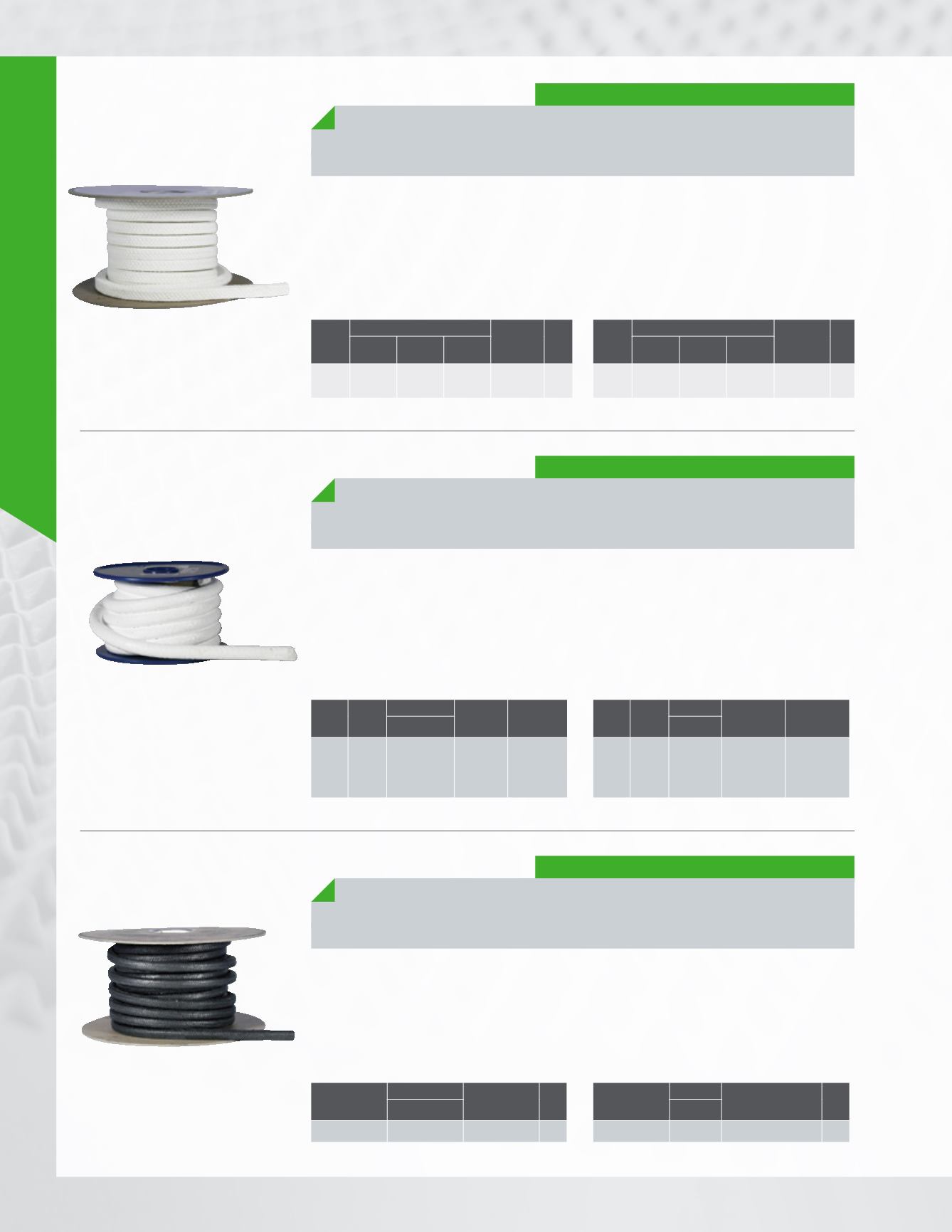 GARNITURES EN TRESSE/ BRAIDED PACKING
RAMIE IMPRÉGNÉ PTFE/RAMIE YARN,
Tresse de lin imprégnée de PTFE, de dureté moyenne,
utilisée pour les applications marines (eau froide, eau
salée et huile froide). Elle possède un lubrifiant de
rodage pour minimiser les dommages sur l'arbre lors
du démarrage. Résistant à la moisissure, le 3R755
peut être utilisé dans les pompes des usines de pâtes
et papiers et lors du traitement des eaux usées.
TEMP.
MAXIMUM
PRESSION
VITESSE
DE L'ARBRE
PH
ROTATIF ALTERNATIF
TIGE DE
SOUPAPE
Medium hard-packing manufactured from ramie
yarns with PTFE suspensoid used in the marine
applications (cold water, salt water and cold
oils). It possesses a break-in lubricant to mini-
mize shaft wear during the start-up. It is mildew
resistant and can be used in the pumps of the
pulp and paper and water/wastewater industries.
MAXIMUM
TEMP.
PRESSURE
SHAFT SPEED PH
ROTATING
RECIPRO­
CATING
STATIC
PTFE « VALVE STEM »/EXPANDED PTFE VALVE
Garniture fabriquée de filaments de PTFE 100 % pur
dilaté dans un procédé de tressage multicouche sur
un cœur de PTFE. Elle s'ajuste facilement sur les
valves afin d'assurer une étanchéité complète, et est
recommandée pour les applications alimentaires,
pharmaceutiques et pour toutes autres applications
où la contamination doit être évitée.
TEMP.
MINIMUM
TEMP.
MAXIMUM
PRESSION
VITESSE
DE L'ARBRE
PH
TIGE DE SOUPAPE
-268 ºC 315 ºC 1450 lbs/po
This PTFE braided packing is recommended for
the food processing and pharmaceutical industry
and other applications where contamination can
not be tolerated. Made of 100% expanded pure
PTFE filament with a multi-layer core construction
with a round cross section, it conforms easily to
valve stems and provides a complete sealing.
MINIMUM
TEMP.
MAXIMUM
TEMP.
PRESSURE
SHAFT SPEED
PH
STATIC
CARBONE - GRAPHITE/CARBON - GRAPHITE
GARNITURE POUR TIGE ET SOUPAPE/
Garniture ferme fabriquée de fibres renforcies d'inconel
tressé sur un cœur mou. Le 3R771 est traité avec un
composé haute température et est recouvert de fines
particules de graphite qui rendent sa surface lubrifiante.
Il possède aussi une solution qui contribue à éliminer
TEMPÉRATURE
MAXIMUM
PRESSION
VITESSE DE L'ARBRE PH
TIGE DE SOUPAPE
2500 pi./mi. (13 m/s) 2-12
Firm braided packing made from special high
temperature inconel reinforced fiber braid-over-braid
on a soft core and coated with fines particles
of graphite to act as a surface lubricant. It also
possesses a solution to eliminate electrolytic action.
MAXIMUM
TEMPERATURE
PRESSURE
SHAFT SPEED
PH
STATIC
2500 feet/minute (13 m/s) 2-12