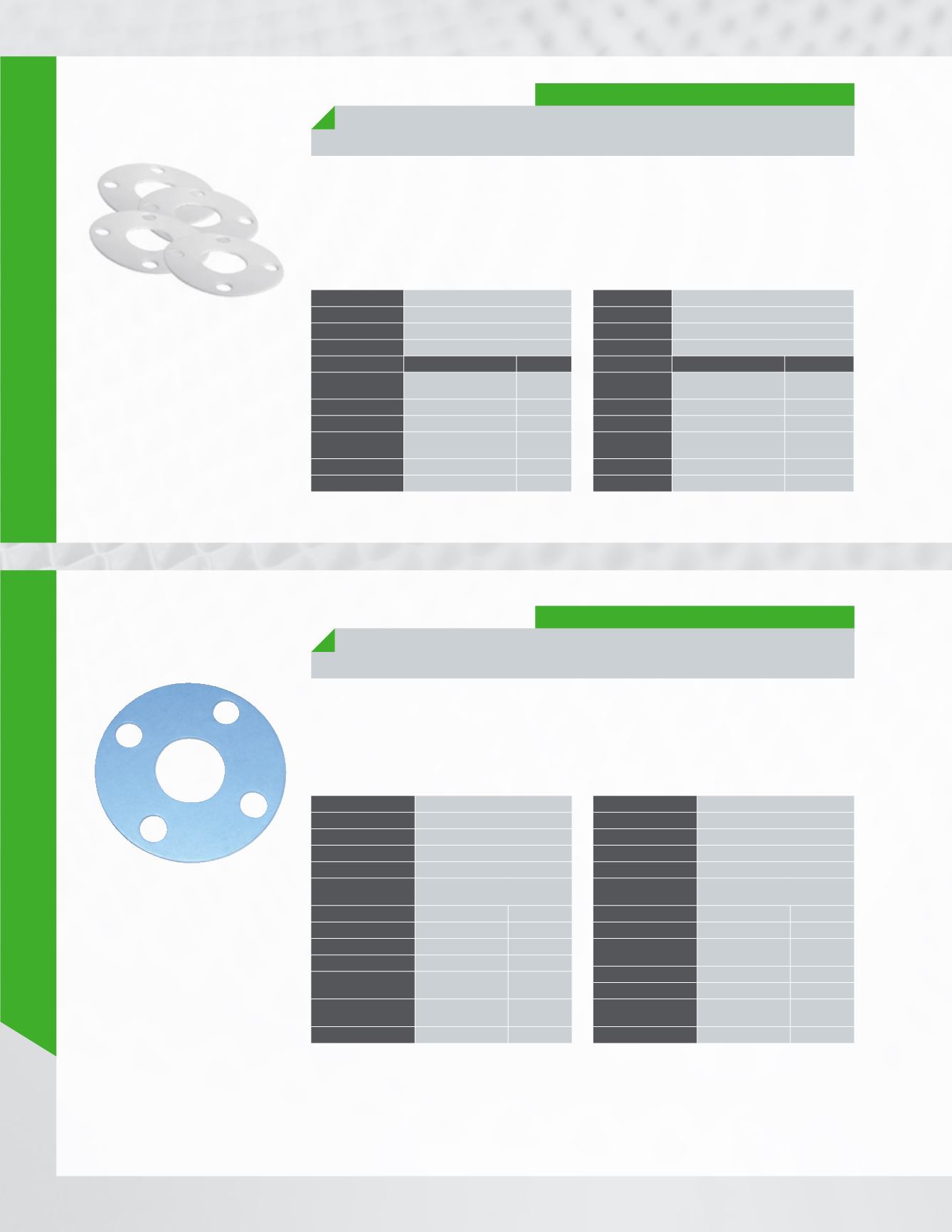 FEUILLE DE PTFE/PTFE SHEET
FEUILLE DE PTFE GRADE VIERGE/VIRGIN PTFE SHEET
Le PTFE (polytétrafluoréthylène) grade vierge est
particulièrement recommandé pour les applications
dans le domaine de l'alimentation, où la pureté du
matériel est nécessaire. Il constitue un excellent choix
pour les applications qui doivent éviter la contamina-
tion et la décoloration de la substance en circulation.
COULEUR
TEMPÉRATURE
ÉPAISSEURS DISPONIBLES
1/64", 1/32", 1/16", 3/32", 1/8", 3/16", 1/4"
GRANDEURS DISPONIBLES
48"X48", 60"X60", 48"X60" en rouleau
NORMES ASTM
PROPRIÉTÉS
VALEUR
D638-61T
Résistance à la tension à 23 °C 2000 -
D570-59AT
D150-59T
D257-61
D792-60T
The virgin PTFE (polytetrafluoroethylene) sheet is
particularly good for applications in the food and
beverage industry where high purity materials are
required. It is also used where contamination or
discoloration of flow media cannot be tolerated.
COLOR
TEMPERATURE
AVAILABLE THICKNESS
1/64", 1/32", 1/16", 3/32", 1/8", 3/16", 1/4"
AVAILABLE SIZES
48"X48", 60"X60", 48"X60" in rolls
ASTM TEST
PROPERTIES
VALUE
D638-61T
Tensile strength at 73 °F
D570-59AT
D150-59T
D257-61
Dielectric strength in air
D792-60T
Fabriquée de résine de PTFE vierge et de minuscules
particules de fibre de verre, cette feuille est reconnue pour
sa grande résistance aux produits chimiques hautement
agressifs, tels que hydrocarbones, acides, caustiques,
solvants, peroxyde d'hydrogène et réfrigérants.
COULEUR
PH
PRESSION MAXIMUM
TEMPÉRATURE
DISPONIBILITÉ
Feuilles de 62"X62" en 1/16" et 1/8" épais
P X T MAX. = (BAR X °C)
12 000 basé sur feuille de 1,5 mm d'épais
8 600 basé sur une feuille de 3,0 mm d'épais
COMPRESSIBILITÉ (%)
RECOUVREMENT (%)
RÉSISTANCE À LA TENSION (MPA)
DENSITÉ (G/CM³)
DÉFORMATION SOUS CHARGE
CONSTANTE (%)
SCELLEMENT
(ML/H @ .7 BAR)
SCELLEMENT (CM³/MIN)
® Tealon est une marque déposée de E.I. DuPont Nemours & Company utilisée
sous la licence de Teadit.
* Autorisé par l'industrie alimentaire
Made from virgin PTFE resin filled with hollow glass
micro spheres, this sheet is suitable for a wide variety
of aggressive fluids, including hydrocarbons, acids,
caustics, solvents, hydrogen-peroxide and refrigerants.
COLOR
PH
MAXIMUM PRESSURE
TEMPERATURE
AVAILABILITY
Sheets of 62"X62" in 1/16" and 1/8" thick
P X T MAX. = (BAR X °C)
12,000 based on 1.5 mm sheet thickness
8,600 based on 3.0 mm sheet thickness
COMPRESSIBILITY RANGE (%)
RECOVERY (%)
TENSILE STRENGTH
(MPA)
SPECIFIC GRAVITY (G/CM³)
CREEP RELAXATION (%)
SEALABILITY
(ML/H @ .7 BAR)
SEALABILITY (CM³/MIN)
® Tealon is a trademark of E.I.DuPont Nemours & Company used under Teadit licence
PRODUITS PTFE/PTFE PRODUCTS