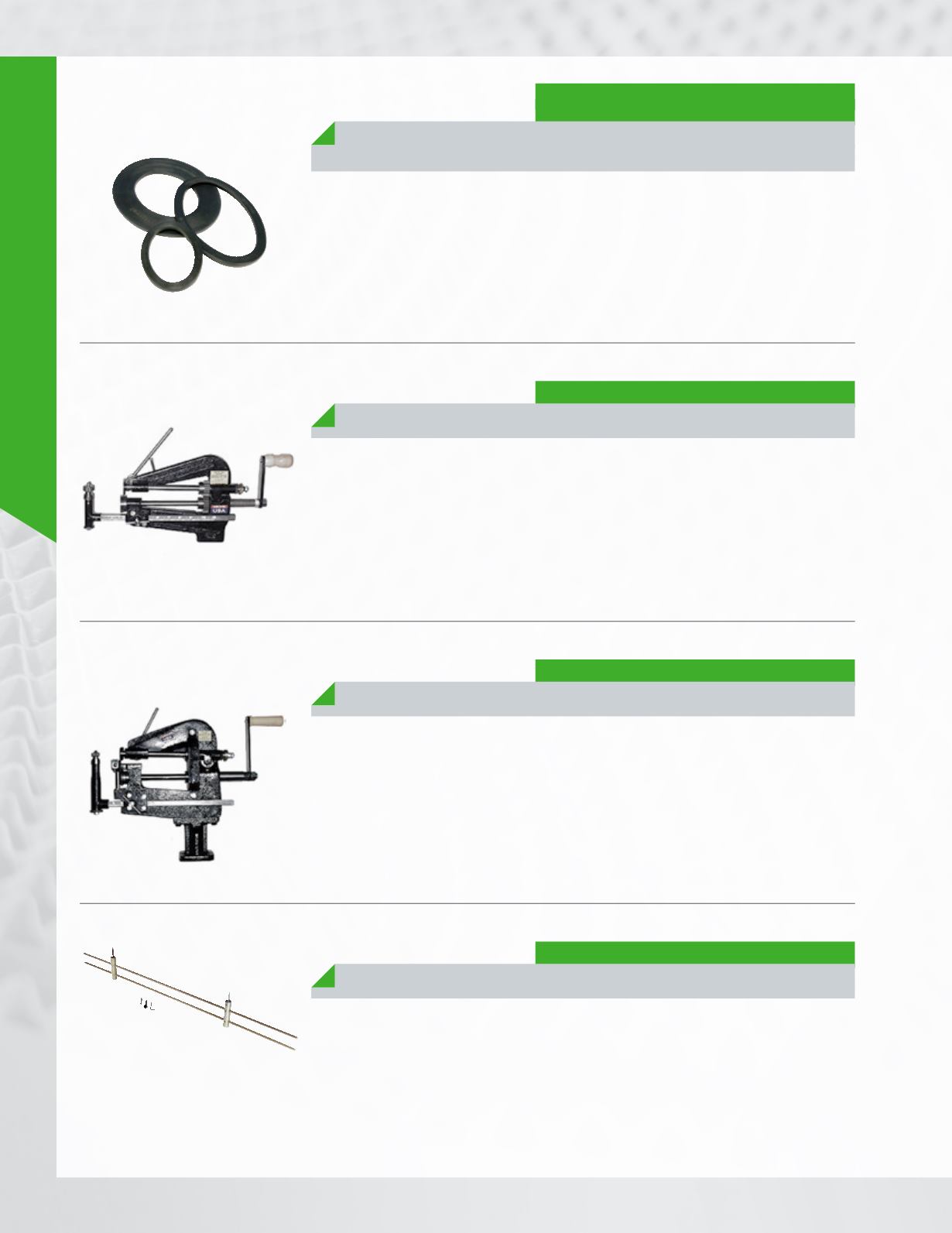 GARNITURES DE BOUILLOIRE/ 
Les Topog-E sont fabriqués à partir d'un mélange spécial
de caoutchouc moulé en formes spécifiques et selon les
dimensions des trous d'homme et des trous de main des
bouilloires, des chauffe-eau ou des réservoirs d'air. Ils
sont disponibles en formes ovale, elliptique, diamant,
poire ou ronde, et résistent à une pression de 180 lbs
et à une température de 193 °C.
The Topog-E gaskets are made from specially formulated
rubber molded to exact shape and size of the manhole
or handhole of boilers, water heaters or air tanks. The
are available in oval, obround, pear, round and diamond
shape and resist to 380 °F and 180 psi.
COUPE GARNITURES/CUTTING MACHINES
Ce modèle, facile à utiliser, découpe avec précision
tous les types de garnitures conventionnelles. Il
permet de tailler des joints d'étanchéité de différentes
dimensions à partir de 2" jusqu'à 22" de diamètre, et
de formes irrégulières, ovales ou rectangulaires. Des
rallonges permettant la découpe de joints pouvant
atteindre 42" ou 62" de diamètre sont également
This precision gasket cutting machine will cut all
conventional sheets with ease. It cuts gaskets in
diameters of 2" to 22" and in oval, rectangular
and other irregular shapes. Optional extension bars
increasing the dimensional capacity to 42" or
62" are also available.
COUPE GARNITURES/CUTTING MACHINES
Ce modèle plus robuste est capable de découper des
garnitures de 0,040" d'épaisseur dans des matériaux
plus rigides tels que le cuivre, le zinc, le métal blanc et
la tôle galvanisée. Il permet la découpe de joints de 3" à
28" de diamètre, et lorsqu'il est équipé de ses rallonges
optionnelles, le M-4 peut fabriquer des garnitures pouvant
atteindre 54" ou 80" de diamètre. Une version motorisée
This model is a heavy duty machine capable of cutting
metal gaskets up to 0.040" thick from copper, zinc,
brass, thin and galvanized iron sheets. It allows the
cutting of gaskets from 3" to 28" in diameter and in
differents shapes such as, oval, rectangular and irregulier
form. Longer bars are available to cut gaskets from 28"
to 54" and 54" to 80". This model is also available in
a motorized style.
COUPE GARNITURES/CUTTING MACHINES
Outil simple à utiliser qui permet des découpes circulaires
précises. Installés sur un double rail solide, le poinçon à
centrer et la lame sont réglables à l'aide de la clé incluse.
Ce modèle convient aux garnitures pouvant atteindre
Very simple cutting tool for precise circular cuts.
Mounted on a solid double rail, the punch can be centred
and the blade is adjustable by the help of a key included.
This model cuts gaskets in diameters up to 70".