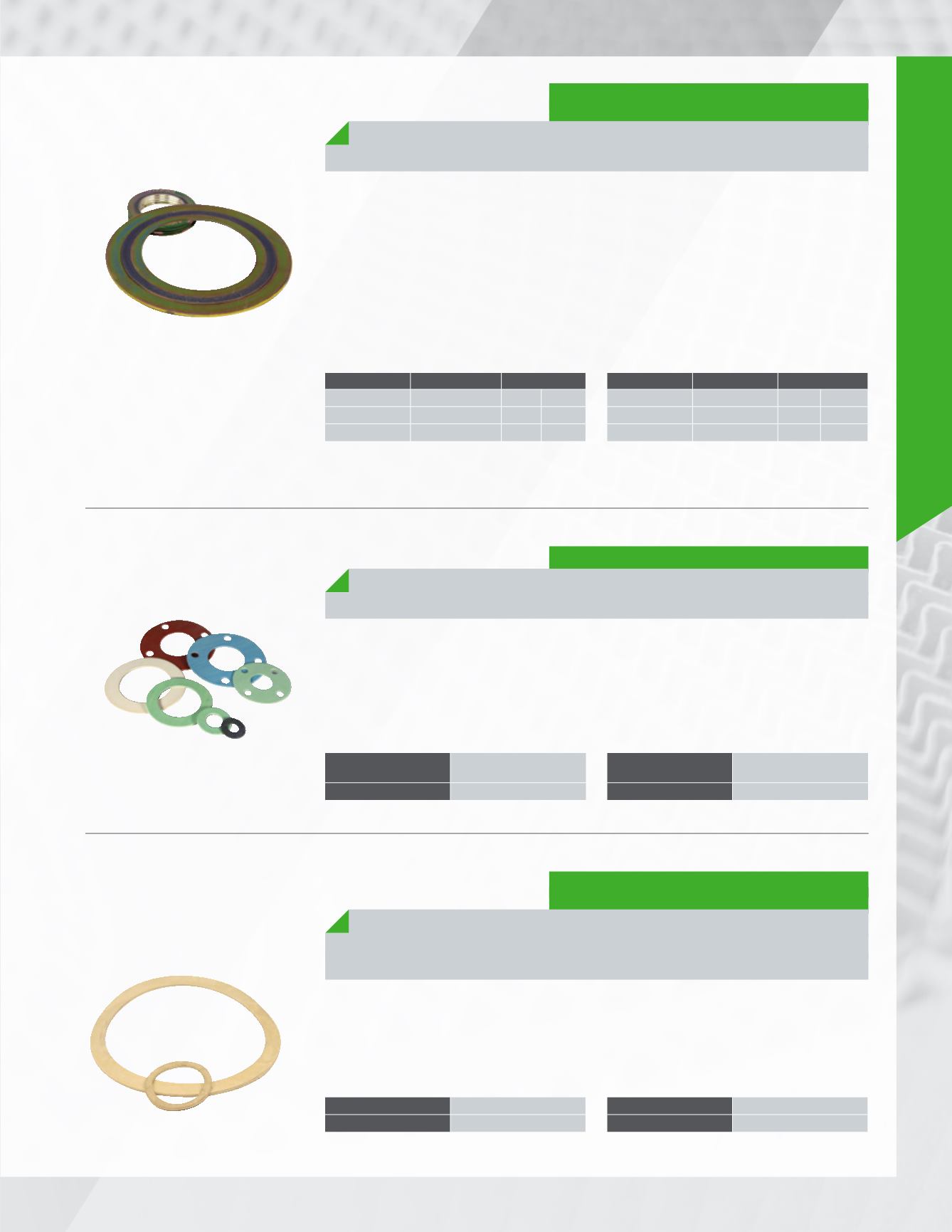 JOINT SPIRALÉ/SPIRALWOUND GASKET
Conçue pour résister aux pressions et aux températures
élevées, cette ganiture est fabriquée de la même façon que
le style WR, auquel est ajouté un anneau métallique interne.
Celui-ci comble l'espace entre les brides, évitant la turbulence
dans le débit des fluides et protègeant contre la corrosion
et l'érosion. Il est aussi utilisé pour limiter la compression
lorsque la charge sur le joint est supérieure à 30 000 lbs/po².
L'anneau métallique interne est enfin recommandé pour les
joints spiralés composés de PTFE, car ce matériel a tendance
à se déformer vers l'intérieur.
MATÉRIEL D'ÉTANCHÉITÉ TEMPÉRATURE MAXIMUM
BANDES MÉTALLIQUES
* Jusqu'à 650 °C avec vapeur sous conditions inertes.
Designed for elevated vacuum pressures and tempera-
tures, this gasket is made as the WR style for which an
internal metal ring has been added. This ring fills the
space between the flanges, avoiding turbulence in the
flow of the fluid or as a protection against corrosion or
erosion. It is also used as a compression limit when the
seating stress is greater than 30 000 psi (210 Mpa).
Also, gaskets with PTFE filler have a tendency to buckle
inward thus the use of an inner ring is recommended.
FILLER MATERIAL
MAX. TEMPERATURE
METALLIC STRIP
* Up to 1200 °F with steam and under inert conditions.
GARNITURES EN ANNEAUX/GASKETS
GARNITURES ENANNEAUX/RINGAND FULL
Les garnitures peuvent être taillées en face pleine ou en
anneau, et sont disponibles dans les matérieux suivants :
PTFE, fibre végétale, graphite flexible, papier céramique,
feutre, caoutchouc (néoprène nitrile, hypalon, silicone,
viton, etc.), liège et néoprène, feuilles comprimées,
cartonnage et papier fibre de verre.
DIMENSIONS DISPONIBLES
1/2" à 48" selon la norme
PRESSION DISPONIBLE
The gaskets can be cut as full face or ring size and are
available in the following materials: PTFE, oil proof sheet,
compressed non-asbestos sheet, flexible graphite, fiberglass
paper, felt, rubber (neoprene nitrile, hypalon, silicone, viton,
etc.), cork and neoprene, fiberglass paper and millboard and
ceramic paper.
AVAILABLE DIMENSIONS
1/2" to 48" in accordance with
AVAILABLE PRESSURE
GARNITURES DE BOUILLOIRE/ 
GARNITURES DE BOUILLOIRE JOINT PLAT/ 
Ces garnitures sont fabriquées de tissu de fibre de verre ren-
forci de laiton et enduit d'un composé caoutchouté des deux
côtés. Elles résistent bien à la vapeur, à l'eau et aux acides
alcalis légers. Ces joints sont disponibles en formes de trous
de main et de trous d'homme, et peuvent aussi être graphités.
TEMPÉRATURE MAXIMALE
PRESSION
These gaskets are made from a brass reinforced
fiberglass cloth and coated with rubber compound on
both sides. They resist to vapor, water and mild alkali
acids. Available in manhole or handhole shapes and
can be graphited.
MAXIMUM TEMPERATURE
PRESSURE