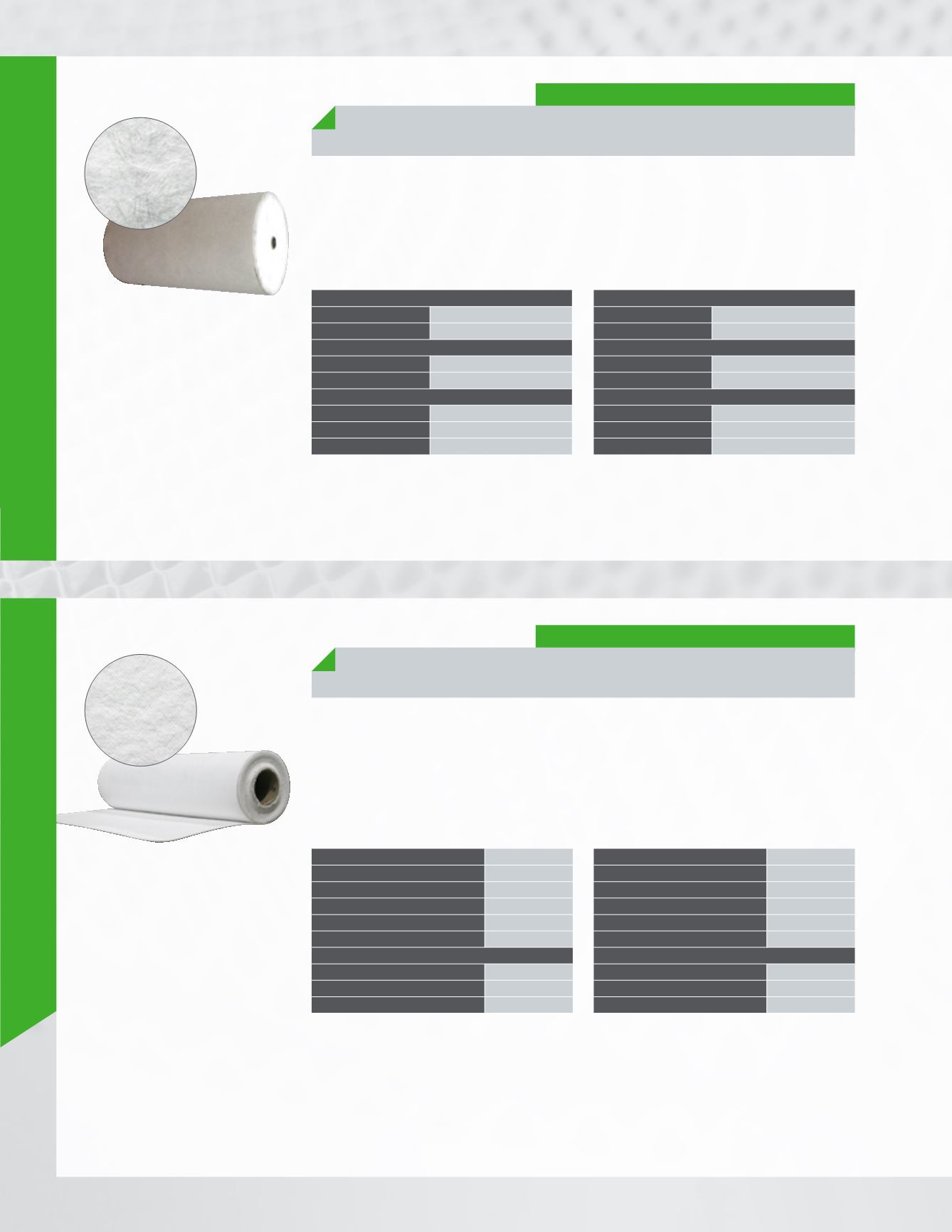 PAPIER FIBRE DE VERRE/FIBERGLASS PAPER
PAPIER FIBRE DE VERRE/FIBERGLASS PAPER
Ce papier est fabriqué de fibre de verre grade
électrique. Il résiste à des températures atteignant
650 °C en continu, et ce, sans perdre sa forme
originale. Il isole comme les textiles de fibre de
verre, mais à un moindre coût, et résiste à la
PROPRIÉTÉS DU MATÉRIEL
ÉPAISSEUR
DENSITÉ lbs/pi
3
(g/cc)
RÉSISTANCE À LA TENSION
SENS MACHINE (lbs/pouce)
SENS TRAVERS (lbs/pouce)
CONDUCTIVITÉ THERMIQUE (BTU-po/hr-pi
2
- °F (w/m-°C)
75 °C (167 °F)
260 °C (500 °F)
345 °C (650 °F)
This paper is made from an electrical grade glass
fiber. It withstands humidity and continuous operating
temperatures up to 1200 °F without shrinkage or losing
its shape. It provides similar thermal performances
to woven glass at a fraction of the cost and it is flame
resistant.
MATERIAL PROPERTY
THICKNESS
DENSITY lb/ft
3
(g/cc)
TENSILE STRENGTH
MACHINE DIRECTION (lb/in)
CROSS DIRECTION (lb/in)
THERMAL CONDUCTIVITY (BTU-in/hr-ft
2
- °F (w/-°C)
75 °C (167 °F)
260 °C (500 °F)
345 °C (650 °F)
PAPIER BIOSOLUBLE/BIOSOLUBLE PAPER
PAPIER SUPERWOOL HT/SUPERWOOL HT PAPER
Composé de fibres haute température « Superwool
HT », ce papier possède d'excellentes propriétés
isolantes. Il est facile à découper et conserve ses
propriétés, même lorsqu'il est utilisé avec une
tension élevée. Le 3R2770HT résiste aux chocs
thermiques et est peu affecté par la présence
COULEUR
DENSITÉ (lbs/pi
3
)
ÉPAISSEUR
POINT DE FUSION
TEMPÉRATURE LIMITE
TEMPÉRATURE CONTINUE
CONDUCTIVITÉ THERMIQUE (BTU-po/hr-pi
2
- °F (w/m.k) ASTM C201
TEMPÉRATURE @ 260 °C (500 °F)
TEMPÉRATURE @ 535 °C (1000 °F)
TEMPÉRATURE @ 815 °C (1500 °F)
Made from "Superwool HT" high temperature
fibers this paper provides excellent insulating
properties. It is easy to cut and conserves the
same properties once it is used where tensions
are high. The 3R2770HT resists to thermal shocks
and is not affected by the presence
of molten aluminium.
COLOR
DENSITY (lbs/pi
3
)
THICKNESS
MELTING POINT
MAXIMUM USE LIMIT
CONTINUOUS USE LIMIT
THERMAL CONDUCTIVITY (BTU-in/hr-ft
2
- °F (w/m.k) ASTM C201
TEMPERATURE @ 260 °C (500 °F)
TEMPERATURE @ 535 °C (1000 °F)
TEMPERATURE @ 815 °C (1500 °F)
PAPIER FIBRE DE VERRE/FIBERGLASS PAPER
PAPIER BIOSOLUBLE/BIOSOLUBLE PAPER