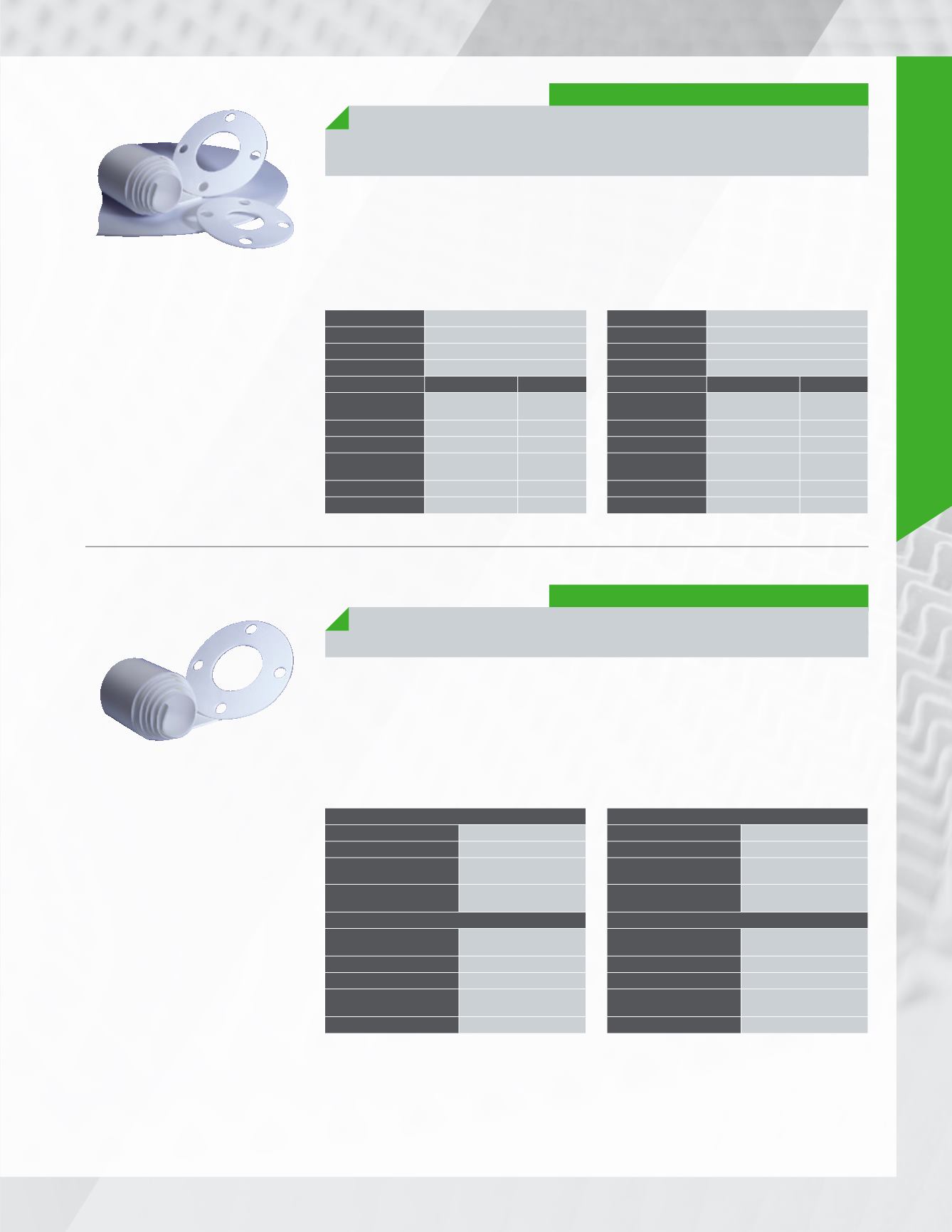 FEUILLE DE PTFE/PTFE SHEET
FEUILLE DE PTFE GRADE MÉCANIQUE/ 
MECHANICAL GRADE PTFE SHEET
Le PTFE (polytétrafluoréthylène) est un polymère
(plastique) des plus versatiles. Il convient très bien
aux produits chimiques ayant un pH de 0 à 14, à
l'exception des métaux alcalis en fusion et du fluor
élémentaire. Le 3R810, grade mécanique,
est utilisé pour les procédés industriels.
COULEUR
TEMPÉRATURE
ÉPAISSEURS DISPONIBLES
1/64", 1/32", 1/16", 3/32", 1/8", 3/16", 1/4"
GRANDEURS DISPONIBLES
48"X48", 60"X60", 48"X60" en rouleau
NORMES ASTM
PROPRIÉTÉS
VALEUR
D638-61T
D570-59AT
D150-59T
D257-61
D792-60T
The PTFE (polytetrafluoroethylene) is a polymer, one
of the most versatile plastics known to man. The
sheet can handle virtually all chemicals in the 0-14 pH
range with the exception of molten alkali metals and
elemental fluorine. This material is recommended for
applications in the industrial and process industries.
COLOR
TEMPERATURE
AVAILABLE THICKNESS
1/64", 1/32", 1/16", 3/32", 1/8", 3/16", 1/4"
AVAILABLE SIZES
48"X48", 60"X60", 48"X60" rolls
ASTM TEST
PROPERTIES
VALUE
D638-61T
D570-59AT
D150-59T
D257-61
Dielectric strength in air
D792-60T
FEUILLE DE PTFE/PTFE SHEET
FEUILLE DE PTFE DILATÉ/100% EXPANDED PTFE SHEET
Le 3R810SH est entièrement fabriqué de PTFE
100 % vierge dilaté, et possède une résistance à la
tension égale dans toutes les directions. Le PTFE
dilaté présente des caractéristiques différentes du
PTFE régulier: il se comprime facilement, et il est
plus souple et plus flexible, ce qui lui permet de
s'adapter aux surfaces inégales et rugueuses.
DONNÉES TECHNIQUES
TEMPÉRATURE
-265 °C à 315 °C (445 °F à 595 °F)
COULEUR
PH
0-14 (sauf les métaux alcalis
en fusion et fluor élémentaire)
ÉPAISSEURS DISPONIBLES
(FEUILLES 60"X60")
PROPRIÉTÉS PHYSIQUES
RÉTENTION DE PRESSION
(DIN 52913) Mpa
COMPRESSIBILITÉ (ASTM F-36) %
REPRISE ÉLASTIQUE (ASTM F-36) %
RÉSISTANCE À LA TRACTION
(ASTM F-152) Mpa
DENSITÉ (g/cm)
This gasket sheet is manufactured by expanding
100% virgin PTFE with equal tensile strength
in all directions. This style is much softer and
more flexible than regular PTFE sheets and thus
conforms easily to regular and rough surfaces.
In addition, the material is easier to compress
and minimizes creep and cold flow.
TECHNICAL DATA
TEMPERATURE
-265 °C to 315 °C (445 °F to 595 °F)
COLOR
PH
0-14 (except molten alkali metals
AVAILABLE THICKNESS
(60"X60" SHEETS)
PHYSICAL PROPERTIES
STRESS RETENTION
(DIN 52913) Mpa
COMPRESSIBILITY (ASTM F-36) %
RECOVERY (ASTM F-36) %
TENSILE STRENGTH
(ASTM F-152) Mpa
DENSITY (g/cm)
PRODUITS PTFE/PTFE PRODUCTS