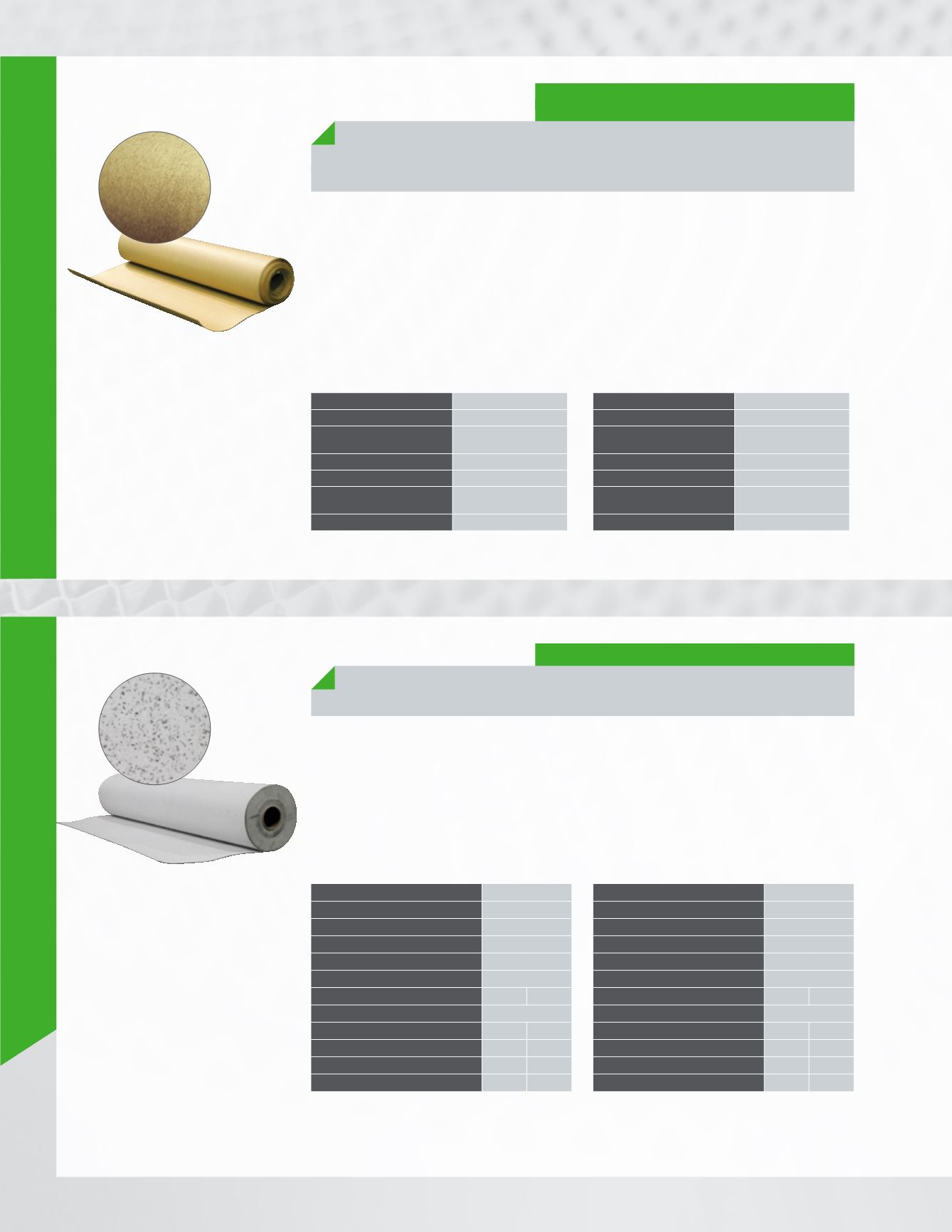 FEUILLE DE FIBRE VÉGÉTALE/ 
FEUILLE DE FIBRES VÉGÉTALES/ 
Le 3R835 est composé de fibres celluloses imprégnées
d'un liant à base de glycérine. Ce matériel possède d'ex-
cellentes propriétés scellantes et s'adapte bien aux brides
inégales. Il est chimiquement inerte en présence d'huile
lubrifiante à base de pétrole, d'essence pour automobile,
d'huile à combustible et de plusieurs autres solvants
organiques. Le 3R835 contient également un composé
antimicrobien lui permettant de combattre la moisissure,
et il est reconnu pour sa résistance à la gazoline, au
carburant diesel et aux huiles de chauffage.
COULEUR
TEMPÉRATURE
COMPRESSIBILITÉ À 1000 LBS/PO2,
(6,89 MPA) %
REPRISE ÉLASTIQUE MINIMUM %
FORCE DE TRACTION MINIMUM LBS/PO2
ÉPAISSEURS DISPONIBLES
LARGEUR
The 3R835 consists of a cellulose fiber base which has
been impregnated with a protein and glycerine binder.
It has exceptionally good sealing properties and it is
highly conformable to compensate for distortions in
flanges. This material is chemically inert in the presence
of petroleum lubricating oils, automotive gasoline, diesel
fuels, heating oils and many organic solvents. It contains
an antimicrobial compound to resist fungus organisms.
COLOR
TEMPERATURE
COMPRESSIBILITY AT 1000 PSI,
(6.89 MPA) LOAD %
RECOVERY MINIMUM %
TENSILE STRENGTH MINIMUM PSI
THICKNESS AVAILABLE
WIDTH
PAPIER CÉRAMIQUE/CERAMIC PAPER
PAPIER EXPANSIBLE/EXPANDABLE PAPER
Matériel expansible produit d'un mélange unique de fibres
céramique de haute pureté, d'additifs spéciaux et de liants
organiques. Lors de l'expansion maximale à environ 649 °C,
l'épaisseur du papier est 400 % plus élevée. Ces résultats
démontrent que le 3R2333 est excellent pour fabriquer des
joints d'étanchéité. En raison de la présence d'additifs spéci-
aux dans le matériel, quelques émanations de gaz sont
à prévoir lors du chauffage initial.
COULEUR
DENSITÉ NOMINALE, LBS/PI3
ÉPAISSEUR
POINT DE FUSION
TEMPÉRATURE LIMITE
TEMPÉRATURE CONTINUE
CARACTÉRISTIQUES D'EXPANSION % AUGMENTATION
TEMPÉRATURE
@204 °C
@540 °C
@790 °C
@981 °C
It is an expandable paper produced from a unique blend of
high-purity ceramic fibers, special additives and organic
binders. At maximum expansion of approximately 1200 °F,
the paper expands up to 400% of its thickness. These results
demonstrate that this product is excellent for fabricating seals.
However, during heat up and expansion, there will be some
additional out-gassing of the expandable additives.
COLOR
NOMINAL DENSITY, PCF
THICKNESS
MELTING POINT
MAXIMUM USE LIMIT
CONTINUOUS USE LIMIT
EXPANSION CHARACTERISTICS, % INCREASE
TEMPERATURE
@400 °F
@1004 °F
@1454 °F
@1798 °F
FEUILLE DE FIBRE VÉGÉTALE/OIL PROOF SHEET
PAPIER CÉRAMIQUE/CERAMIC PAPER