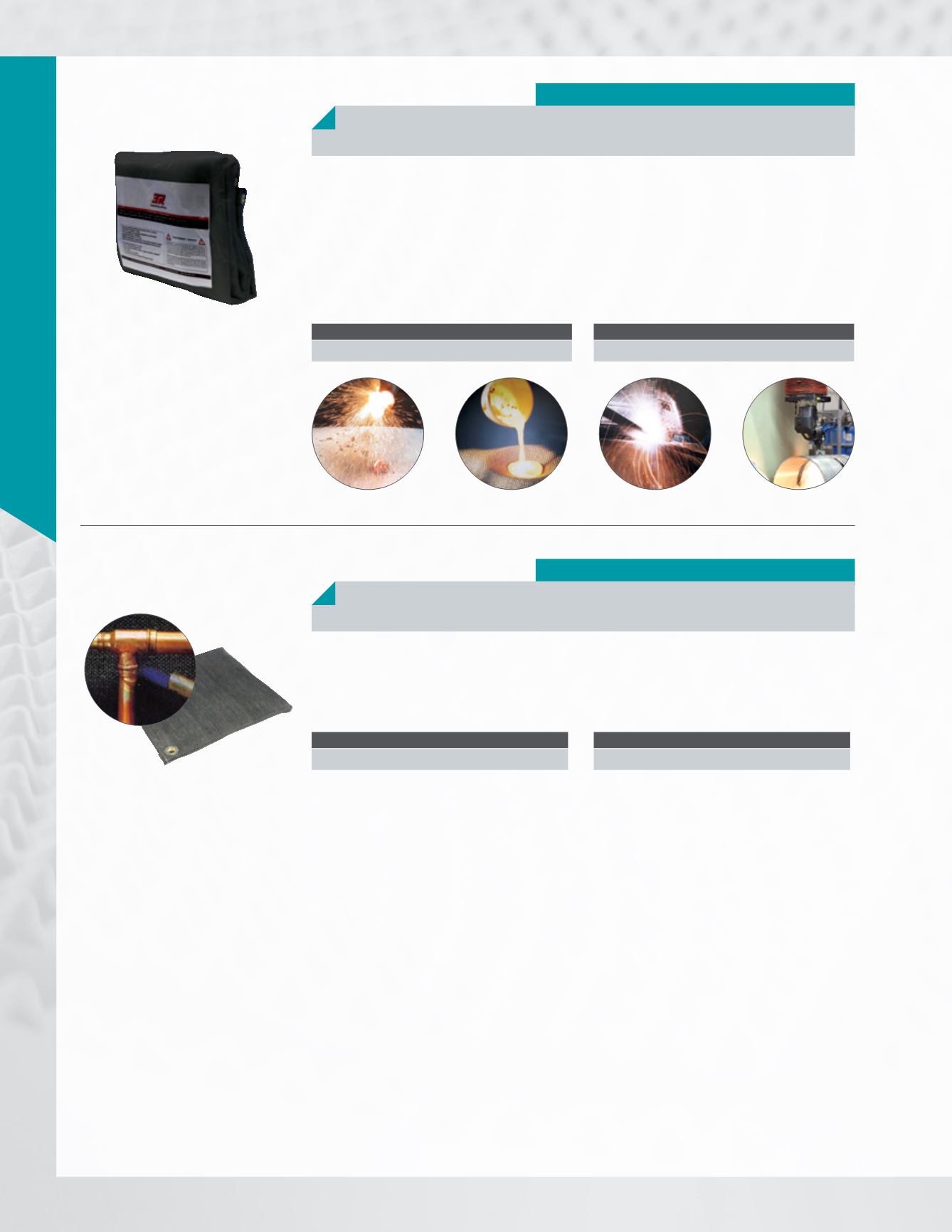 TEXTILES HAUTE TEMPÉRATURE  /HIGH TEMPERATURE TEXTILES
ÉCRANS SOUDEURS / WELDING SCREENS
ÉCRANS SOUDEURS/ WELDING SCREENS
Nos écrans sur mesure sont conçus pour protéger
des étincelles de soudure. Fabriqués à partir de
tissu de fibre de verre conventionnel ou traité, nous
avons un tissu qui saura répondre à vos exigences.
Pour faciliter l'installation ou l'assemblage, ils peu-
vent être munis d'œillets ou de boutons pressions.
Les écrans sont aussi disponibles sur mesure
selon vos demandes spécifiques.
DIMENSIONS DISPONIBLES
4' x 6', 6' x 6', 6' x 8', 8' x 8', 10' x 10'
Our customized welding screens are designed to
protect from welding sparks. Manufactured from
a conventional or treated fiberglass fabric, we
have the fabric that will meet your requirements.
To facilitate their installation or assembly, they
may be fitted with grommets or snaps. They can
also be custom made for a specific application.
AVAILABLE DIMENSIONS
4' x 6', 6' x 6', 6' x 8', 8' x 8', 10' x 10'
COUSSIN PROTECTEUR / PLUMBER'S PAD
COUSSIN PROTECTEUR/PLUMBER'S PAD
Ce coussin flexible est fabriqué d'un tissu de
fibre de verre recouvert de graphite. Il protège les
surfaces telles que le bois, le métal et le plastique
des étincelles lors du soudage.
DIMENSIONS DISPONIBLES
12" x 12", 18" x 18", 24" x 24"
This flexible mattress is made from a graphite
fiberglass cloth. It protects wood, metal and
plastic from welding sparks.
AVAILABLE DIMENSIONS
12" x 12", 18" x 18", 24" x 24"