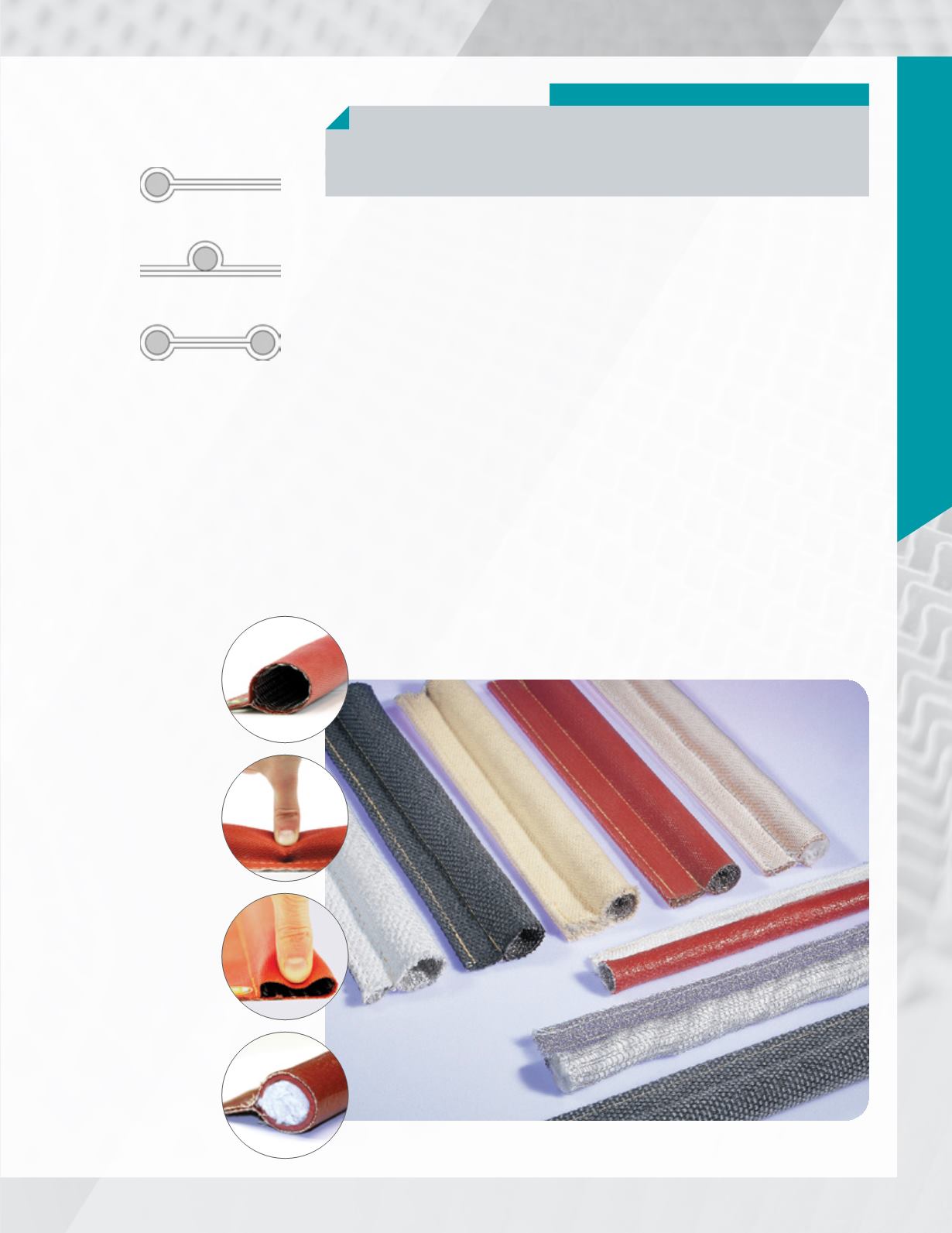 TEXTILES HAUTE TEMPÉRATURE  /HIGH TEMPERATURE TEXTILES
BULBE SIMPLE, BULBE CENTRAL,
DOUBLE BULBE/SIMPLE BULB,
CENTRAL BULB, DOUBLE BULB
Les tadpoles sont des joints fabriqués d'un
bulbe vide ou plein, et d'une langue. Flexibles, ils
s'ajustent et s'installent facilement. Les combinai-
sons de bulbes et de revêtements sont innom-
brables. Le bulbe, simple, central ou double, peut
être un cordon de fibre de verre, de céramique ou
un grillage métallique plein ou vide. Dans le choix
du revêtement, tous les tissus que nous offrons
peuvent être utilisés (voir la section des textiles
pour les tissus disponibles). Les combinaisons
sont variées, chacune possédant ses propres
qualités: il convient alors d'analyser les quatre
facteurs suivants, soit la température, la reprise
élastique, la résistance à l'abrasion et la forme,
afin d'assurer que le tadpole réponde parfaitement
aux besoins pour lesquels il a été fabriqué.
Les tadpoles sont notamment utilisés pour isoler
les portes de fours, de fournaises et de bouil-
loires, ou pour sceller les surfaces inégales.
Ils peuvent également servir à la prévention des
fuites et au contrôle des poussières présentes
Tadpoles are gaskets composed of a bulb, full or
empty, and a tongue. Flexible, they can be used
to seal or caulk empty spaces. The combinations
of the bulbs and tongues are countless. The bulb,
simple, central or double, can have an inner core
of fiberglass, ceramic, stainless steel wire cable
or inconel wire cable. Referring to the application
and surrounding environment, we will cover the
bulb with the most performing fabric (see Fabrics
section for available textiles). The combinations
are diverse, each with its own qualities : the fol-
lowing four factors need to be analyzed in order
to choose the perfect tadpole, the temperature,
the abrasion resistance and the shape.
Tadpoles are used for insulating oven doors,
furnaces and boilers, or to seal between uneven
surfaces. They can also serve to prevent leakage
and to control dust in the environment.