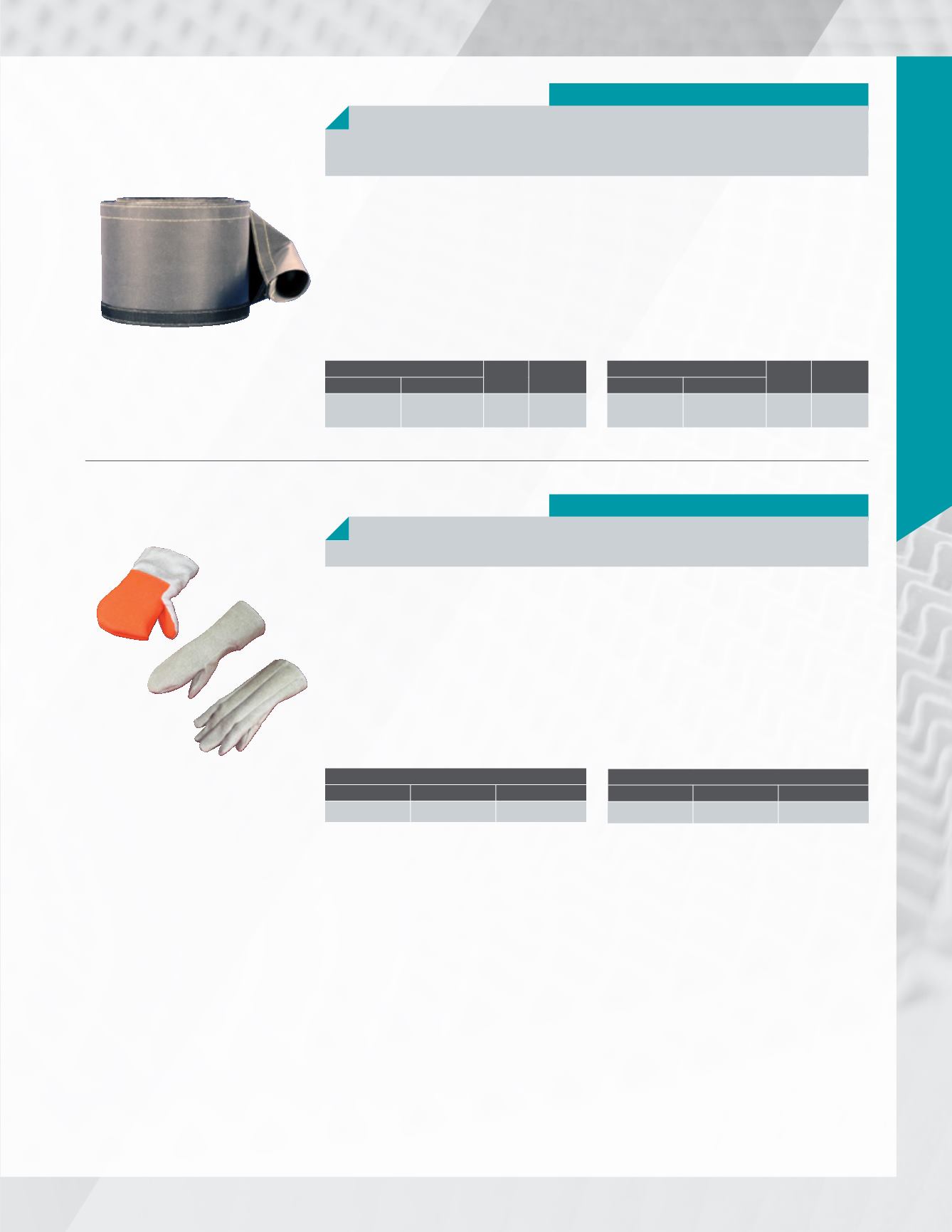 TEXTILES HAUTE TEMPÉRATURE  /HIGH TEMPERATURE TEXTILES
GAINE ECO-CÂBLE/PROTECTIVE COVER
Gaine protectrice de câbles et de boyaux pour les
équipements de soudure. Fabriquée d'un tissu de
fibre de verre recouvert de néoprène noir, et munie
d'une attache avec velcro d'une largeur de 1", cette
gaine prévient l'usure en protégeant les boyaux et
les câbles des étincelles et des gouttelettes des
métaux en fusion. En plus d'agir comme barrière
contre l'infiltration d'huile et de graisse, elle résiste
bien au fendillement et à la flexion.
TEMPÉRATURE
LARGEURS LONGUEUR
PAR ROULEAU
TISSU FIBRE DE VERRE REVÊTEMENT NÉOPRÈNE
Protective cover for hoses and cables for
welding equipment. Made from a neoprene
coated fiberglass cloth with a 1" wide Velcro
closing tape, this cover prevents wear and
protects the hoses and cables from the sparks
and droplets of molten metal. While protecting
from the penetration of oils and greases,
this cover resists to cracking and flexion.
TEMPERATURE
WIDTHS
LENGTH
PER ROLL
FIBERGLASS CLOTH NEOPRENE COVERING
Conçus pour protéger du feu, de la chaleur et des
métaux en fusion, les mitaines et les gants sont
fabriqués à partir de matériaux de qualité. Puisque
les fils à coudre jouent un rôle essentiel dans la
fabrication de produits textiles, ceux utilisés dans
la confection de ces pièces sont des fils de qualité
répondant à des critères prédéterminés. Enfin, les
caractéristiques de fabrication des mitaines et des
gants sont déterminées selon les applications et les
TEXTILES
FIBRE DE VERRE
VERMICULITE
CÉRAMIQUE
Made from quality materials, these gloves are
made to protect from heat, molten metals,
chemical agents or all other risk hazards. The
sewing threads play an essential role in the
manufacturing of textile products; we use quality
threads that meet predetermined standards. The
fabrication criteria are determined in accordance
to the customers applications and needs.
FABRICS
FIBERGLASS
VERMICULITE
CERAMIC