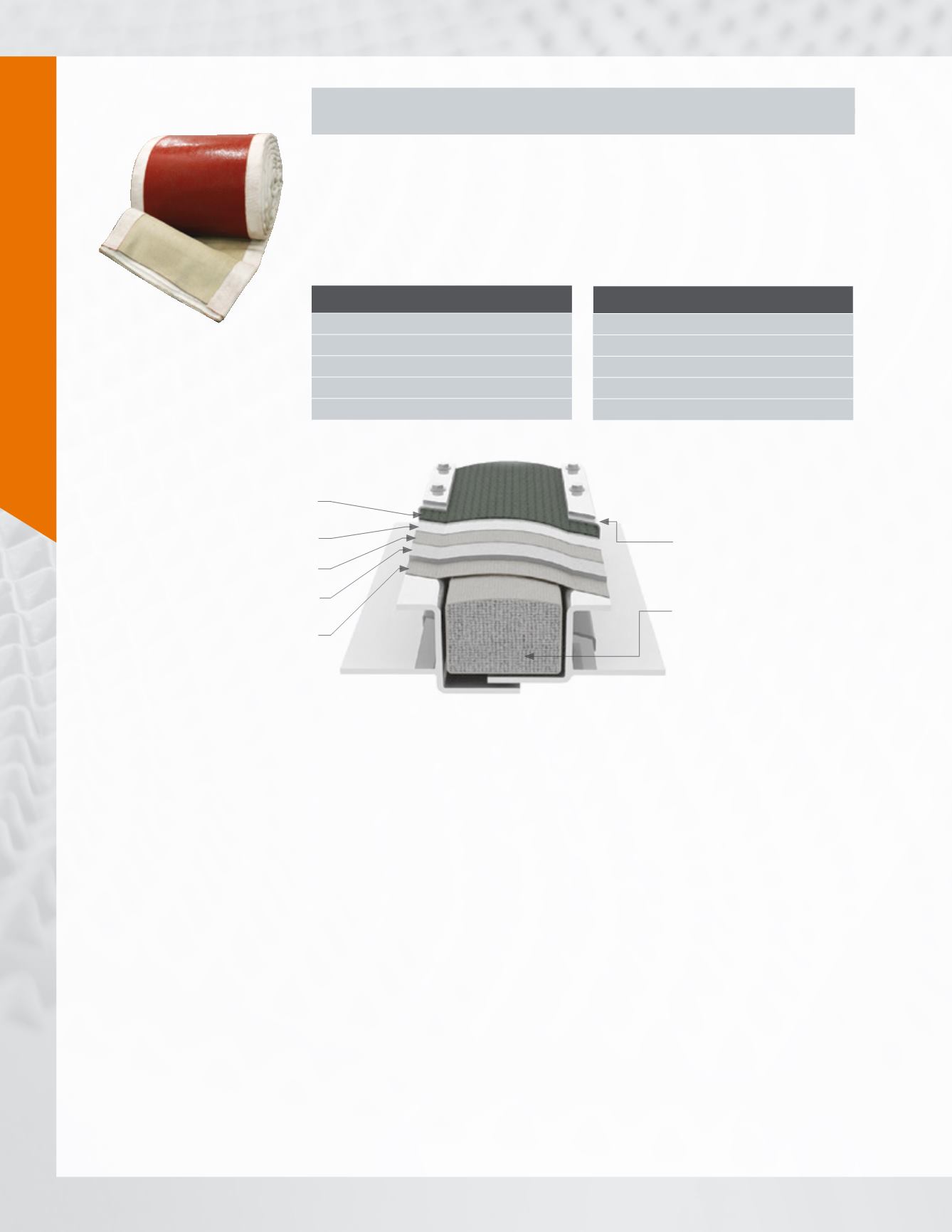 JOINTS D'EXPANSION  /EXPANSION JOINTS
JOINTS D'EXPANSION/EXPANSION JOINTS
Thermo-welded membrane
PTFE liner
Insulating cloth
 Insulation
Tissu haute température /
High temperature cloth
Ruban isolant pour la protection
de la membrane thermo-soudé/
Insulating tape for the protection
of the thermo-welded membrane
Insulating pillow
JOINT D'EXPANSION MULTICOUCHE/
MULTI-LAYER EXPANSION JOINT
Les joints d'expansion multicouches s'adaptent
aux mouvements dans plusieurs directions
simultanément. Ils n'ont pratiquement aucune
force réactive et nécessite peu d'espace pour
l'installation. Ils s'adaptent rapidement aux
conditions physiques existantes et sont faciles
à transporter et à installer.
DIFFÉRENTS FACTEURS SONT À CONSIDÉRER
POUR LE CHOIX D'UN JOINT D'EXPANSION :
Conception/Température d'opération
Conception/Pression d'opération
Résistance aux produits chimiques
These multi-layer expansion joints take up
movement in several directions simultaneously;
they have almost no reactive forces and need
little space for installation. They quickly adapt
to existing physical conditions and are easy to
transport and install.
DIFFERENT FACTORS TO CONSIDER
WHEN CHOOSING AN EXPANSION JOINT:
Design / Operating Temperature
Design / Operating Pressure
Plusieurs combinaisons de produits peuvent être
utilisé dans la confection des joints multicouche
- Membrane fluoroplastique
- Coupe vapeur en aluminium
- Tissu haute température (fibre de verre,
- Isolant (céramique, glass mat, silica mat)
- Mesh d'acier inoxydable ou inconel
- Ruban fibre de verre imprégné de teflon
Les fils servant à la conception de ces joints,
- Fil de fibre de verre enduit de PTFE
- Fil de kevlar renforci d'acier inoxydable
Many combinations of products may be used to
fabricate the multilayer joints such as:
- Fluoroplastic membrane
- Elastomer
- Aluminium vapour barrier
- PTFE
- High temperature cloth (Fiberglass, Ceramic,
Silica, etc.)
- Insulation (Ceramic, Glass mat, Silica mat)
- Stainless steel or inconel mesh
- Teflon impregnated fiberglass tape
- Etc…
The threads used in the conception of these
joints are the following:
- Pure PTFE thread
- PTFE coated fiberglass thread
- Stainless steel reinforced Kevlar thread