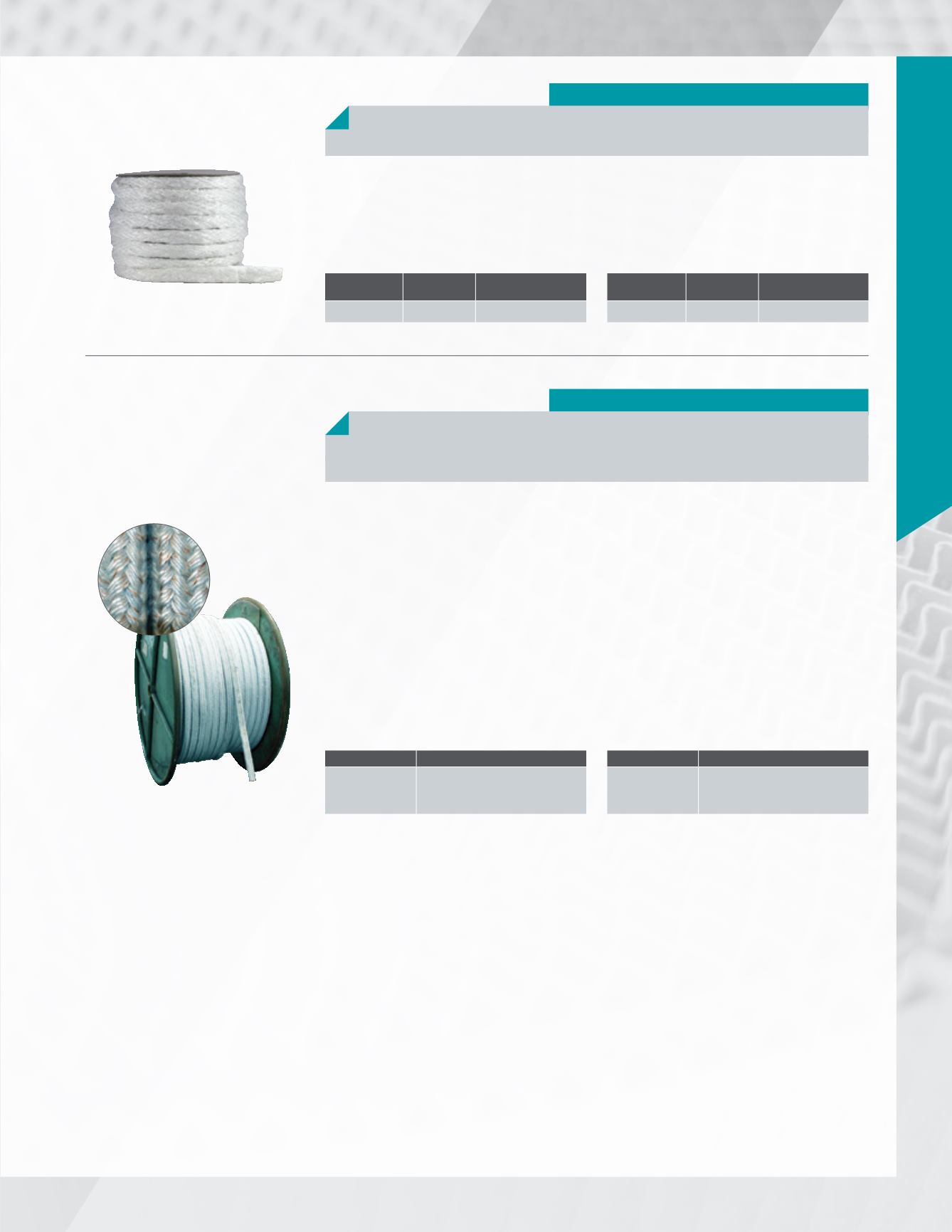 TEXTILES HAUTE TEMPÉRATURE  /HIGH TEMPERATURE TEXTILES
CÂBLES ET CORDONS/CABLES AND ROPES
FIBRE DE VERRE/FIBERGLASS
CÂBLE ISOLANT/ INSULATING ROPE
Fabriqué de fils de fibre de verre de 6 à 9 microns,
il est souple et résiste à 538 °C. Ce câble convient
pour l'étanchéité au sec, la protection contre
l'incendie et le calfeutrage de la tuyauterie et des
équipements à hautes températures.
DIAMÈTRE
LONGUEUR
PAR ROULEAU
CONDUCTIVITÉ THERMIQUE
(K) W/(MK) (1/2" DIA.)
Made from fiberglass yarn 6 to 9 microns in
diameter, it is flexible and resists up to 1000 ºF.
It is used for dry sealing, fire protection and
caulking high temperature pipes and equipment.
DIAMETER
LENGTH
PER ROLL
THERMAL CONDUCTIVITY
(K) W/(MK) (1/2" DIA. ROPE)
FIBRE DE VERRE BLEU/BLUE FIBERGLASS
CÂBLE HAUTE TEMPÉRATURE BLEU/ 
BLUE HIGH TEMPERATURE ROPE
Fabriqué de fils bleus texturisés de fibre de verre
avec insertion de cuivre et traitement par une solu-
tion qui augmente sa résistance à la température,
ce câble est utilisé comme joint statique. Malléable
et incombustible, il résiste à la plupart des acides
et des alcalis et peut conserver sa force de traction
jusqu'à une température de 300 °C. Disponible
en forme ronde, carrée ou rectangulaire, le câble
HTB650 peut être traité au graphite ou au vermicu-
lite et recouvert de silicone rouge afin d'augmenter
sa résistance à l'abrasion. Quand le câble est
imprégné de silicone, il est particulièrement utilisé
comme joint d'étanchéité pour les couvercles
TEMPÉRATURE MAXIMUM
DIMENSIONS
5/16", 3/8", 1/2", 1" , 1,5" x 1,5" , 1,5" x 1,75"
25 mm x 35 mm, 26 mm x 38 mm,
28 mm x 28 mm, 28 mm x 38 mm
* Également disponible sur mesure.
These high temperature fiberglass cables are
made from blue texturized yarns with a copper
wire insertion and treated with a solution that
improves their resistance to temperatures. They
are flexible thus allowing them to match uneven
surfaces when used as static seals. Non-com-
bustible and resistant to most acids and alkali
they can conserve their tensile strength up to
575 °F. Available in round, square and rectan-
gular braided forms, the HTB650 can be treated
with graphite, vermiculite or covered with a red
silicone to make them more resistant to abrasion.
When impregnated with silicone, these cables are
particularly used as seals for crucible pot lids.
MAXIMUM TEMPERATURE
DIMENSIONS
5/16", 3/8", 1/2", 1" , 1.5" x 1.5" , 1.5" x 1.75"
25 mm x 35 mm, 26 mm x 38 mm,
28 mm x 28 mm, 28 mm x 38 mm
* Can also be custom made