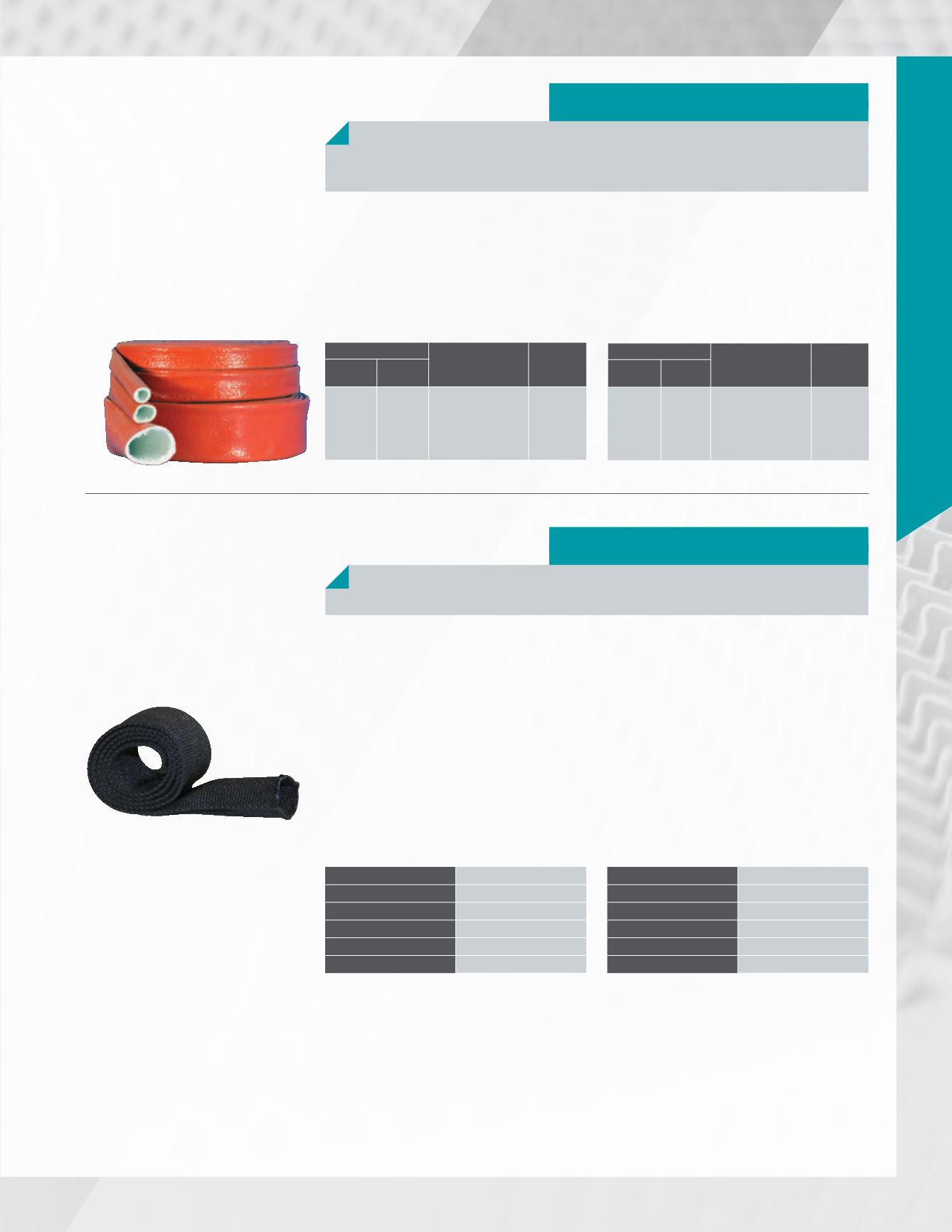 TEXTILES HAUTE TEMPÉRATURE  /HIGH TEMPERATURE TEXTILES
FIBERGLASS SILICONE FIRESLEEVING
GAINE FIBRE DE VERRE SILICONE/ 
SILICONE COATED FIBERGLASS TUBING
Utilisée pour recouvrir les câbles et les boyaux, cette
gaine de fibre de verre enduite de silicone rouge offre
une excellente protection contre les éclaboussures
de métaux en fusion jusqu'à des températures de
1648 °C. La gaine est flexible, s'adapte bien
aux surfaces inégales et rencontre les normes
« Aerospace Standards » AS1055B et AS1072.
TEMPÉRATURE
DIAMÈTRES
LONGUEUR
PAR ROULEAU
GAINE FIBRE
DE VERRE
SILICONE
ROUGE
260 ºC 3/8", 1/2", 5/8", 3/4", 7/8",
1", 1 1/8", 1 1/4", 1 1/2",
1 3/4", 2", 2 1/4", 2 1/2",
2 3/4", 3", 3 1/4" , 3 1/2",
Used for cable and pipe covering, the red sili-
cone coated fiberglass tubing offers an excellent
protection from molten metal splashes up to
3000 ºF. This tubing is flexible enough to adjust
itself to imperfect surfaces and meets the
"Aerospace Standards" AS1055B and AS1072.
TEMPERATURE
DIAMETERS
LENGTH
PER ROLL
FIBERGLASS
BRAIDED TUBING
RED SILICONE
3/8", 1/2", 5/8", 3/4", 7/8",
1", 1 1/8", 1 1/4", 1 1/2",
1 3/4", 2", 2 1/4", 2 1/2",
2 3/4", 3", 3 1/4" , 3 1/2",
GAINE DE NYLON / NYLON SLEEVE
La gaine de nylon noir tissé est extrêmement durable
et flexible. Elle contribue à allonger la durée de vie
des tuyaux, des câbles et des fils en les protégeant
contre l'abrasion et en offrant une bonne résistance
à la chaleur. Le nylon Flexgard® est non toxique
et approuvé selon la norme MSHA # IC-258/00,
appliquée dans le domaine des mines souterraines.
Puisqu'elle résiste efficacement aux rayons ultravi-
olets, aux agents atmosphériques, à l'humidité, au
vieillissement et à l'usure, elle est idéale pour les
applications extérieures. Cette gaine offre également
une excellente protection contre les fuites qui
surviennent à la suite des bris de tuyaux.
MATÉRIEL
Nylon 6-Polycarprolactone
TEMPÉRATURE MAXIMUM
POINT DE FUSION
DIAMÈTRES
LONGUEUR
ÉPAISSEUR
This black sleeve is an extremely durable and
flexible nylon woven sleeve designed to protect
hose, cables and wires from abrasion. Flex-
gard® nylon is non toxic and MSHA approved
#IC-258/00 in the underground mine industry.
Exhibits excellent resistance to UV, atmospheric
agents, moisture and ageing, making ideal for
outdoor applications. The bulked material used
is entangled which offers excellent leakage
containment due to hose failures.
MATERIAL
Nylon 6-Polycarprolactone
TEMPAERATURE MAZIMUM
MELTING POINT
DIAMETERS
LENGTH
THICKNESS