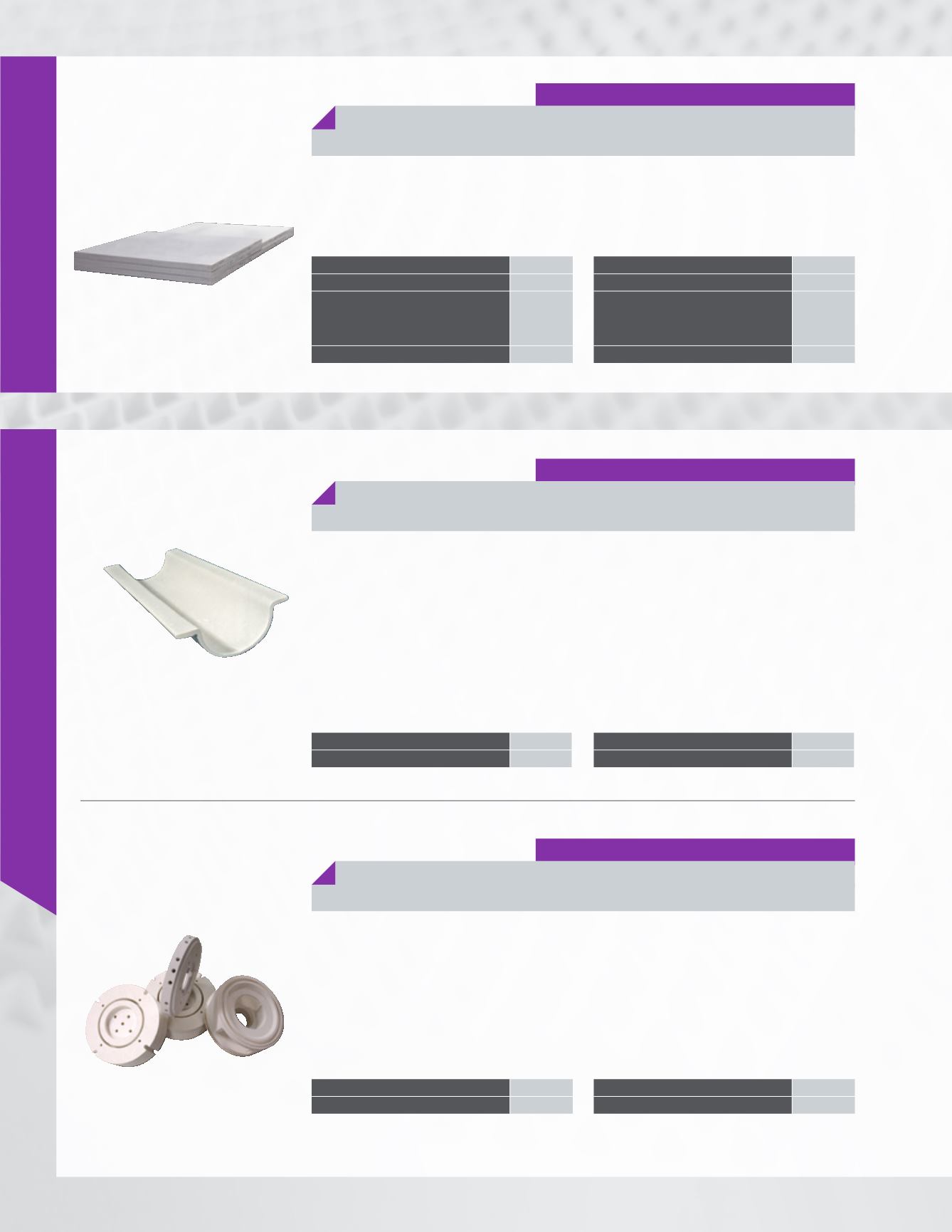 Panneau isolant fabriqué de silicate de calcium renforcé
de fibres de carbone. Il est idéal pour la fabrication de
plaque de transition utilisée pour la coulée de lingot en
T et la coulée de billette.
DENSITÉ (KG/M³)
TEMPÉRATURE CONTINUE
CONTRACTION
24 HEURES À
LINÉAIRE (LONGUEUR OU LARGEUR)
ÉPAISSEUR
POURCENTAGE D'HUMIDITÉ
This insulating board is made of calcium silicate
reinforced of carbon fibers. It is a clear choice
for transition plates in continuous aluminium castings
of T-ingots and billets.
DENSITY, PCF
CONTINUOUS USE LIMIT
SHRINKAGE
24 HRS @
LINEAR (LENGTH OR WIDTH)
THICKNESS
MOISTURE CONTENT
Le RSLE-56 est flexible (façonnable), et est composé
de céramique renforcie de fibre de silice. Il se moule
(façonne), et se coupe aisément. Lorsqu'il sèche, ce
matériel devient rigide. Il conserve toutes ses propriétés
thermiques et mécaniques, même lorsqu'il est exposé
à de hautes températures. Un coefficient de dilatation
thermique très faible, combiné à une haute endurance à
la chaleur, confère au RSLE-56 une résistance aux chocs
thermiques introuvable dans d'autres matériaux
de céramique structurelle.
COEFFICIENT DE DILATATION THERMIQUE
TEMPÉRATURE
The RSLE-56 is flexible(formable), and is composed of
silica reinforced ceramic fiber. It molds (shapes), and cuts
easily. When dried it becomes a rigid structure. Further
heat treatment or exposures to process temperatures
significantly increase the physical strength of this material.
With a very low thermal expansion coefficient, combined
with its high temperature strength gives it thermal shock
resistance not found in other structural ceramic materials.
THERMAL EXPANSION COEFFICIENT
TEMPERATURE
Composite réfractaire aux propriétés mécaniques remar-
quables. Il est entièrement inorganique et ne contient pas
de fibre céramique. Le RSLE-57 peut être usiné de façon
précise avec des outils conventionnels. Couramment
utilisé dans des zones où la température varie rapidement,
ce matériel possède un très faible coefficient de dilatation
et offre une résistance remarquable aux chocs thermiques
dans une atmosphère oxydée.
COEFFICIENT DE DILATATION THERMIQUE
TEMPÉRATURE
It is a low expansion high strength reinforced silica ma-
trix composite. It is 100% organic free and contains no
refractory ceramic fiber. It is readily machined to pre-
cision tolerances with conventional tooling. Often used
in zones where temperatures vary rapidly, this material
possesses a very weak coefficient of expansion, which
provides remarkable resistance to the thermal shock in
an oxidizing atmosphere.
THERMAL EXPANSION COEFFICIENT
TEMPERATURE
ISOLATION  -RÉFRACTAIRE/ INSULATION - REFRACTORY