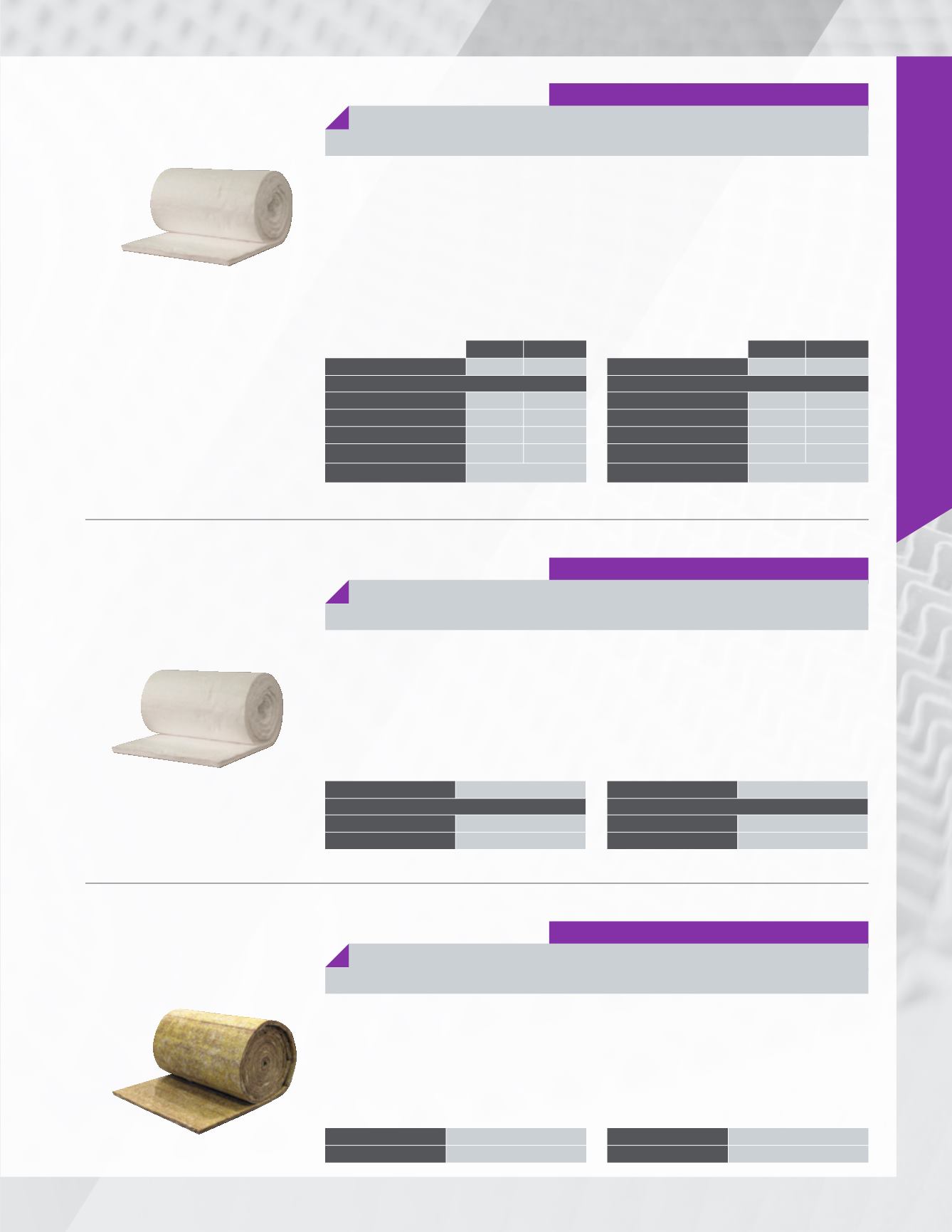 ISOLATION  -RÉFRACTAIRE/ INSULATION - REFRACTORY
3R 2750 ET/AND 3R 2750 HT
LAINE EN NATTE SUPERWOOL/SUPERWOOL BLANKET
Ces nattes sont obtenues à partir de fibres longues Super-
wool. Leurs performances d'isolation à hautes tempéra-
tures sont remarquables. D'une grande stabilité thermique,
elles conservent une structure fibreuse souple jusqu'à la
température de classification. Ces laines sont aiguilletées
sur les deux faces et présentent une forte résistance à la
traction, avant et après chauffage. Elles ne contiennent ni
liant, ni lubrifiant, n'émettent pas de fumée, et ne dégagent
pas d'odeur lors de la montée en température.
3R 2750
3R 2750 HT
TEMPÉRATURE CONTINUE
ANALYSE CHIMIQUE
SILICE, Si0
2
OXIDE DE CALCIUM CaO
OXIDE DE MAGNÉSIUM Mg0
AUTRES
DENSITÉ
Made of Superwool long fibers, these blankets exhibit
outstanding insulating properties at elevated tempera-
tures. They have excellent thermal stability and retain
their original soft fibrous structure up to maximum con-
tinuous temperature use. They are needled on both sides
and have a high tensile strength before and after heating.
They do not contain binders or lubricants and do not emit
any fumes or smells during the first firing.
3R 2750
3R 2750 HT
CONTINUOUS TEMPERATURE
CHEMICAL ANALYSIS
SILICE, Si0
2
CALCIUM OXIDE CaO
MAGNESIUM OXIDE Mg0
OTHERS
DENSITY
LAINE DENKA/DENKA BLANKET
Cette laine est fabriquée à partir de fibres de silicate
pures seulement, aiguilletée sur les deux faces. Elle peut
être utilisée à des températures pouvant atteindre 1600 
F) dans les milieux oxydants, neutres ou atmo-
sphères légèrement riches en gaz. Cette laine conserve
sa rigidité, sa force et sa souplesse, même après de
longues expositions à cette température.
TEMPÉRATURE
ANALYSE CHIMIQUE
ALUMINE, AL
2
0
3
SILICE, SI0
2
Made from pure mullite fibers only, needled on both
sides. Il can be used at continuous operating tempera-
tures up to 1600
0
C (2912
0
F), under oxidizing, neutral
or slightly gas-rich atmospheres, retaining their original
toughness, strength and soft fibrous structure after
extended use at these temperatures.
TEMPERATURE
CHEMICAL COMPOSITION
ALUMINE, AL
2
0
3
SILICE, SI0
2
LAINE MINÉRALE/MINERALWOOL
Cet isolant est fabriqué par un procédé unique utilisant
des fibres textiles de verre liées mécaniquement et
aléatoirement. Ces fibres sont ensuite fusionnées en-
semble par une résine. Ce procédé confère au Textrafine
une très bonne mémoire, c'est-à-dire qu'il reprend son
épaisseur originale même après avoir été compressé.
TEMPÉRATURE
DENSITÉ
This insulation is manufactured by a unique process,
whereby long, textile-type glass fibers are bonded
together in random orientation with a stable thermoset-
ting resin. This process gives the Textrafine a very good
memory, that is to say, it resumes its original thickness
even after being compressed.
TEMPERATURE
DENSITY
PRODUITS RÉFRACTAIRES/REFRACTORY PRODUCTS