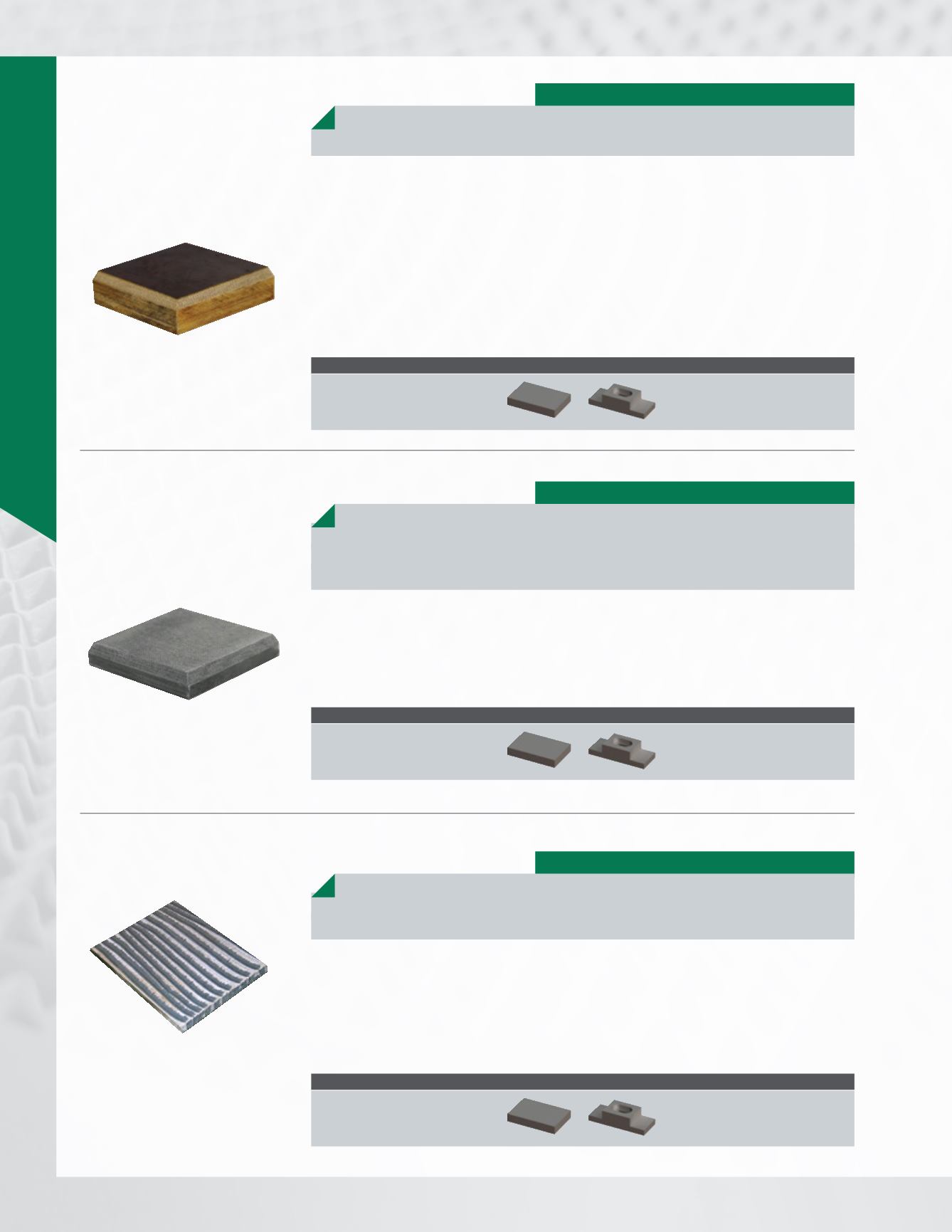 COMPOSITES ET PLASTIQUES  /PLASTICS AND COMPOSITES
MATÉRIAUX COMPOSITES ET PLASTIQUES/ 
COMPOSITES AND PLASTIC MATERIALS
KEVLAR, PHÉNOLIQUE/KEVLAR, PHENOLIC
Le NP193 est composé d'aramide et de fibre de verre
combinés ensemble pour former un matériel plus fort que
les tissus aramide et moins abrasif que les tissus de fibre
de verre. Il est imprégné d'une résine phénolique haute
température qui inclut un lubrifiant solide non conducteur.
Ce matériel à une excellente résistance mécanique à des
températures élevées et à des environnements néfastes.
Les applications possibles incluent des plaques d'usure
pour les systèmes de convoyeurs, et des plaques de
valves, de compresseurs et de pompes.
Composed of aramid and "soft glass" fibers combined
to make a fabric that is stronger than pure aramid and
less abrasive than glass fabrics. It is impregnated with
a high temperature phenolic resin matrix which includes
a non-conducting solid lubricant. It has excellent me-
chanical strength at elevated temperatures and adverse
environments. Applications include wear plates for
conveyor systems, valves plates, and compressor
and pumps.
FORMES DISPONIBLES/AVAILABLE SHAPES
(HAUTE TEMPÉRATURE ANTI-USURE/HIGH TEMPANTI-WEAR)
KEVLAR, PHÉNOLIQUE, CARBONE GRAPHITE/ 
KEVLAR, PHENOLIC, CARBON GRAPHITE
L'ORKOT est un matériel laminé sans amiante fabriqué de
tissus spéciaux imprégnés de résines thermodurcissables,
et de lubrifiants solides. Il possède une résistance excep-
tionnelle à l'usure et est disponible en différents grades
pour répondre aux besoins de plusieurs applications.
ORKOT is a non-asbestos laminated material manufac-
tured by impregnating special fabrics with thermosetting
resins and incorporates solid lubricants. It possesses
exceptional wear resistance and is available in different
grades to meet different application needs.
FORMES DISPONIBLES/AVAILABLE SHAPES
PEEK, FIBRE DE CARBONE/PEEK, CARBON FIBER
Ce PEEK est renforci à 30 % de fibres de carbone. Il
offre une meilleure rigidité, une plus grande résistance
mécanique ainsi qu'une résistance supérieure à la
compression que le PEEK vierge. Les fibres de carbone
dissipent 3,5 fois plus rapidement la chaleur de la surface
This PEEK is a 30% carbon fiber reinforced grade that
offers higher stiffness, mechanical strength and creep
resistance with an optimum wear resistance than the
virgin PEEK. The carbon fibers provide 3.5 times higher
thermal conductivity, dissipating heat from the bearing
surface faster.
FORMES DISPONIBLES/AVAILABLE SHAPES