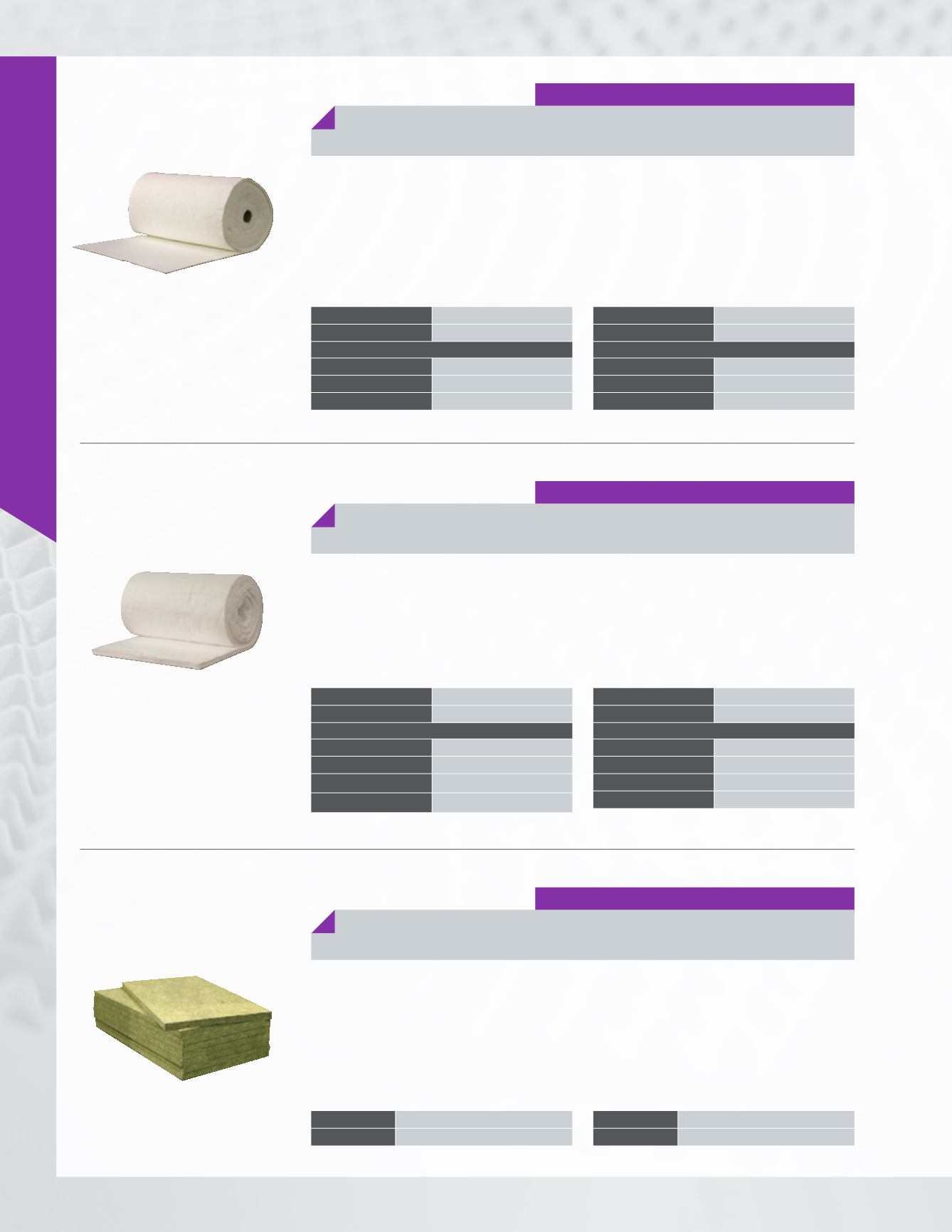 ISOLATION  -RÉFRACTAIRE/ INSULATION - REFRACTORY
PRODUITS RÉFRACTAIRES/REFRACTORY PRODUCTS
LAINE DE SILICE/SILICAMAT
Produite à partir de fibres de verre spéciales, qui ont
un diamètre de filament de 6 à 9 mm, cette laine de
silice représente une génération de produits modernes
qui répondent aux exigences élevées de résistance
thermique et aux strictes normes de santé. Les
fibres sont produites par un procédé mécanique à
TEMPÉRATURE
DENSITÉ
COMPOSITION CHIMIQUE
Si0
2
A1
2
0
3
AUTRES
Made of special glass fibers with a filament diameter
of 6-9 mm, this silica mat represents a modern
product generation that, in any aspect, meets with all
stringent requirements as to temperature consisten-
cy and environmental health standards. The fibers
are formed mechanically without the use of chemical
bonding agents.
TEMPERATURE
DENSITY
CHEMICAL COMPOSITION
Si0
2
A1
2
0
3
AUTRES
LAINE CÉRAMIQUE/CERAMIC FIBER BLANKET
Les nattes de céramique sont constituées d'oxydes
purs d'alumine et de silice, et sont fabriquées par
un procédé spécial, le « spinning ». Le 3R2300 est
flexible et demeure stable à hautes températures,
ce qui fait de lui un excellent choix pour l'isolation.
Il est aussi recommandé comme soutien réfractaire.
TEMPÉRATURE CONTINUE
TEMPÉRATURE MAXIMUM
ANALYSE CHIMIQUE
ALUMINE, A1
2
0
3
SILICE, Si0
2
OXIDE FERRIQUE, FE
2
O
3
DENSITÉ
The ceramic fiber blankets are produced from exception-
ally pure oxides of alumina and silica using the spinning
process. The 3R2300 is flexible and stays stable at
high temperatures which makes it an excellent choice
for insulation. It is also recommended as a refractory
support.
CONTINUOUS USE LIMIT
CLASSIFICATION TEMP. RATING
CHEMICAL ANALYSIS
ALUMINA, A1
2
0
3
SILICA, Si0
2
FERRIC OXIDE, FE
2
O
3
DENSITY
LAINE MINÉRALE/MINERALWOOL
Isolant en feuilles composé de fibres minérales (basalte)
et de scories d'acier. Cette combinaison donne des
matériaux incombustibles avec un point de fusion
d'environ 1177 °C. En plus de posséder d'excellentes
propriétés de résistance au feu, cette laine minérale est
imperméable à l'eau, mais demeure perméable
TEMPÉRATURE
DENSITÉ
These mineral wool fiber insulating sheets are made
from basalt rock and slag. This combination results
in a non-combustible product with a melting point
of approximately 2150 °F, which gives it excellent fire
resistance properties. This mineral wool is impervious
to water, but remains permeable to water vapor.
TEMPERATURE
DENSITY