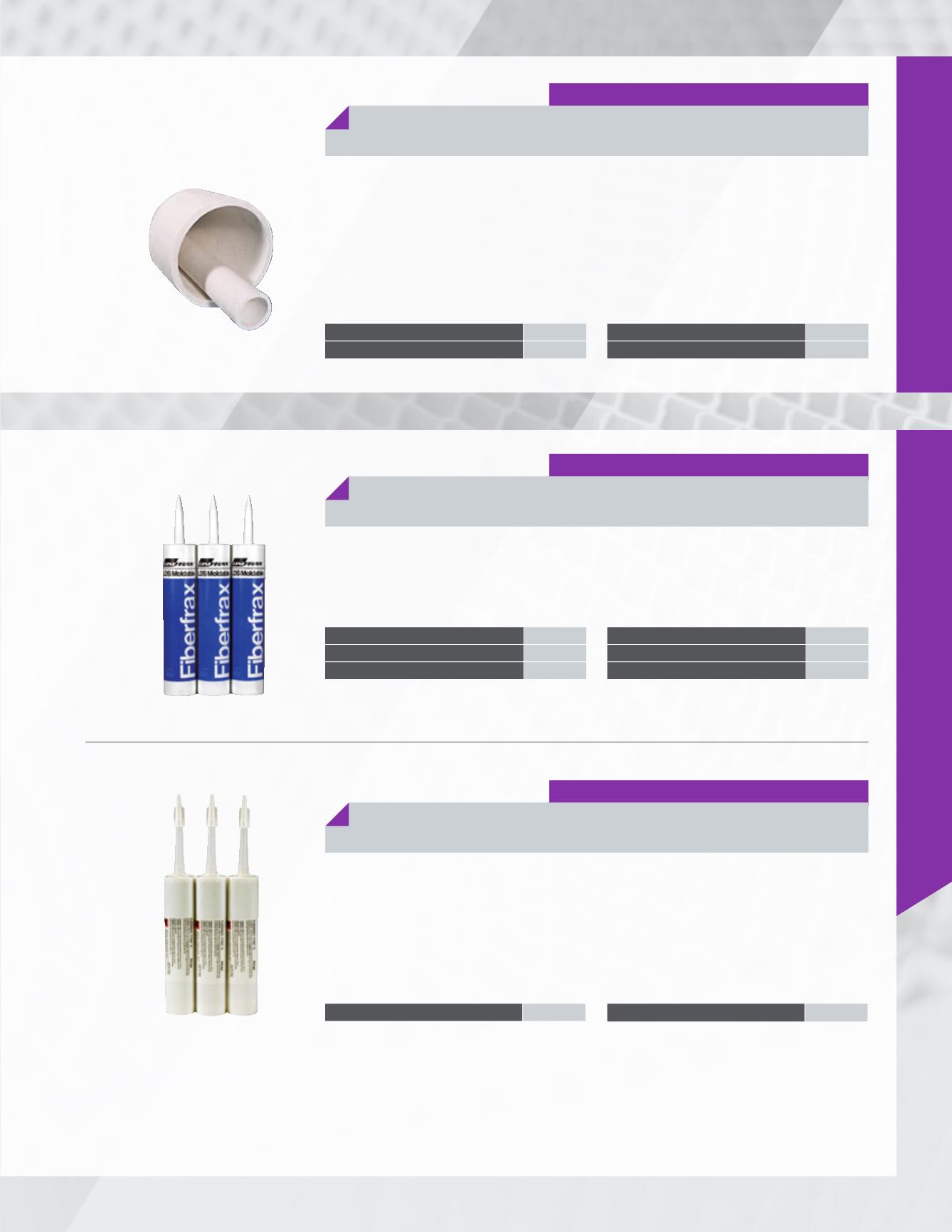 ISOLATION  -RÉFRACTAIRE/ INSULATION - REFRACTORY
Ce composite de silice renforcie est de forme cylindrique.
Il possède une résistance remarquable grâce à sa haute
endurance. Le RS-501 peut servir d'isolateur durable dans
les applications de traitement thermique d'induction. Il est
également couramment utilisé dans des zones où la tempéra-
ture varie rapidement. En raison de son très faible coefficient
de dilatation, ce matériel offre une résistance supérieure aux
chocs thermiques dans une atmosphère oxydée.
COEFFICIENT DE DILATATION THERMIQUE
TEMPÉRATURE
This silica reinforced composite is in a cylindrical
form. It has outstanding resistance due to its high
endurance. The RS-501 can be used as durable insu-
lators in induction heat treating applications. It is also
used in zones where temperatures may very rapidly.
Since it has a very low coefficient of expansion, this
material offers superior resistance to thermal shock in
an oxidized atmosphere.
THERMAL EXPANSION COEFFICIENT
TEMPERATURE
PÂTE THERMIQUE/THERMIC PUTTY
PÂTE THERMIQUE/THERMIC PUTTY
Le LDS Moldable est une pâte dont les fibres céramique
ont été dispersées dans un mélange réfractaire collant
à base d'eau. Ce matériel s'applique à la truelle, et peut
aussi se façonner avec les mains.
TEMPÉRATURE CONTINUE
SOLIDE
RÉTRÉCISSEMENT EN 24 HRES
Spécifications : U.S. Coast Guard pour « Matériel incombustible »
The LDS Moldable consists of ceramic fibers dis-
persed in a sticky water-based refractory binder. This
material has a putty-like consistency which permits
application by caulking, troweling or hand forming.
CONTINUOUS USE LIMIT
SOLIDS
SHRINKAGE (24 HRS)
Specifications: U.S. Coast Guard for "Incombustible Materials"
COLLE THERMIQUE/THERMIC CLUE
COLLE THERMIQUE/THERMIC GLUE
La colle haute température thermique se compose de
différents matériaux inorganiques. Elle est appropriée
pour coller des matériaux isolants sur des surfaces
comme l'acier, le verre, l'émail ou d'autres matériaux
comparables. En raison de la valeur élevée du pH, l'acier
ne sera pas corrodé. Cependant, une légère corrosion
est possible sur l'aluminium.
TEMPÉRATURE
This high temperature glue consists of different
inorganic materials. It is most suitable to stick
insulating material to surfaces like steel, glass,
enamel or comparable others. Because of the in-
creased pH value steel will not corrode. However,
on aluminium, slight corrosion is possible.
TEMPERATURE