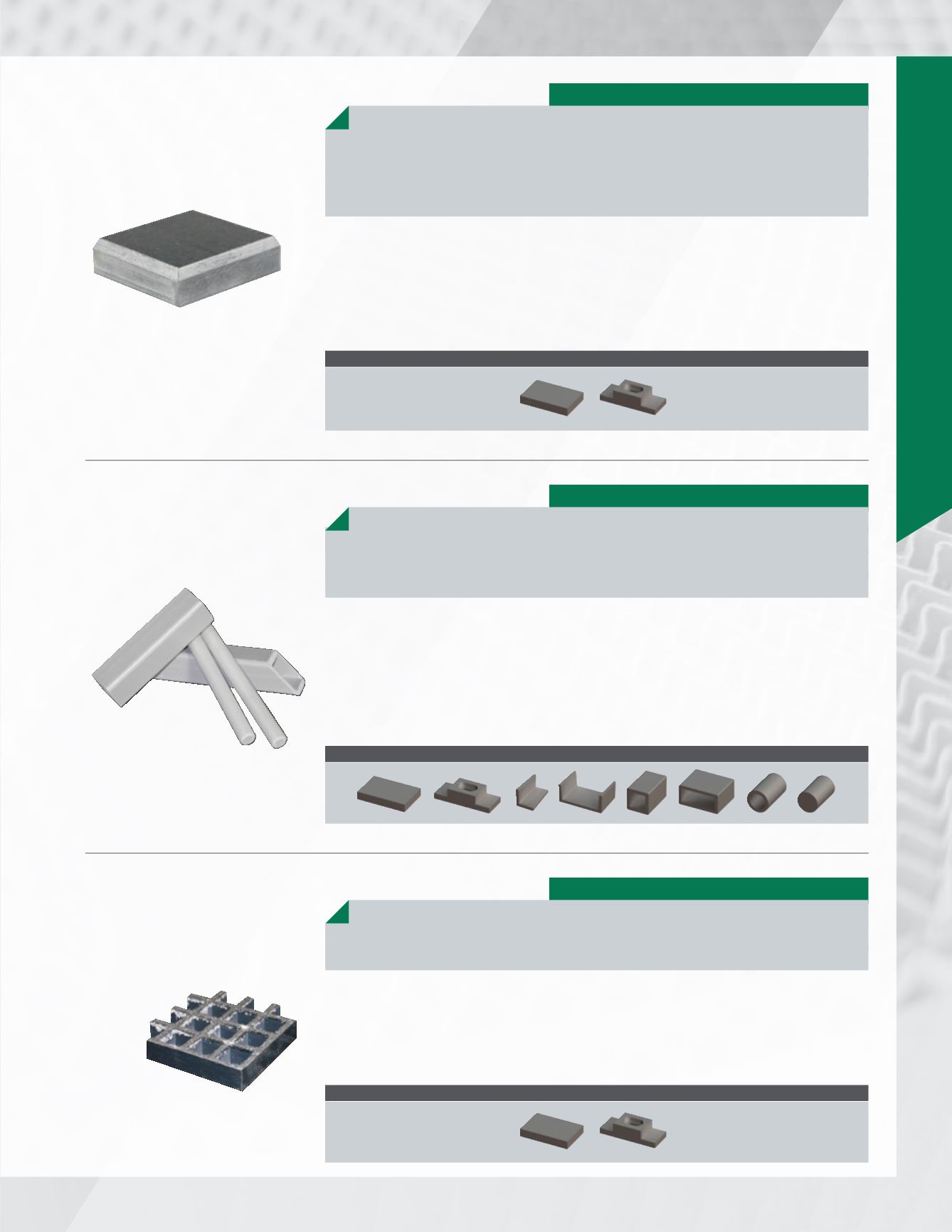 COMPOSITES ET PLASTIQUES  /PLASTICS AND COMPOSITES
MATÉRIAUX COMPOSITES ET PLASTIQUES/ 
COMPOSITES AND PLASTIC MATERIALS
FIBRE DE VERRE, POLYESTER À HAUTE
RÉSISTANCE MÉCANIQUE EN COMPRESSION/
FIBERGLASS, POLYESTER HIGH COMPRESSION
La feuille de 1050 est un grade électrique haute température
qui a une grande résistance. Elle est fabriquée sous haute
chaleur et haute pression dans des moules métalliques
spécialement adaptés, procédé qui fournit à ce laminé d'ex-
cellentes propriétés mécaniques et électriques. Le 1050 est
principalement utilisé pour fabriquer des cales de moteur.
The 1050 is a high strength and high temperature
electrical grade sheet which is manufactured under
high heat and pressure in matched metal moulds.
This results in a laminate with excellent mechanical
and electrical properties. It is used to make motor
wedges.
FORMES DISPONIBLES/AVAILABLE SHAPES
1500/1525 PROFILÉ STRUCTUREL/ 
FIBRE DE VERRE FILAMENT/CONTINUOUS
Profilés structurels utilisés dans les environnements
corrosifs pour les applications d'ingénierie et spé-
cialement développés pour résoudre les problèmes de
corrosion. Ils sont 20 % plus léger que le métal et 70 %
moins dense que l'aluminium. Disponible en différentes
formes: angles, barres, poutres, sections en U, feuilles,
bandes, boulons et écrous, tiges et tubes.
Structural composites that withstand corrosive
environments for engineering applications developed
to solve corrosion problems. It is 20% lighter than
the metal and 70% lighter than aluminum. Available in
different shapes: Angles, bars, beams, channels, flat
sheets, flat strips, nuts and bolts, rods and tubes.
FORMES DISPONIBLES/AVAILABLE SHAPES
GRILLE MOULÉE/MOLDED GRATING
POLYESTER, VINYLESTER, FIBRE DE VERRE/ 
POLYESTER, VINYLESTER, FIBERGLASS
Ce caillebotis moulé à usage général est fabriqué de résine
de polyester orthophtalique. Il offre une bonne résistance
à la corrosion et constitue un produit économique pour
améliorer la sécurité en milieu de travail. Diverses options
de surfaces et différentes couleurs sont disponibles.
This general purpose molded grating is made of a
orthophthalic polyester resin. It offers a good corrosion
resistant and economical product to enhance workplace
safety. Top surface options are available and in different
colors also.
FORMES DISPONIBLES/AVAILABLE SHAPES