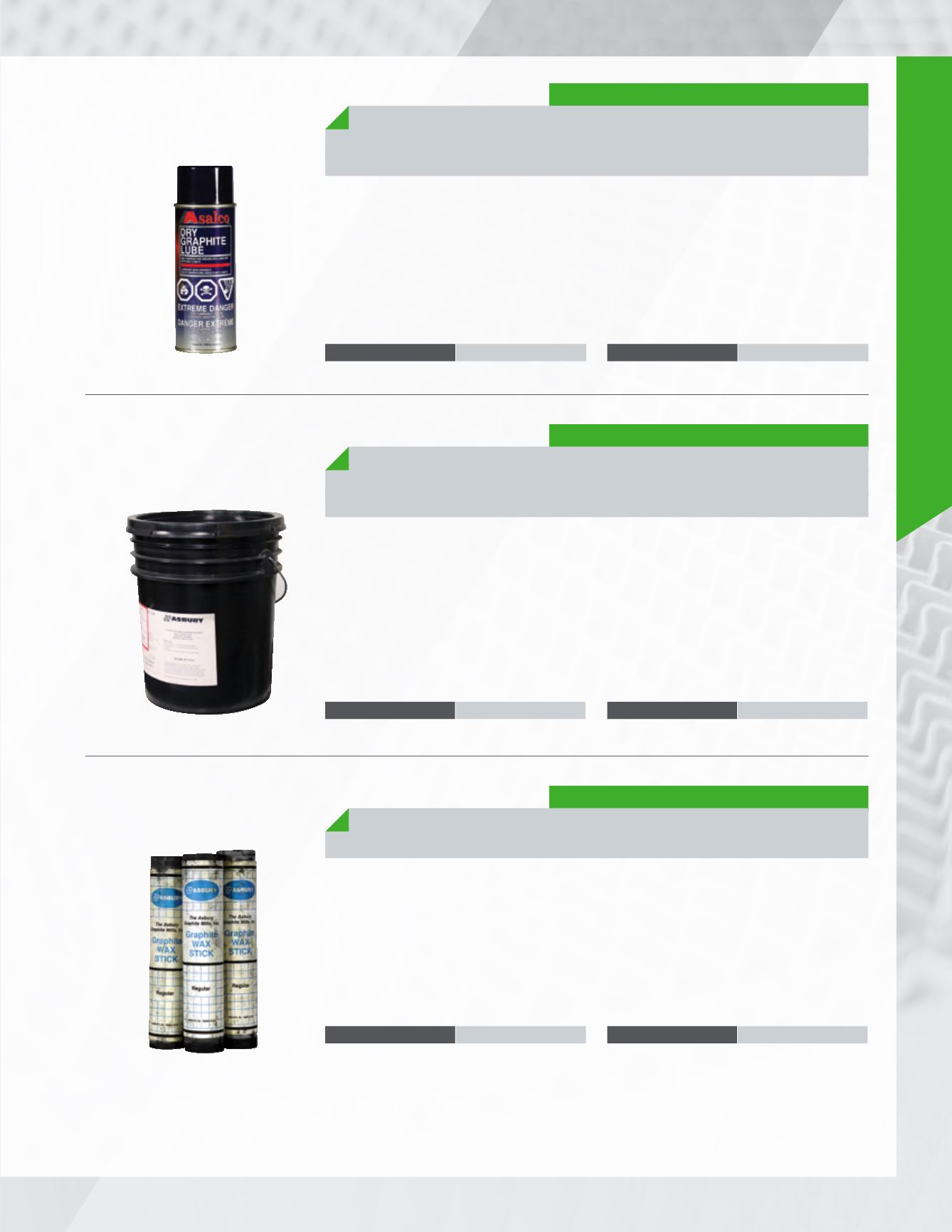 LUBRIFIANTAU GRAPHITE AÉROSOL/ 
AEROSOL GRAPHITE LUBRICANT
Excellent lubrifiant aérosol qui empêche le collage et le
grippage. Il sèche rapidement à l'air et adhère au bois, aux
métaux et aux plastiques. Le 3R3020 offre une pellicule
lisse et résistante à des températures variant de -34 °C à
426 °C. Il n'est pas huileux et il est ininflammable. Le gaz
utilisé dans l'aérosol est « Ozone Friendly », car les CFC
dommageables pour l'environnement ont été éliminés.
FORMATS DISPONIBLES
Excellent aerosol dry-film lubricant that prevents sticking
and seizing. It air dries quickly, can be applied to metal,
wood and plastics. The 3R3020 provides a smooth film
and resists to various temperatures of -30 °F to 800 °F.
Also, it is not greasy, is non-flammable, it conducts
electricity without being magnetic. The propellant is
"ozone friendly" since the environmentally harmful CFCs
have been eliminated.
AVAILABLE SIZES
LUBRIFIANT AU GRAPHITE/PRECOAT/ 
Ce lubrifiant à base d'eau contient 22 % de graphite
synthétique. Il est utilisé pour le forgeage et les travaux
nécessitant le façonnage des métaux à des températures
élevées, comme le coulage des billettes, l'extrusion du
cuivre et la coulée de matrices sous pression. Ce produit
est normalement dilué avec de l'eau dans un ratio variant
de 1:1 à 7:1 selon l'application. Il est fortement suggéré
de préchauffer la pièce avant d'appliquer le lubrifiant
FORMATS DISPONIBLES
This water base lubricant contains 22% synthetic
graphite. It is used for forging and metalworking
applications at high temperatures such as billet
pre-coat, brass extrusion and casting mould release.
It is normally diluted with water at a varying ratio of
1:1 to 7:1 depending on the application. It is strongly
recommended to preheat surfaces before application.
AVAILABLE SIZES
BÂTON CIRE AU GRAPHITE/GRAPHITEWAX STICK
Les bâtons de cire au graphite sont spécialement conçus
pour lubrifier diverses surfaces. Ils permettent d'appliquer
une pellicule souple qui empêche les outils et les matrices
de coller. Ils diminuent la friction et, par conséquent,
l'accumulation de chaleur pendant le sciage, le perçage
et le découpage à vitesse élevée. Ce produit ne laisse pas
de résidus sur les pièces et empêche la poussière et les
débris de coller à la pièce. Température maximale : 121 °C.
FORMATS DISPONIBLES
The graphite wax sticks are specially formulated to
lubricate various surfaces. It permits a soft coating to
be applied to avoid moulds and tools to stick. It reduc-
es friction and heat while increasing equipment life.
It is ideal as a general-purpose lubricant for drilling,
tapping and cutting operations. This product does not
leave any residue and prevents dust or debris to stick
to parts. Maximum temperature : 250 °F.
AVAILABLE SIZES
LUBRIFIANTS ET SCELLANTS/ LUBRICANTS AND SEALING