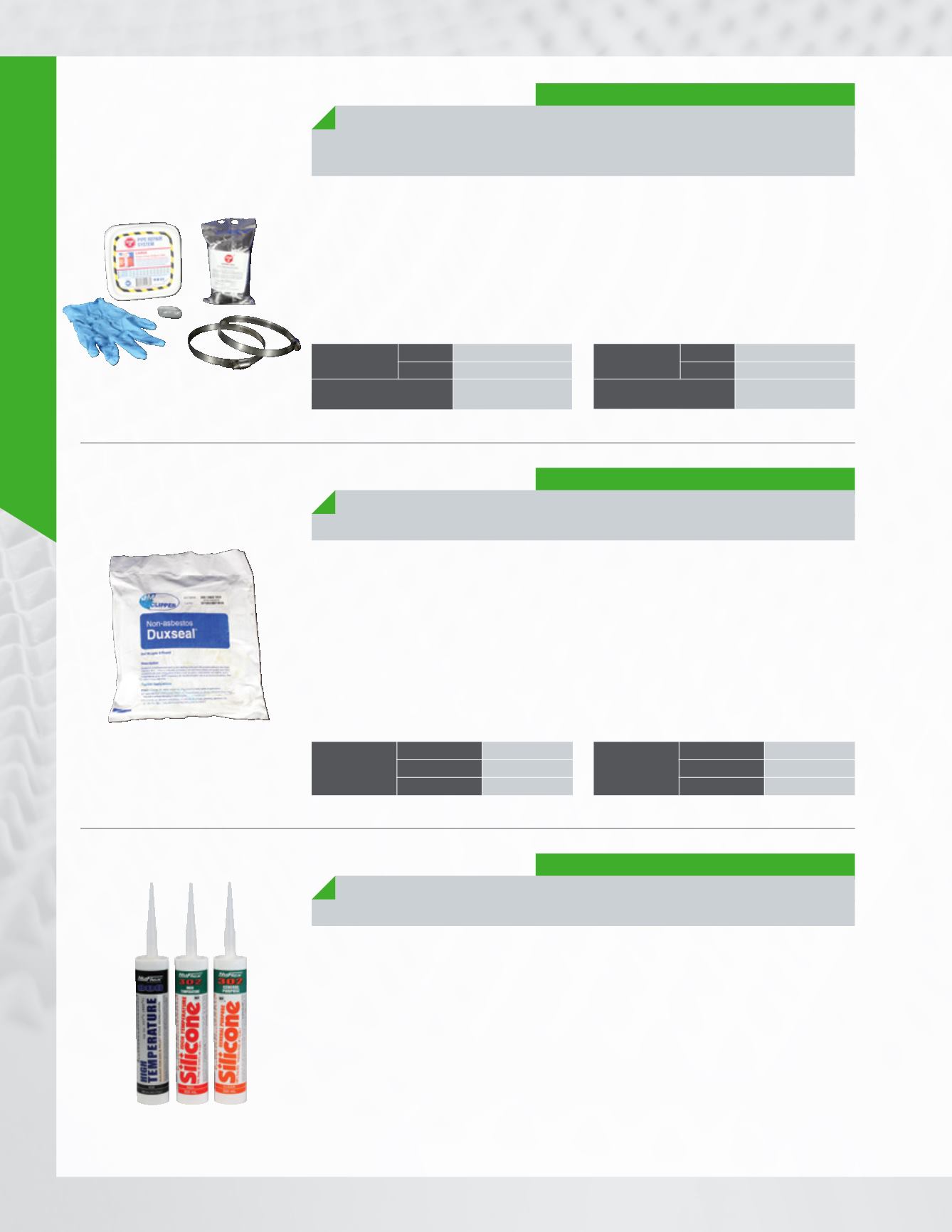 TROUSSE DE RÉPARATION/ REPAIR SYSTEM
TROUSSE DE RÉPARATION POUR TUYAU/ 
La trousse de réparation STOP IT
réparer les fuites sur les tuyaux d'acier, d'aluminium, de
cuivre, d'acier inoxydable ou galvanisé. Elle s'utilise aussi
sur la tuyauterie de PVC, CPVC, PVDF, polyéthylène, poly-
propylène et fibre de verre. La trousse contient un ruban
de fibre de verre recouvert d'une résine d'uréthane qui
s'active au contact de l'eau, ce qui est idéal pour réparer
les fuites et renforcir la tuyauterie, même sous l'eau.
TEMPÉRATURE
CONTINUE
INTERMITTENT
CAPACITÉ DE RÉTENTION DE PRESSION
Pression recommandée jusqu'à
The
STOP IT
®
pipe repair system repairs carbon
steel, stainless, aluminium, copper, galvanized steel,
PVC, CPVC, PVDF, polyethylene, polypropylene, and
fiberglass pipes. The kit contains a knitted fiberglass
tape coated with a special urethane resin that is
water-activated, which is ideal for repair of pipe
leaks and reinforcing pipe joints in any situation,
even under water.
TEMPERATURE
CONTINUOUS
INTERMITTENT
PRESSURE RETAINING CAPABILITY
Recommended for pressures up
Mélange inégalé à usages multiples possédant une
excellente adhésion aux surfaces tout en maintenant sa
forme. Ce matériel est largement utilisé dans l'industrie à
cause de ses caractéristiques uniques. Il colle à la plupart
des surfaces propres, ne propage pas la flamme et ne
tache pas les mains. Le Duxseal est insoluble dans l'eau
et n'est pas affecté par l'humidité, les gaz ordinaires et
les condensées. Il scelle la poussière, la saleté, l'eau, les
acides, l'air, les vapeurs et les gaz. Il est disponible en sac
TEMPERATURE
CONTINUE
COURTES PÉRIODES
MINIMUM
It is a multi-purpose sealing and caulking compound with
excellent adhesion and high shape retention. This compound
is widely used throughout the industry because of its unique
characteristics. It adheres to most clean surfaces, does not
propagate flames and does not stain hands. The Duxseal is
insoluble in water and is unaffected by moisture, ordinary
gases and condensation. It seals out dust, dirt, water, acids,
air, fumes and gases. Available in 1 lbs and 5 lbs bags.
TEMPERATURE
CONTINUOUS
BRIEF PERIODS
MINIMUM
Les cartouches offrent deux types de silicone, soit le silicone
HT et le silicone régulier. Le silicone HT tolère des tempéra-
tures pouvant atteindre 260 °C en continu. Il est disponible en
noir ou en rouge. Pour sa part, le silicone régulier résiste à des
températures maximales de 232 °C, et est disponible en noir,
en rouge, en blanc, en transparent ou en couleur aluminium.
The silicone cartridges are available in HT (high tempera-
ture) and regular silicones. The silicone HT, red or black,
tolerates continuous temperatures up to 500 °F. As for
the regular silicone, it resists a maximum temperature
of 450 °F and is available in black, red, white, clear and
aluminium color.