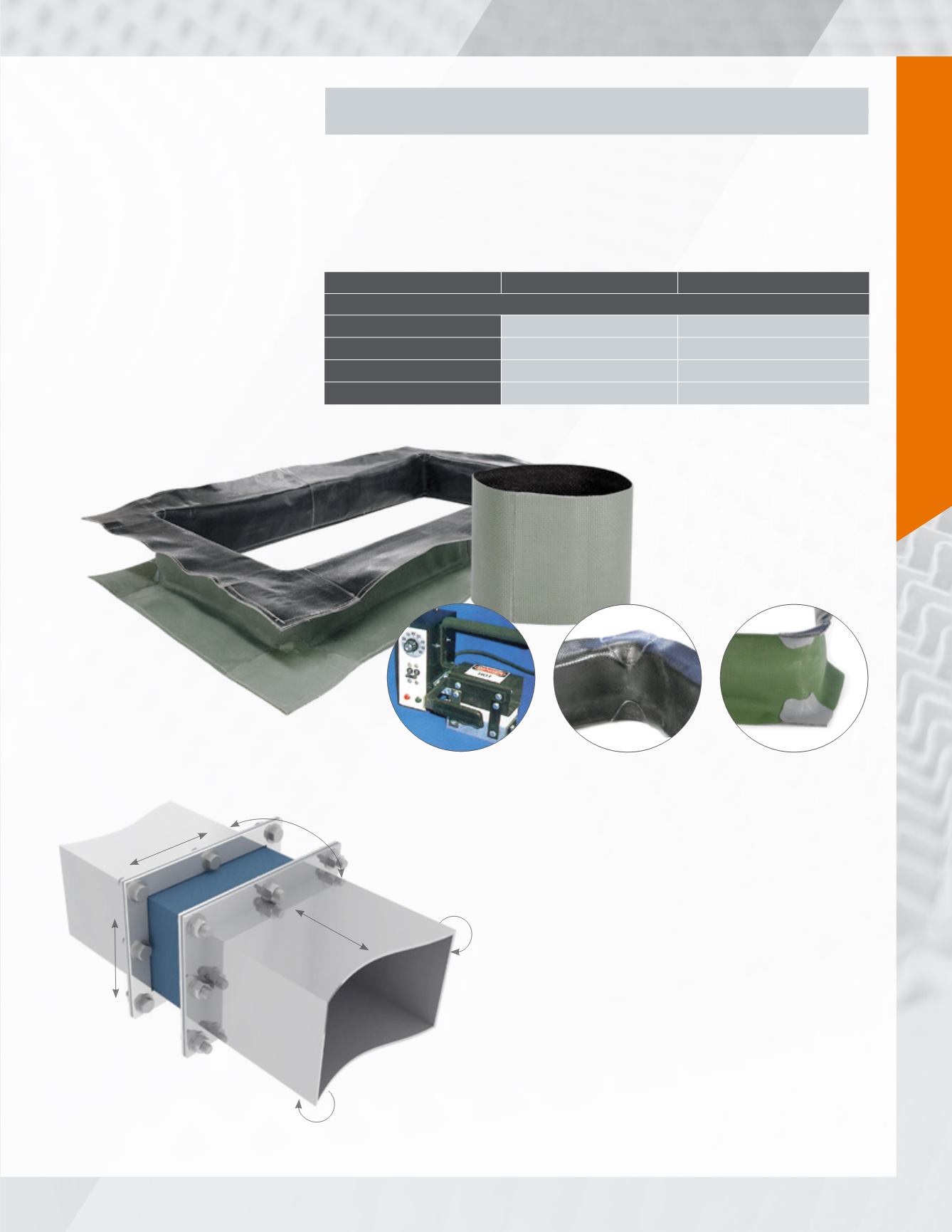 JOINTS D'EXPANSION  /EXPANSION JOINTS
JOINTS D'EXPANSION/EXPANSION JOINTS
- Axial (compression, extension)
Les matériaux utilisés et les
méthodes de fabrication sont
directement reliés aux délais lors
des arrêts de production, aux
possibilités de mouvement ainsi
qu'aux variations de température.
- Lateral
- Angular
- Axial (compression, extension)
- Torsion
The materials used and the
methods of manufacturing are
directly linked to various move-
ment possibilities as well as
variations in temperature
operation and production
downtime delays.
JOINT EXPANSION THERMO-SOUDÉ /
THERMO-WELDED EXPANSION JOINT
Industries 3R vous offre maintenant des joints d'ex-
pansions thermo-soudés fait à partir de membrane
fluoroplastique ayant une très grande résistance à
la température et aux produits agressifs. Nous vous
offrons aussi la possibilité de louer l'équipement afin
d'effectuer vos propres joints en chantier.
Industries 3R now offers thermo-welded
expansion joints made from fluoroplastic mem-
branes which possess a very high resistance to
temperatures and aggressive products. We also
offer you the opportunity to rent equipment in
order to make your own seals on site.
MATÉRIEL/MATERIAL
TEXJEXP 1500
TEXJEXP 2000
TEMPÉRATURE/TEMPERATURE
CONTINUE/CONTINUOUS
COURTE-DURÉE/SHORT-TIME
POIDS PAR PIED CARRÉ/WEIGHT PER SQUARE FOOT
ÉPAISSEUR TOTAL/TOTAL THICKNESS