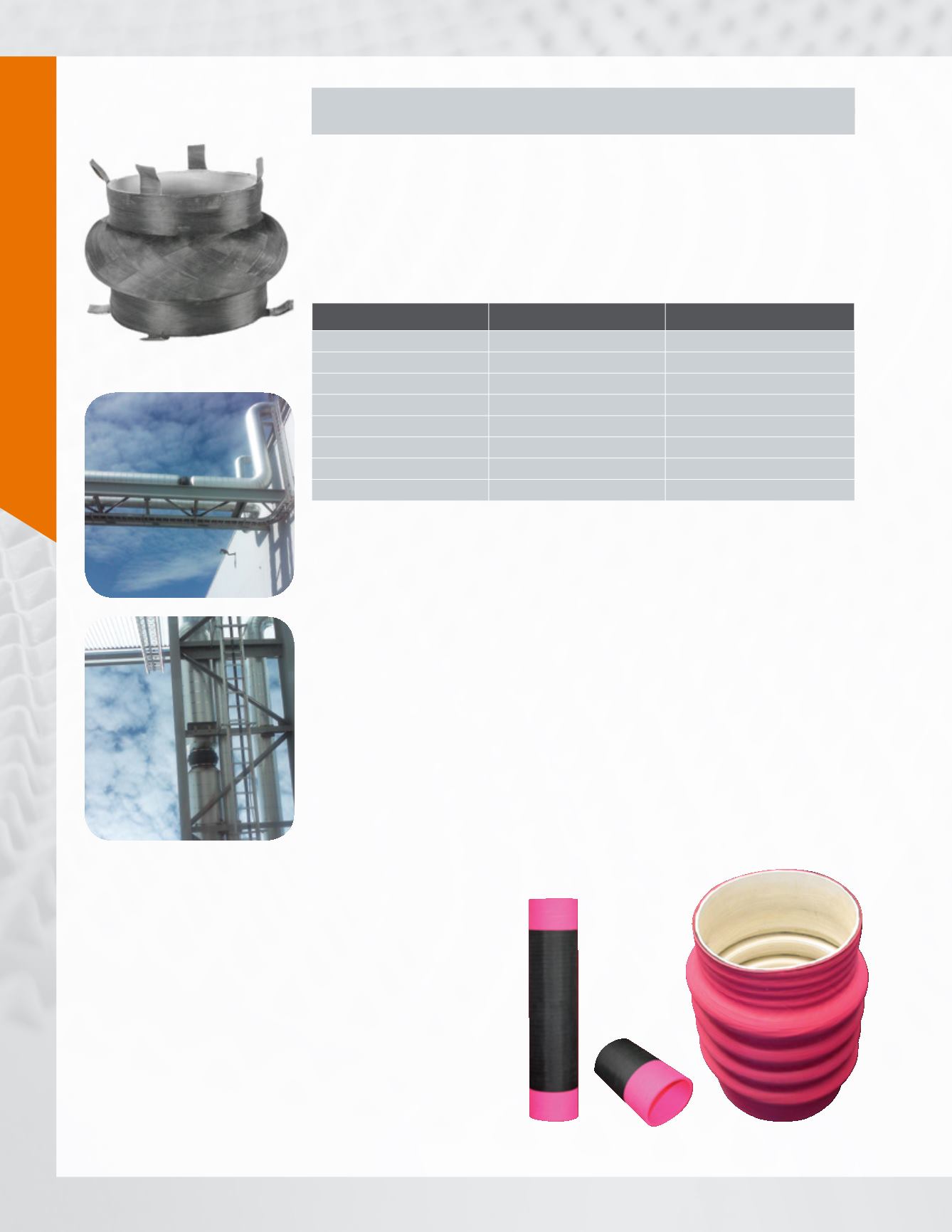 JOINTS D'EXPANSION  /EXPANSION JOINTS
JOINTS D'EXPANSION/EXPANSION JOINTS
JOINT D'EXPANSION MOULÉ /
- Pure Gum (Naturel / Natural)
- Polyuréthane / Polyurethane
Les joints moulés en élastomère sont utilisés
pour des applications à des températures
moins élevées. Ils ont l'avantage de diminuer
considérablement les vibrations et le bruit.
Leur flexibilité permet une grande tolérance
sur les différents mouvements d'opération tout
en facilitant l'installation.
Molded elastomer seals are used for appli-
cations at lower temperatures. They have the
advantage of dramatically reducing vibrations
and noise. Their flexibility allows a large
tolerance on different movement operations
and facilitating the installation.
MATÉRIAUX DISPONIBLES/
AVAILABLE MATERIALS
LIMITE DE TEMPÉRATURE MIN.
ET D'OPÉRATION
MIN. TEMPERATURE AND
OPERATION LIMITS
Pure Gum (Naturel / Natural)
Polyuréthane / Polyurethane
Certains de ces caoutchoucs sont disponibles
Différents mélanges de caoutchouc peuvent être
utilise dans le même joint.
Some of these rubbers are available FDA as well
as reinforced.
Different mixes of rubbers may be used in the
same joint.
Afin que nous fabriquions le joint d'expansion
rencontrant vos besoins, les points suivants
In order to permit us to fabricate the expansion
joint that will meet your needs, the following
points must be valid:
- Dimension intérieure / Inside dimension
- Largueur du joint / Joint width
- Épaisseur du mur / Wall thickness
- Température / Temperature
- Pression (lb/po²) / Pressure (lb/in²)
- Vacuum (po Hg) / Vacuum (in Hg)
- Mouvement axial, radial / Axial,
- L'influence externe / External influence
- Résistance chimique (pH) /