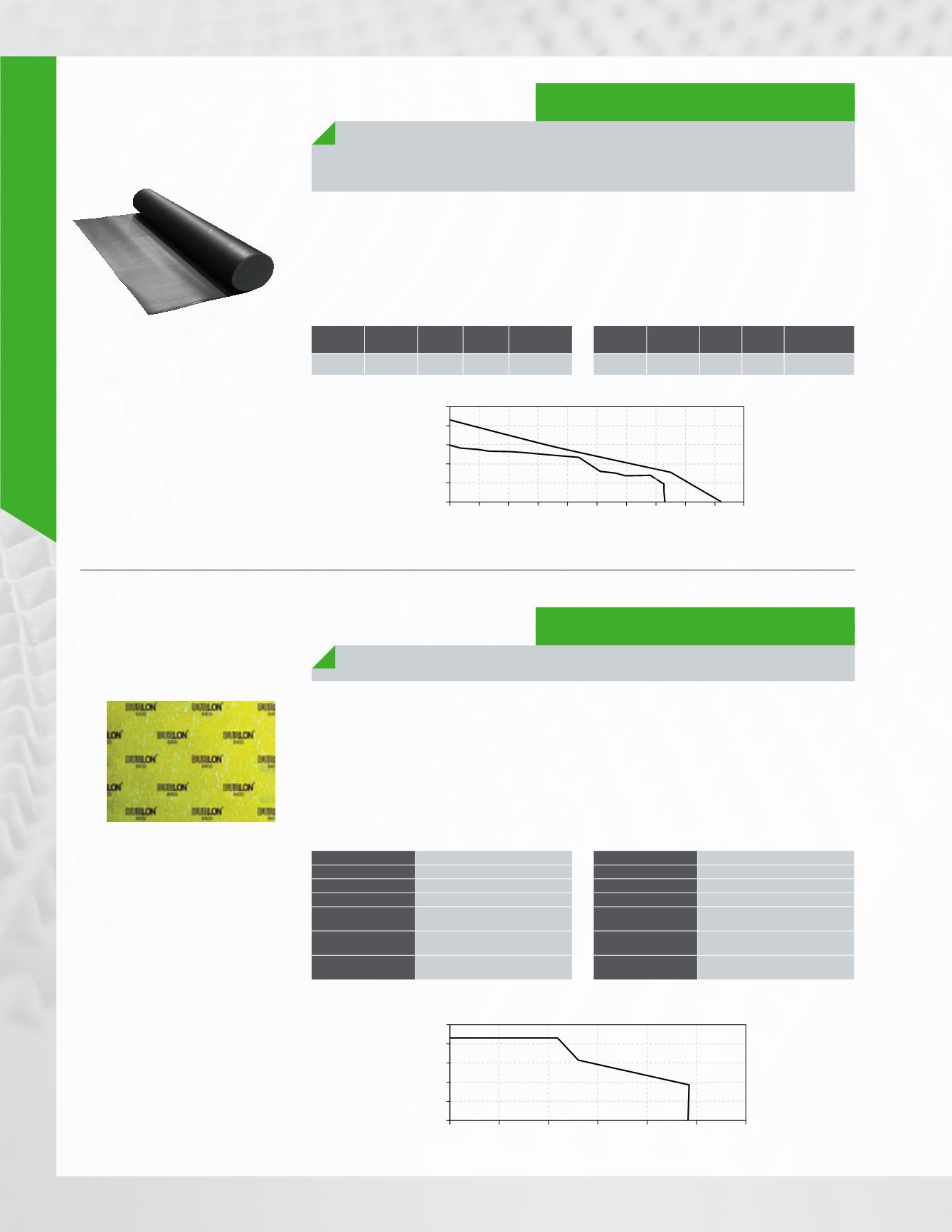 FEUILLE FIBRES INORGANIQUES ET NBR/
INORGANIC FIBERS AND NBR BINDER
Feuille comprimée idéale pour les applications
impliquant la vapeur saturée et la vapeur très
chaude. Elle résiste efficacement aux change-
ments de température cycliques. Ce matériel est
recommandé pour étancher les dérivés de pétrole,
d'éthanol et de produits chimiques.
TEMPÉRATURE
MAXIMUM
TEMPÉRATURE
CONTINUE
PRESSION
MAXIMUM
PRESSION
CONTINUE
COMPRESSIBILITÉ
ASTM F36
Compressed sheet for saturated and superheated
steam applications. It is used in thermal cycling appli-
cations due its thermal stability. It is suitable for sealing
petroleum derivates, ethanol and chemical products.
MAXIMUM
TEMPERATURE
CONTINUOUS
TEMPERATURE
MAXIMUM
PRESSURE
CONTINUOUS
PRESSURE
COMPRESSIBILITY
ASTM F36
Température/Temperature (
0
F)
Pression lbs/po
2
/Pressure psi
8400 est produit à partir de fibres
phénoliques et minérales qui sont combinées avec
un liant de caoutchouc nitrile. Il résiste à de plus
hautes températures que les matériaux à base de
fibre aramide et se découpe mieux que les produits
à base de carbone ou de fibre de verre. Ce matériel
est excellent pour les applications en présence
de vapeur, de caustiques doux ou d'acides.
COULEUR
TEMPÉRATURE
PRESSION MAXIMUM
PH
COMPRESSIBILITÉ (%)
ASTM F36
RECOUVREMENT (%)
ASTM F36
RÉSISTANCE À LA TENSION
ASTM F152
Durlon
®
8400 contains high temperature phenolic
fibers and minerals combined with high-grade nitrile
(NBR) rubber. It exhibits higher temperature limits than
aramid based materials and the handling and cutting
characteristics are greatly improved than carbon and
glass fiber products. It is an excellent gasket material
for use in steam, mild caustics and acids.
COLOR
TEMPERATURE
MAXIMUM PRESSURE
PH
COMPRESSIBILITY (%)
ASTM F36
RECOVERY (%)
ASTM F36
TENSILE STRENGTH
ASTM 152
Température/Temperature (
0
F)
Pression lbs/po
2
/Pressure psi
FEUILLES COMPRIMÉES/COMPRESSED SHEETS