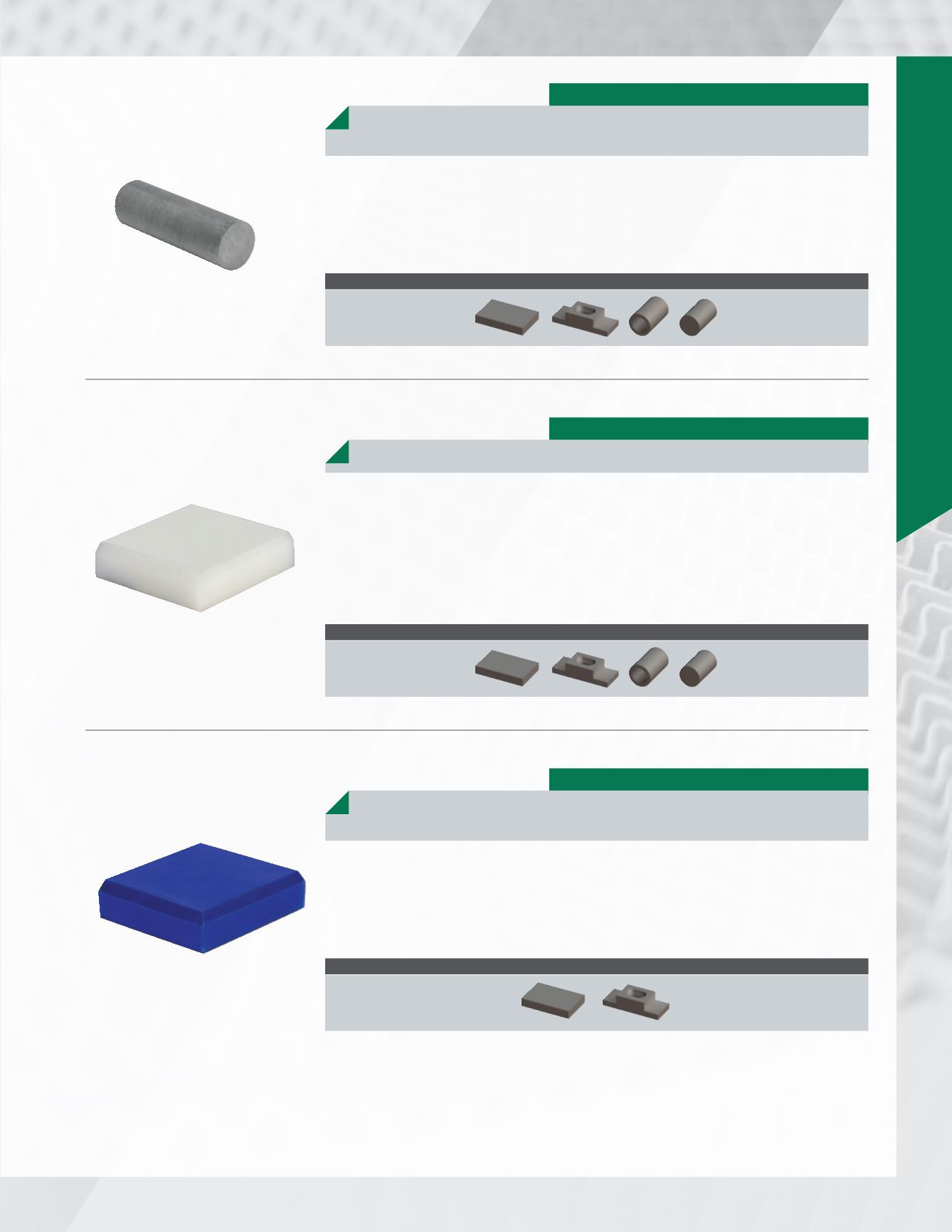 COMPOSITES ET PLASTIQUES  /PLASTICS AND COMPOSITES
MATÉRIAUX COMPOSITES ET PLASTIQUES/ 
COMPOSITES AND PLASTIC MATERIALS
Le graphite ajouté au PTFE offre une très bonne résistance
aux environnements corrosifs et aux frottements, et il
améliore les propriétés de glissement dans des conditions
sèches ou mouillées. Normalement mélangé avec carbone
This Graphite filled PTFE has good chemical resistance to
corrosive environments and exhibits good initial wear and
rubbing /sliding characteristics in dry and water applica-
tions. Commonly blended with carbon and PTFE.
FORMES DISPONIBLES/AVAILABLE SHAPES
Polymère qui possède une combinaison unique de
résistances à l'usure, à l'impact et à la corrosion, en plus
d'un faible coefficient de friction. Résistant aux attaques
chimiques et à l'humidité, le TIVAR 1000 UHMW est une
solution économique pour résoudre les problèmes de
manutention de nourriture. Il est conforme aux normes
américaines FDA, USDA et 3-A.
The Tivar1000 UHMW is an engineered polymer with a
unique combination of wear and corrosion resistance,
low friction surface and impact strength. It is resistant to
chemical attack and moisture absorption and is a cost-ef-
fective solution for food handling problems which meets
FDA, USDA and 3-A Dairy guidelines for food processing
and handling.
FORMES DISPONIBLES/AVAILABLE SHAPES
THERMOPLASTIQUE/THERMOPLASTIC
Revêtement protecteur anti-friction s'utilisant dans les
bennes, les convoyeurs et les appareils de manutention de
produits en vrac. Ce matériel est reconnu pour permettre
une circulation facile des matériaux solides, en raison de
son faible coefficient de friction.
Premium lining material for bulk material handling. It is
noted for its performance in promoting bulk solids flow
of cohesive or non-free flowing products due to its low
surface friction.
FORMES DISPONIBLES/AVAILABLE SHAPES