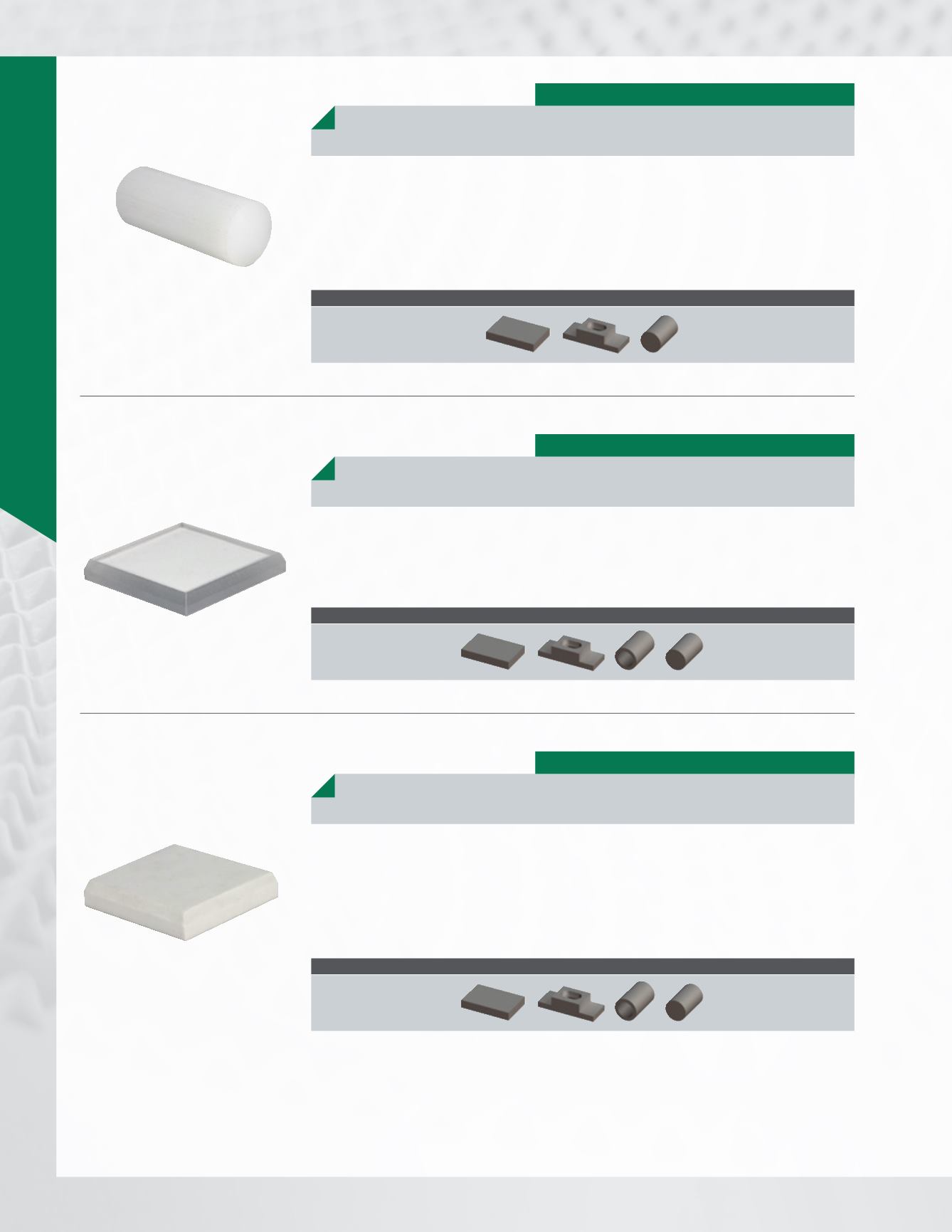 COMPOSITES ET PLASTIQUES  /PLASTICS AND COMPOSITES
MATÉRIAUX COMPOSITES ET PLASTIQUES/ 
COMPOSITES AND PLASTIC MATERIALS
THERMOPLASTIQUE/THERMOPLASTIC
Le polypropylène possède une excellente force diélec-
trique, ainsi qu'une bonnne résistance aux produits
chimiques et à des températures jusqu'à 80 ºC. Il ne se
fissure pas sous tension et demeure insoluble dans la
plupart des solvants à une température ambiante.
Polypropylene has excellent dielectric strength, good
chemical resistance and resists up to 176 ºF. It is not
prone to environmental stress cracking. It is harder
than polyethylene and has greater tensile strength. At
room temperature it is essentially insoluble in common
solvents.
FORMES DISPONIBLES/AVAILABLE SHAPES
THERMOPLASTIQUE/THERMOPLASTIC
Le Lexan est un matériel léger fait de polycarbonate
transparent reconnu pour sa résistance exceptionnelle
aux chocs, sa stabilité dimensionnelle supérieure,
sa résistance haute température et sa grande clarté.
The Lexan is a light weight transparent polycarbonate
material that is known for its outstanding impact
strength, superior dimensional stability, high temperature
resistance and high clarity.
FORMES DISPONIBLES/AVAILABLE SHAPES
FIBRE DE VERRE/GLASS FILLED
Les fibres de verre ajoutées au PTFE améliorent gran-
dement ses propriétés chimiques, mécaniques et élec-
triques. L'ajout de verre contribue aussi à augmenter les
propriétés de compression du matériel de 40 %, ainsi que
sa résistance à l'usure. Ce composé résiste aux acides et
à l'oxydation, mais il peut être attaqué par les alcalins.
The glass fibers added to the PTFE improve its chemical,
electrical and mechanical properties. Addition of glass
also improves compressive properties by as much as
40% and its wear resistance greatly. These compounds
resist acids and oxidation but can be attacked by alkali.
FORMES DISPONIBLES/AVAILABLE SHAPES