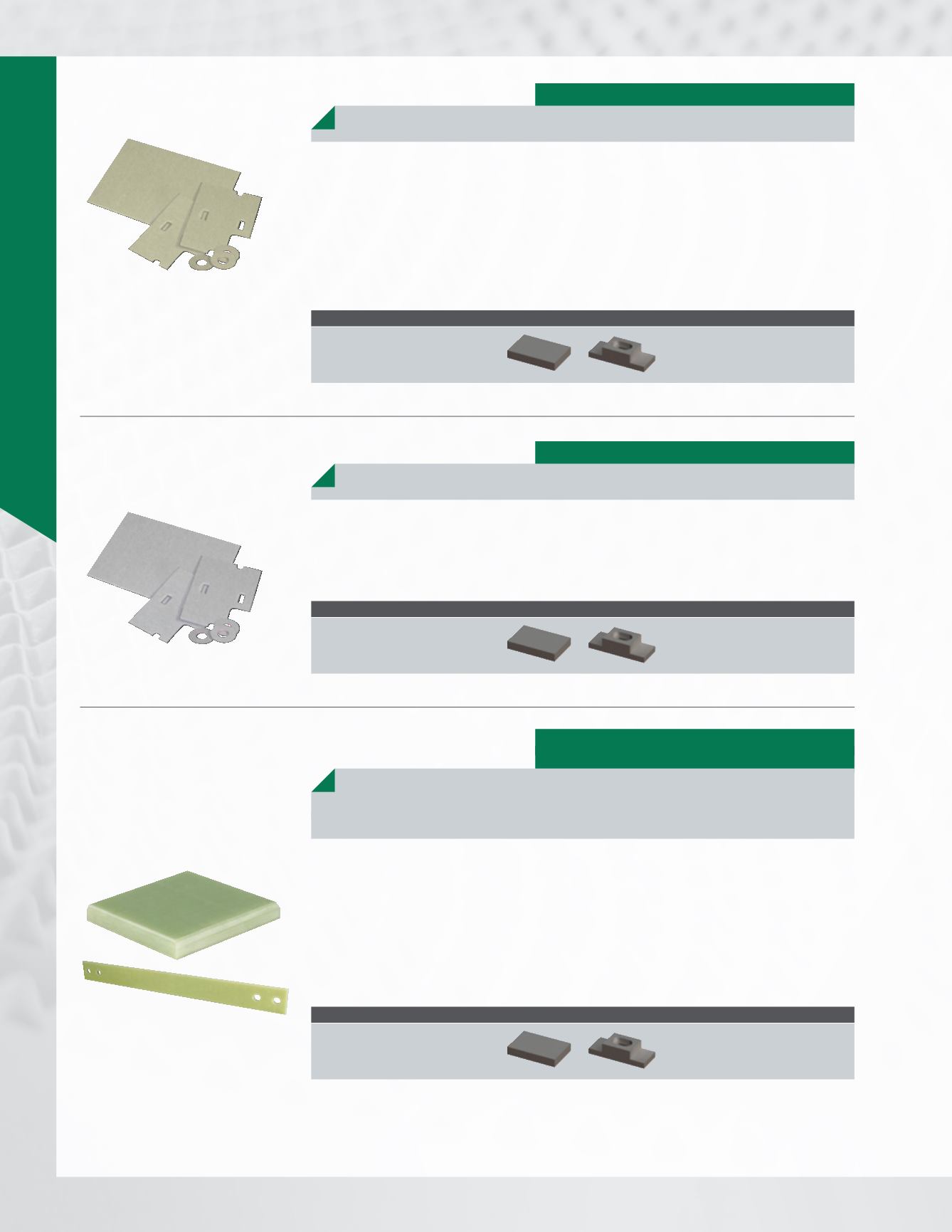 COMPOSITES ET PLASTIQUES  /PLASTICS AND COMPOSITES
MATÉRIAUX COMPOSITES ET PLASTIQUES/ 
COMPOSITES AND PLASTIC MATERIALS
PAPIER VULCANISÉ/VULCANIZED PAPER
PAPIER NOMEX 410/NOMEX 410 PAPER
Destiné à l'isolation électrique, le Nomex 410 est un papier
synthétique qui présente une bonne rigidité diélectrique. Il
est compatible avec toutes les classes de résines, vernis,
colles, liquides pour transformateurs, huiles lubrifiantes et
agents réfrigérants usuels. Son champ d'utilisation s'étend
des moteurs à courant continu et alternatif, jusqu'aux gros
générateurs, en passant par les transformateurs secs ou
Designed as an electric insulation, the Nomex 410 is a
synthetic paper that presents a good dielectric strength. It
is compatible with all classes of resins, varnishes, glues,
transformer liquids, lubricating oils and usual refriger-
ation agents. Its application scope extends from DC to
AC motors and generators, and also dry and oil cooled
transformers.
FORMES DISPONIBLES/AVAILABLE SHAPES
PAPIER VULCANISÉ/VULCANIZED PAPER
PAPIER VULCANISÉ GRIS/GREYVULCANIZED PAPER
Le papier gris vulcanisé est flexible et extrêmement
durable. Non toxique, ce matériel est idéal comme
isolant électrique, en raison de ses excellentes propriétés
diélectriques et électriques.
Grey vulcanized paper is flexible and extremely durable,
making it a good non-toxic electrical insulator. It is mainly
for electrical insulation due to its excellent dielectric
and electrical properties.
FORMES DISPONIBLES/AVAILABLE SHAPES
FIBRE DE VERRE UNIDIRECTIONNEL, EPOXY/ 
UNIDIRECTIONAL FIBERGLASS, EPOXY
Matériel composé d'une résine époxy vulcanisée avec
un filament parallèle non tissé. Ce type de construction
réduit la tension créée sur les fibres, contrairement aux
plastiques conventionnels qui sont construits de filaments
de fibre de verre de type E, et pour lesquels cette même
tension écourte la durée de vie du matériel. Disponible en
feuilles ou en formes spécifiques découpées. Le CYPLY
est couramment utilisé pour les convoyeurs vibrants.
CYPLY is a cured epoxy composite material based on a
unique non-woven, parallel filament construction. This
type of construction minimizes filament stress abrasion
that can shorten fatigue life in conventional reinforced
plastics and uses type E continuous filament fiberglass.
It is supplied as cured flat panels or cut to size shapes.
It is commonly used for vibrating conveyors.
FORMES DISPONIBLES/AVAILABLE SHAPES