Thermo-welded expansion joint
Industries 3R now offers thermo-welded expansion joints made from fluoroplastic membranes which possess a very high resistance to temperatures and aggressive products. We also offer you the opportunity to rent equipment in order to make your own seals on site. The choice of material for the manufacture of thermo-welded expansion compensators always depends on the application.
Material
TEXLAM 1500
TEXLAM 2000
Temperature
Continuous
-40°C to 260 °C (-40°F to 500 °F)
-40°C to 260 °C (-40°F to 500 °F)
Short-time
300 °C (572 °F)
315 °C (600 °F)
Weight per square foot
0,31 lb/ft2
0,42 lb/ft2
Total thickness
0,037 in
0,047 in

Movement possibilities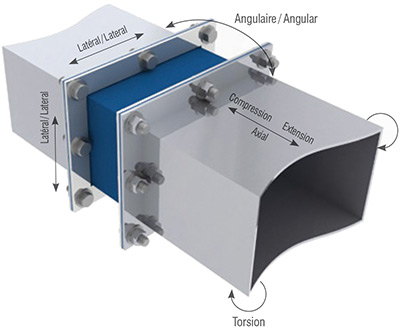 Lateral
Angular
Axial (compression, extension)
Torsion
The materials used and the methods of manufacturing are directly linked to various movement possibilities as well as variations in temperature operation and production downtime delays.