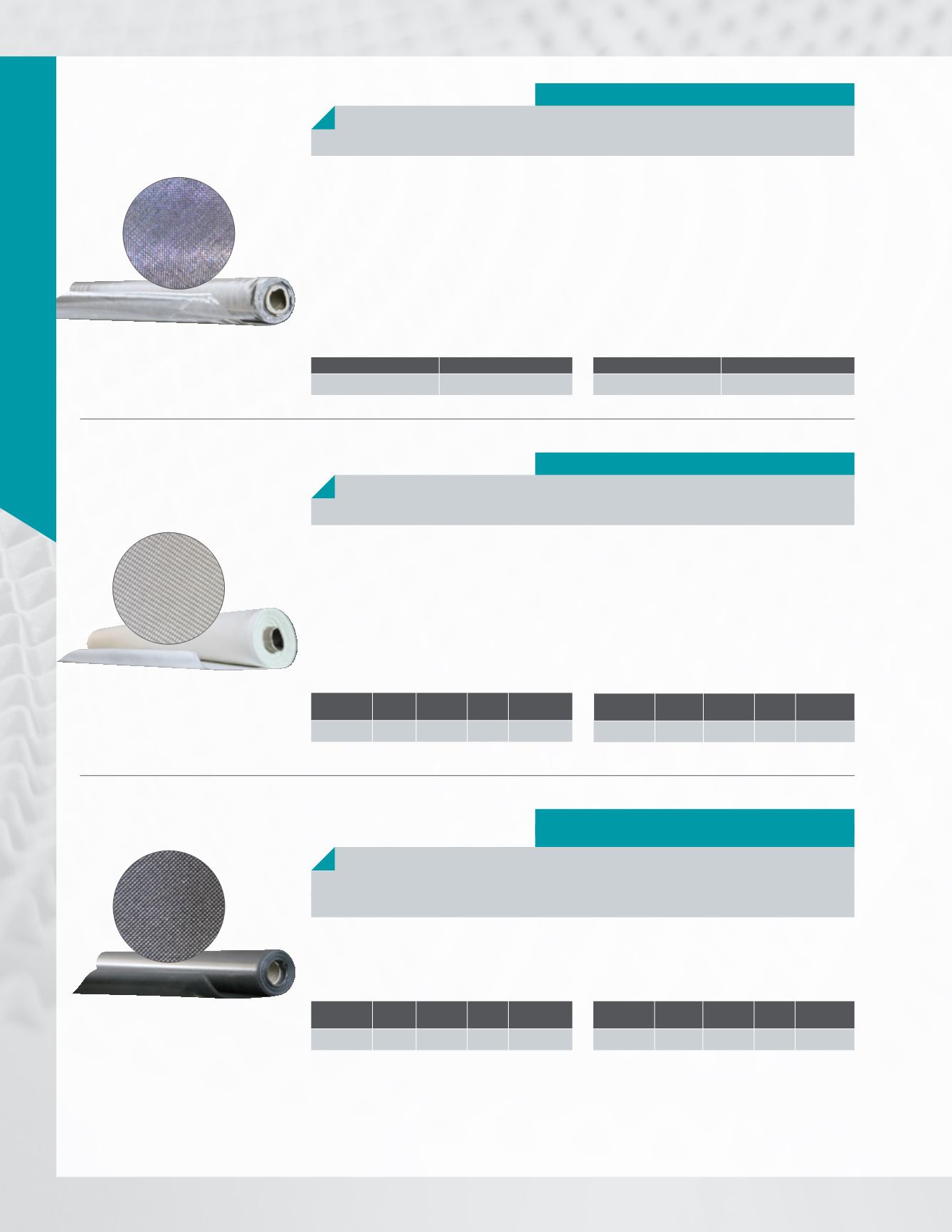 TEXTILES HAUTE TEMPÉRATURE  /HIGH TEMPERATURE TEXTILES
GRILLAGE STAINLESS/STAINLESSWIRE MESH
Tissé d'acier 94 mailles à partir d'un fil d'acier
inoxydable 304 ou 316 de 0,035" de diamètre.
Il résiste à des températures maximales de 760 °C
et possède des trous de 0,071" de diamètre. Ce
grillage est utilisé pour le recouvrement protecteur
de matelas ou pour le recouvrement intérieur de
ceux-ci, afin d'augmenter leur rigidité. Le MESH
316 offre une résistance accrue à la corrosion
lorsqu'il est en contact avec des substances
TEMPÉRATURE MAXIMUM
DIAMÈTRE DES TROUS
Wire mesh braided at 94 meshes with a 304
or 316 stainless steel wire (0.035"). It resists
to maximum temperatures of 1400 °F and has
0.071" diameter holes. This strong wiring is
used to protect mattresses or put inside to make
them more rigid. It offers an increased resis-
tance to corrosion when in contact to chemical
substances.
MAXIMUM TEMPERATURE
HOLE DIAMETER
TISSU DE NYLON/NYLON COMBO CLOTH
Fabriqué de filaments de nylon torsadés, le 3R1135
est utilisé dans la fabrication de manchons situés
entre les lignes d'aspiration et les tamis vibratoires.
Pour augmenter son étanchéité, ce tissu peut être
recouvert de silicone rouge haute température. Il
devient alors très efficace à utiliser dans la fabri-
cation de gaines de chutes pour le transfert des
TEMPÉRATURE
MAXIMUM
POIDS
ÉPAISSEUR LARGEUR
LONGUEUR
PAR ROULEAU
Made from nylon re-twisted threads the 3R1135
is designed for the fabrication of pipe sleeves
between aspiration lines and vibrating sifters. To
increase the abrasion resistance, this fabric can
be coated with high temperature red silicone. It
also is a really good reinforcement material for
chute linings that transfer abrasive materials.
MAXIMUM
TEMPERATURE
WEIGHT
THICKNESS WIDTH
LENGTH
PER ROLL
TISSU POLYESTER POLYURÉTHANE/ 
POLYESTER POLYURETHANE FABRIC
Ce tissu est conçu pour la fabrication de protecteur
de rails, car il est souple et se coud facilement.
Il résiste bien à l'abrasion et aux huiles.
TEMPÉRATURE
MAXIMUM
POIDS
ÉPAISSEUR LARGEUR
LONGUEUR
PAR ROULEAU
This fabric is designed for the fabrication of rail
covers, it is flexible, easy to fold and sew.
It resists to abrasion and oils.
MAXIMUM
TEMPERATURE
WEIGHT
THICKNESS WIDTH
LENGTH
PER ROLL