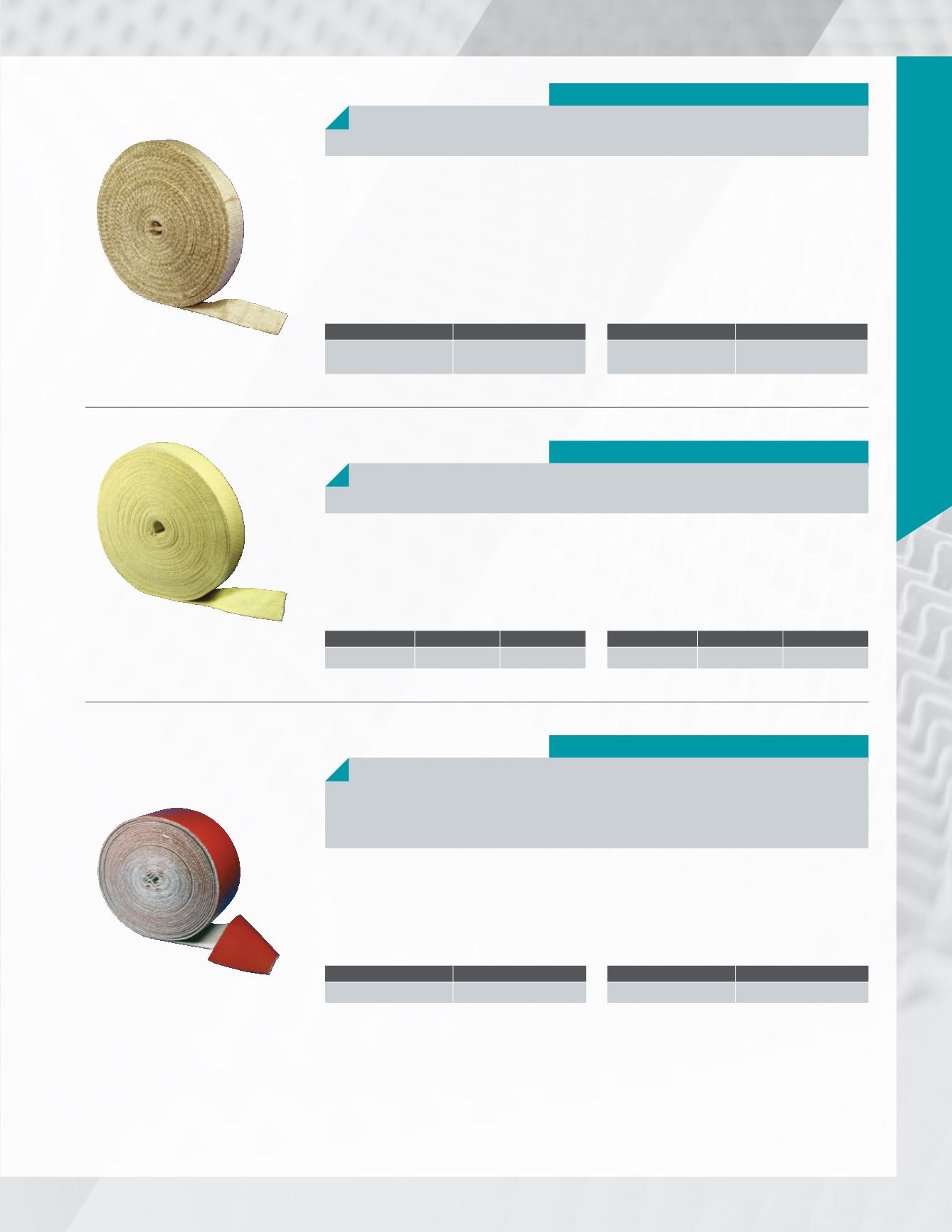 TEXTILES HAUTE TEMPÉRATURE  /HIGH TEMPERATURE TEXTILES
RUBANVERMICULITE/VERMICULITE TAPE
Ce ruban est tissé à partir de fils de fibre de verre
et enduit d'une solution de vermiculite. Le recou-
vrement incombustible de cristaux de vermiculite
agit comme une armure sur le fibre de verre. Ainsi,
lorsque le ruban est en contact avec une chaleur
pouvant atteindre 815 °C, celle-ci est dispersée
également dans le ruban au lieu de le traverser,
car le traitement constitue l'écran protecteur.
LONGUEUR DISPONIBLE
LARGEUR DISPONIBLE
3/4", 1", 1 1/2", 2", 2 1/2",
This tape is made of fiberglass yarn and coated
with a vermiculite solution. This non-combusti-
ble coating made of plate-like mineral crystals,
acts like an armor to the fiberglass, when heat
(up to 1500 ºF) strikes the fabric, it travels
across rather than through it, shielding the
fiberlgass from the heat source.
AVAILABLE LENGTH
AVAILABLE WIDTH
3/4", 1", 1 1/2", 2", 2 1/2",
Le 3R123 est fabriqué de fils d'aramide qui
possèdent un cœur de fibre de verre. Ce ruban
est couramment utilisé dans les endroits où
la résistance à l'abrasion est importante mais
où la température est modérée.
TEMPÉRATURE CONTINUE
LARGEUR DISPONIBLE
ÉPAISSEUR DISPONIBLE
The 3R123 tape is made with Nomex/Kevlar
yarns with a fiberglass core. This tape is com-
monly used in places where abrasion resistance
is important but temperatures are moderate.
CONTINUOUS TEMPERATURE
AVAILABLE WIDTH
AVAILABLE THICKNESS
RUBAN DE FIBRE DE VERRE ENDUIT
DE SILICONE ROUGE/FIBERGLASS TAPE
Ce ruban de fibre de verre enduit de silicone offre
une excellente protection aux boyaux hydrauliques.
Également, il résiste très bien aux éclaboussures
de métal en fusion, et peut tolérer une température
LONGUEUR DISPONIBLE
LARGEUR DISPONIBLE
This silicone coated fiberglass tape provides
an excellent protection for hydraulic hoses, it
resists really well to molten metal splatter and
tolerates temperatures of 500 °F and more.
AVAILABLE LENGTH
AVAILABLE WIDTH