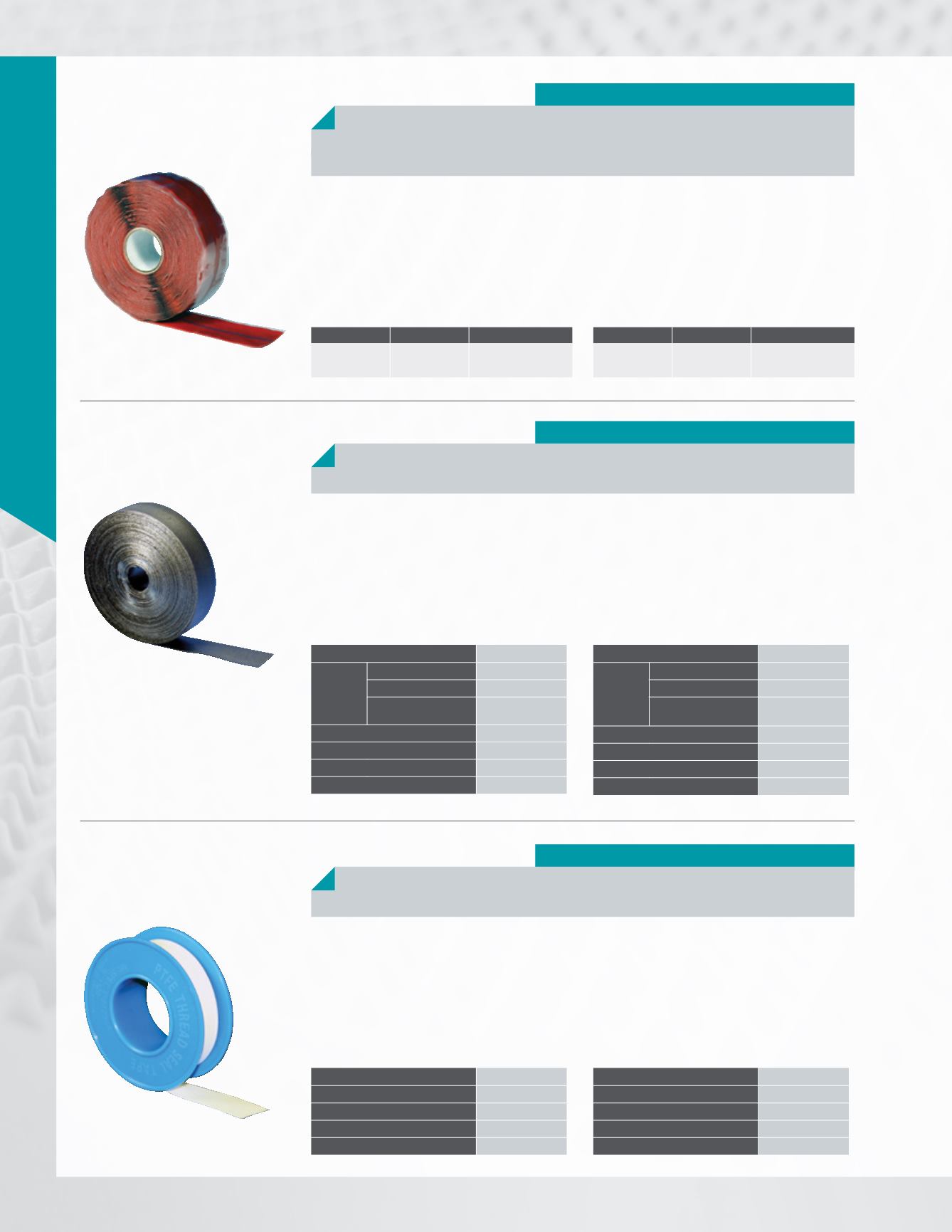 TEXTILES HAUTE TEMPÉRATURE  /HIGH TEMPERATURE TEXTILES
RUBAN DE SILICONE AUTOCOLLANT / 
SELFADHESIVE SILICONE TAPE
Utilisé pour recouvrir les joints et sceller les extrémités,
ce ruban de silicone autocollant adhère très bien à
la gaine TXP660S et au ruban de silicone TXP125S.
Il empêche également les saletés et les huiles de
s'infiltrer entre la gaine et le tuyau. Pour un rendement
optimal, nous recommandons d'étirer le ruban SILIPST
lors de l'installation, afin qu'il scelle adéquatement.
SILIPST16
SILIPST24
SILIPSTTR16 (RENFORCI)
Used to cover the seals and to seal the ends,
this self-adhesive tape adheres well to the
silicone tape TXP125S and to the silicone tubing
TXP660S. It also prevents oil and other residue
infiltrations within the tubing. For best results,
we recommend stretching the SILIPST tape
during installation for adequate sealing.
SILIPST16
SILIPST24
SILIPSTTR16 (REINFORCED)
RUBAN GRAPHITE FLEXIBLE/FLEXIBLE GRAPHITE TAPE
Le GRA2550 est fait de graphite d'une grande pureté,
sans fibre, liant ou autre additif. Il est couramment
utilisé dans les boites de bourrage (Stuffing Box) sur
des pompes ou des valves. Identique au GRA2550,
le GRA2551 est en plus doté d'une bande autoadhé-
sive. Ce ruban peut donc être utilisé comme scellant
sur des formes multiples et des surfaces irrégulières.
TEMPÉRATURE MINIMUM
TEMPÉRATURE
MAXIMUM
AIR
VAPEUR
MILIEU RÉDUCTEUR
OU INERTE
PH
ÉPAISSEUR DISPONIBLE
LARGEUR DISPONIBLE
LONGUEUR PAR ROULEAU
The GRA2250 is made from high purity graphite
with no fibers, binders or other additives. It
is typically used as a stuffing box packing for
pumps and valves. Identical to the GRA2550 but
it has an adhesive tape. This tape be used to
seal multiple shapes and irregular surfaces.
MINIMUM TEMPERATURE
MAXIMUM
TEMPERATURE
IN AIR
IN STEAM
IN REDUCING
OR INERT MEDIA STATIC
PH
AVAILABLE THICKNESS
AVAILABLE WIDTH
LENGTH PER ROLL
RUBAN PTFE INDUSTRIEL/ INDUSTRIAL PTFE TAPE
Le ruban de PTFE est un produit d'étanchéité
fabriqué à partir de particules pures de PTFE. Il est
flexible, sec et non durcissant. Facile à installer, il
pénètre dans le filetage par serrage manuel et il ne
se déchire pas lorsque les filetages sont vissés. Ce
ruban, de type industriel, est beaucoup plus résis-
tant que les rubans de PTFE de type commercial.
TEMPÉRATURE
PH
ÉPAISSEUR DISPONIBLE
LARGEUR DISPONIBLE
LONGUEUR PAR ROULEAU
The C-24 sealing tape is made of pure PTFE
particles. It is flexible, dry and non-hardening.
Easy to install, it penetrates in the treading during
manual tightening and does not tear when the
threads are screwed. Note: this tape is an indus-
trial type tape and is much more resistant than
the ones seen at the commercial level.
TEMPERATURE
PH
AVAILABLE THICKNESS
AVAILABLE WIDTH
LENGTH PER ROLL