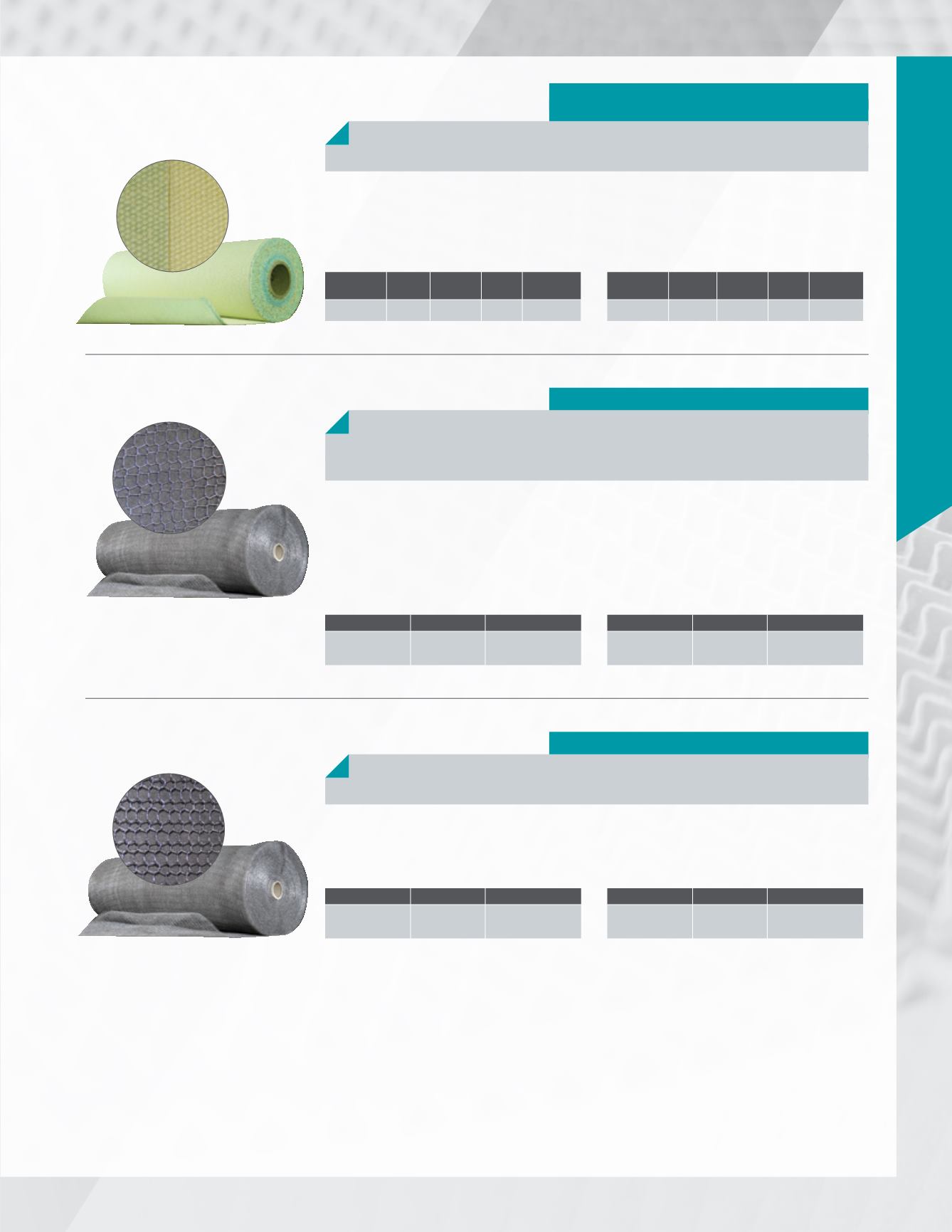 TEXTILES HAUTE TEMPÉRATURE  /HIGH TEMPERATURE TEXTILES
TISSU DE KEVLAR TRAITÉ/TREATED KEVLAR FABRIC
Possédant les mêmes caractéristiques et
domaines d'application que le KC2200, ce tissu
possède un traitement efficace pour faciliter
la découpe et les opérations de couture.
TEMPÉRATURE
MAXIMUM
POIDS
ÉPAISSEUR LARGEUR
LONGUEUR
PAR ROULEAU
With the same characteristics and applications
as the KC2200, this fabric possesses a
treatment to ease cutting and sewing
operations.
MAXIMUM
TEMPERATURE
WEIGHT
THICKNESS WIDTH
LENGTH
PER ROLL
GRILLAGE ACIER INOXYDABLE/ 
Tricoté en forme tubulaire, ce matériel est idéal
pour le recouvrement des matelas isolants
et des enveloppes protectrices des tuyaux
d'échappement. Flexible dans les deux sens,
il s'adapte aux surfaces irrégulières et résiste
bien à l'humidité et à la corrosion.
TEMPÉRATURE MAXIMUM DIAMÈTRE DES TROUS PIEDS CARRÉ/LIVRE/1 PLI
Knitted in a circular pattern, it is ideal for
covering insulation mattresses and protective
envelopes for mufflers. Flexible in both direc-
tions, it conforms easily to irregular surfaces.
It withstands moisture and corrosion.
MAXIMUM TEMPERATURE HOLE DIAMETER
SQUARE FEET/POUND/1 PLY
GRILLAGE INCONEL/ INCONELWIRE MESH
Semblable au MESH SS, le grillage d'inconel
est aussi tricoté en forme tubulaire, mais
résistant à de plus hautes températures.
TEMPÉRATURE MAXIMUM DIAMÈTRE DES TROUS PIEDS CARRÉ/LIVRE/1 PLI
The wire MESH INC is similar to the MESH SS
but with higher temperature resistance.
MAXIMUM TEMPERATURE HOLE DIAMETER
SQUARE FEET/POUND/1 PLY