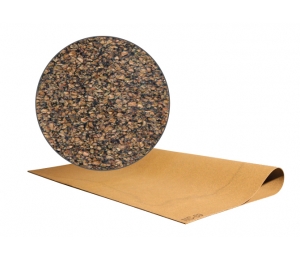 CORK RUBBER (100N)
The 3R896 (100N) is a medium neoprene and cork material extremely durable with superior tensile and tear strength. It is capable of withstanding large temperature variation from -40 ° C to 121 ° C.
Applications
The 3R896 is highly oil resistant and ideal for transformer sealing applications.
Specifications
Technical Data
Physical Properties
Polymer
Synthetic rubber
Color
Natural
Durometer Shore A (ASTM D2240), pts
50-70
Density (ASTM D3676) (g/L, min)
705
Tensile Strenght (ASTM F152), Mpa
1.72
Compressibility (400 psi), (ASTM F36), %
25-35
Recovery (ASTM F36), %
75 min.
Flexibility (ASTM F147)
2 max.
Compression set, Method B, 25% defelction, 22hrs., 70°C (ASTM D395)( %)
60 max.
Immersions
Volume change, Oil 1, 70 hrs. 100°C (ASTM F146) (%)
-2 to +20
Volume change, Oil 3, 70 hrs. 100°C (ASTM F146)(%)
+15 to +50
Volume change, Fuel A, 22 hrs at RT (ASTM F146) (%)
+0 to +15
Volume change, Transformer oil, 70 hrs. 100°C (ASTM F146)(%)
+20 to +30
N.B. The information, details and values indicated are to the best of our knowledge. We recommend to conduct tests according to local conditions. The data is subject to some variations without notice.