Industries 3R, your partner for innovative solutions
Leader in the design, manufacturing and distribution of industrial high temperature resistant products, Industries 3R is renowned for over 35 years of expertise in research and development. With many custom projects developed by our team, we stand out from the competition by answering the specific needs of our customers.
Our products are intended for the energy sector as well as for the large industrial market. Regardless of the industrial applications to fulfill, our team will wisely advise you on the choice of suitable high temperature products to use.
We hope that this website will permit you to explore the multitude of products offered by Industries 3R.
News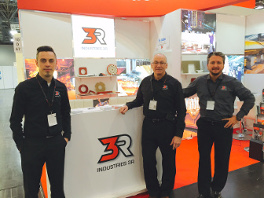 From November 29th to December 2th, 2016, the 11th edition of the industrial fair "Aluminium" was held in Düsseldorf, Germany. The event has broken attendance records this year. The numbers speak for themselves: 6% more exhibitors (992 total) and 2% more visitors (24 748 visitors). The event is also gaining ground internationally with the participation of exhibitors from 58 different nationalities. It is true that the properties of this raw material increasingly interest the construction and manufacturing industries, all over the world. The aluminum is lightweight, strong, corrosion resistant and easy to recycle. Demands continue to grow in a number of areas, such as the automotive industry, in particular...
Pour une 3e fois consécutive, Industries 3R était exposant au Salon industriel de Québec 2016 (SIQ 2016) qui se tenait cette année du 4 au 6 octobre. Cet événement à lieu tous les 2 ans dans la capitale nationale et c'est un rendez-vous toujours intéressant pour une compagnie désirant se faire connaître davantage des grandes entreprises, pour présenter un nouveau produit ou pour développer de nouvelles relations d'affaires.

Always true to our habits, we once again lent a hand this year at the Université de Sherbrooke for the construction of a most interesting mechanical engineering project. The team of the EMUS (Electric Motorcycle University of Sherbrooke) project has indeed caught our attention with its project of designing and manufacturing...