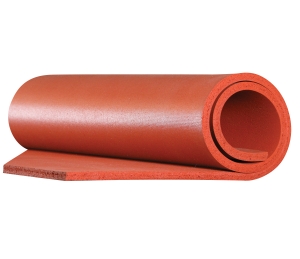 Rubber
Available in soft, medium and firm density, the 3R843 is available in continuous rolls and in sheets up to 2" thick. Generally, the silicone sponge has a smooth finish.
Downloads
Applications
The red silicone sponge is an excellent material for gasketing applications that require a soft compressible material. It is resistant to high temperatures and UV/Ozone and offers a good compression set.
Specifications
Technical Data
Properties
Density lbs/ft³
15-24
Compression - deflection, 25%
6-9 psi (42-63 kpa)
Compression set 22 hours at 100°C (212°F)/50%
6%
Temperature
260°C (500°F)
Water absorption
5%
Tensile strength
200 psi (1370 kpa)
Elongation, %
230
Thermal conductivity BTU in/hr, ft², °F
0.50
N.B. The information, details and values indicated are to the best of our knowledge. We recommend to conduct tests according to local conditions. The data is subject to some variations without notice.