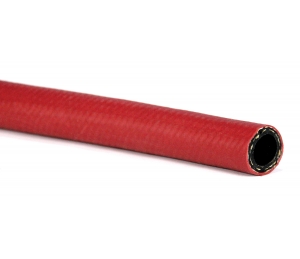 General use EPDM
EPDM tube covered with red EPDM and multiple layers of synthetic yarns. It is resistant to abrasion and weather conditions.
Applications
The GPE type industrial hose is used for air tools, water and low pressure chemical spray products.
Specifications
Données techniques
Temperature
-30 to 93 °C (-20 to 200 °F)
Pressure
1/4" to 3/4"
250 lbs / in²
1" to 2"
150 lbs / in²
Inside diameters available
1/4" to 2"
N.B. The information, details and values indicated are to the best of our knowledge. We recommend to conduct tests according to local conditions. The data is subject to some variations without notice.