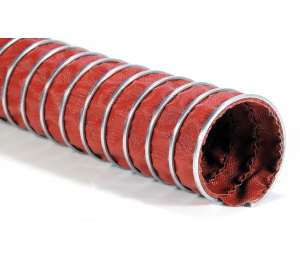 Silicone fiberglass
Ducting made of fiberglass fabric impregnated with silicone rubber with a galvanized external helix. It is light weight, water and oil resistant and flame retardant.
Applications
Very flexible, the type SGR hose duct it is perfect for fume extractions.
Specifications
Données techniques
| | |
| --- | --- |
| Temperature | -55°C to 260°C (-65°F to 500°F) |
| Ratio | 6 : 1 |
| Color | Red |
N.B. The information, details and values indicated are to the best of our knowledge. We recommend to conduct tests according to local conditions. The data is subject to some variations without notice.