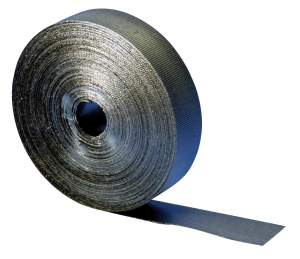 Graphite tape
The GRA2250 is made from high purity graphite with no fibers, binders or other additives. It is identical to the GRA2550 but has an adhesive tape. This tape be used to seal multiple shapes and irregular surfaces.
Downloads
Applications
This graphite tape covers a broad range of sealing applications. It handles most chemicals in the 0 – 14 pH range, elevated temperatures from -320 °F to 5400 °F. It is used extensively in the chemical, automotive and pump and valve industries.
Specifications
Service limits
Temperature limits
Minimum
-200°C (-325°F)
Maximum in air
450°C (840°F)
In steam
645°C (1190°F)
In reducing or inert media
3000°C (5400°F)
Pressure: Static
2000 psi (137 bar)
pH
0-14
N.B. The information, details and values indicated are to the best of our knowledge. We recommend to conduct tests according to local conditions. The data is subject to some variations without notice.