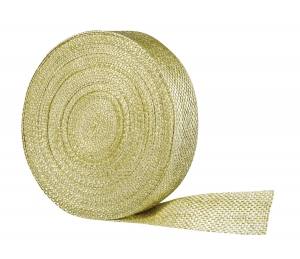 Silica
Made of 96% silica, this tape is fire resistant and protects against contamination during high temperatures. The TXP1121 is flexible and can be used for long periods at temperatures reaching up to 1800°F.
Downloads
Applications
It is commonly used to cover hoses and cables from molten metal splash and from radiant heat. For example, it can be used as insulation in environments with ferrous and non-ferrous melting metals. I can also be used to insulate cooling lines, gas lines, water pipes, electric cables and all other lines that may receive molten metal sparks. It is recommended to wrap the tape in a spiral to avoid splashing if a pipe breaks.

Available thickness : 1/16"
Possible widths : 2", 3" and 4".
Specifications
Technical Data
| | |
| --- | --- |
| Thickness | 1/16" |
| Widths | 2", 3" and 4" |
N.B. The information, details and values indicated are to the best of our knowledge. We recommend to conduct tests according to local conditions. The data is subject to some variations without notice.