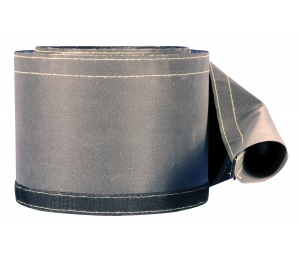 Eco-cable
The protective cover 3R172 is made with a fiberglass fabric coated on both sides with neoprene. The basic glass fabric used offers a resistance to temperatures reaching up to 1000°F. As for the neoprene coating, it increases the resistance to wear and tear while protecting the cables against the penetration of oils and greases. On each side, a 1" wide Velcro closing tape, sewn with an aramid thread and/or glued, is very practical since it reduces time loss due to broken hoses, because it can be easily opened and closed.
Downloads
Applications
The 3R172 is commonly used in welding shops to protect the cables and hoses on automatic, semi-automatic and plasma welding equipment from sparks and hot droplets of molten metal. The protective cover also keeps all the cables and hoses together to avoid damages, wear and accidents.
Specifications
Technical Data
Width
4", 5½", 6", 7", 9"
Length of standard roll
50 feet
Temperatures
Fiberglass fabric
535°C (1000°F)
Neoprene coating
95°C (190°F)
Color
Black
N.B. The information, details and values indicated are to the best of our knowledge. We recommend to conduct tests according to local conditions. The data is subject to some variations without notice.