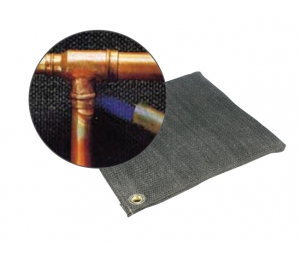 Protective mat
The TXP250 is a flexible protective cushion specifically designed for welding work. This welding cushion is custom made according to the customer's specifications. It is generally made from an insulating product such as glassmat and covered on both sides with graphite-treated fiberglass fabric. However, the choice of the fiberglass fabric may vary according to the application. It can also be equipped with grommets to facilitate its use.
Applications
The TXP250 is ideal to protect surfaces such as wood, metal, and plastic from sparks when welding in confined spaces. The covering of fiberglass cloth on both sides gives it, for this purpose, an optimal use. This cushion can also be used to prevent welder injuries due to direct contact with weld seams or to allow a more comfortable working position.

The TXP250 is resistant to high temperatures, but these temperatures can vary depending on the fiberglass fabric chosen according to the desired application.
Specifications
Technical Data
Standard available dimensions
12" x 12", 18" x 18", 24" x 24"
Temperature
Continuous
500°F to 1000°F (260°C to 535°C)
Maximum
500°F to 1495°F (260°C to 815°C)
Thickness
1/2" to 2"
Available dimensions
Custom dimensions according to application
N.B. The information, details and values indicated are to the best of our knowledge. We recommend to conduct tests according to local conditions. The data is subject to some variations without notice.