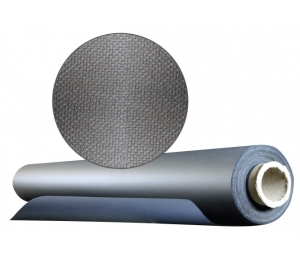 Polyurethane polyester
The 3R418 is a polyester fabric coated with polyurethane on both sides.
It has several advantages, including excellent weldability to hot air and very good chemical resistance: oils, solvent, alcohol and ammonia. It also has a good resistance to abrasion and aging.
Downloads
Applications
The 3R418 is specially designed for equipment protection. This fabric is very suitable as a safety protection system to limit access to moving mechanisms. In addition, it is ideal for the manufacture of rail covers, but also for lift covers and protectors for endless screws and cylinders.
Specifications
Technical Data
Color
Black
Width
61" (1550 mm)
Weight (ISO 2286-2A)
310 ± 20 g/m² (9 oz./yd²)
Thickness (ISO 2286-3)
37 ± 3 / 100
Temperature
Continuous
302°F (150°C)
Maximum
392°F (200°C)
Tensile strenght (ISO 1421-1)
≤ 170/120 DaN
Flextural resistance (ISO 32100)
> 60 000 cycles
N.B. The information, details and values indicated are to the best of our knowledge. We recommend to conduct tests according to local conditions. The data is subject to some variations without notice.