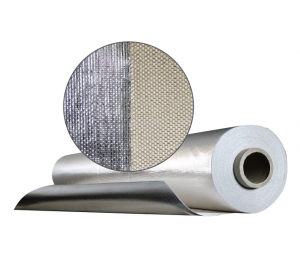 Aluminized fiberglass
Weaved from fiberglass yarn and laminated to an aluminum foil with a high temperature adhesive, this fabric has excellent heat, chemical and moisture resistance.
Downloads
Applications
The EKA 644 is ideal as a heat reflecting barrier material.
Specifications
Technical Data
Weight (ASTM-D-3776) ( oz/sy²)
ASTM-D-3776
19.5
Thickness (ASTM D-1777)
ASTM D-1777
0.026"
Tensile strenght (ASTM D-5587)
ASTM D-5587
Warp : 250 lbs/in
Fill: 200 lbs/in
Tear strength (ASTM D-5587)
ASTM D-5587
Warp : 50 lbs
Fill: 50 lbs
Burst strength (ASTM D-3786) (psi)
ASTM D-3786
550
Temperature of the aluminized foil
150°C (300°F)
N.B. The information, details and values indicated are to the best of our knowledge. We recommend to conduct tests according to local conditions. The data is subject to some variations without notice.