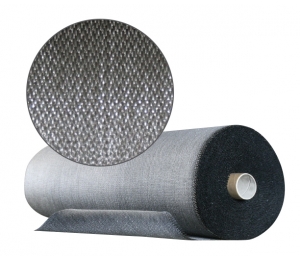 Graphite fiberglass
«Graflex» is a graphite/silicone oil treatment which when applied to the cloth confers much better resistance to flex abrasion in arduous, high temperature environments. This cloth has a high degree of stability, flexibility and strength.
Downloads
Applications
Offering a high resistance to flame, flexibility and abrasion, this cloth is an excellent choice for protective cushions. The «Graflex» fabric is also recommended for applications in presence of humidity.
Specifications
Technical Data
Weight (g/m²)
1133 nominal
thickness (mm)
1.8 nominal
Tensile strength
Warp (N/50mm)
2728 nominal
Weft (N/50mm)
2280 nominal
Service temperature short term
535°C (1000°F)
Service temperature continuous
315°C (600°F)
N.B. The information, details and values indicated are to the best of our knowledge. We recommend to conduct tests according to local conditions. The data is subject to some variations without notice.