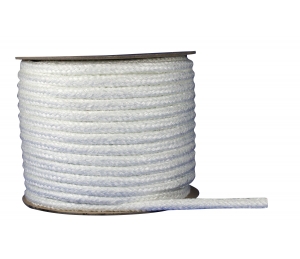 Fiberglass cables
These cables are made from high quality fiberglass texturised yarns and are designed for high temperature industrial applications. TXP650 cables are flexible, allowing them to match uneven surfaces when used as static seals. They keep their traction strength up to 1000°F and are available in round, square and rectangular braided forms.
Downloads
Applications
These cables are commonly used as static gaskets for industrial ovens,cables for crucibles (aluminum), furnaces, boilers, doors and moulds. They are completely incombustible and resist most acids and alkali.
Specifications
Technical Data
Diameter (Feet/Roll)
3/16"
300
1/4"
200
3/8"
200
1/2"
200
5/8"
200
3/4"
Feet/Roll
100
7/8"
100
1"
100
1-1/4"
65
1-1/2"
50
2"
50
N.B. The information, details and values indicated are to the best of our knowledge. We recommend to conduct tests according to local conditions. The data is subject to some variations without notice.