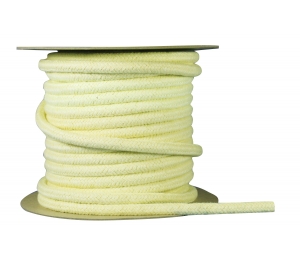 Aramid cables
The KC 650 cable is made with aramid yarns braided around a fiberglass inner core and resists to temperatures reaching 650°F. Although more economical, it resists to the same applications as the 3R653, but in less severe conditions.
Downloads
Applications
It is ideal where excellent tensile strength and abrasion resistance is required. It also has a very good resistance to the majority of fuels and lubricants and it keeps its properties when confronted to chemical products and vibrations. It is easy to cut and manipulate and does not emit dust.
N.B. The information, details and values indicated are to the best of our knowledge. We recommend to conduct tests according to local conditions. The data is subject to some variations without notice.