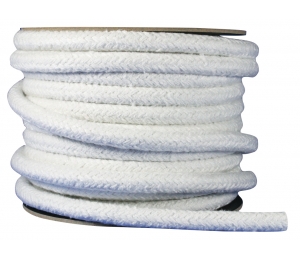 Ceramic cables
This braided cable is made of high quality ceramic yarns. A silione reinforcement is added to improve its tensile strength. The 3R2650SIL is available in round and square form.
Downloads
Applications
Whether used for sealing jobs or thermal insulation this cable is often used as a sealant. Easy to handle, the 3R2650SIL can be cut, rolled up and by-pass around sharp objects. When a high density is required, it is recommended to use a square cable.
Specifications
Technical Data
| | |
| --- | --- |
| Temperature | 985°C (1800°F) |
| Available dimensions | 0.125" to 3" |
N.B. The information, details and values indicated are to the best of our knowledge. We recommend to conduct tests according to local conditions. The data is subject to some variations without notice.