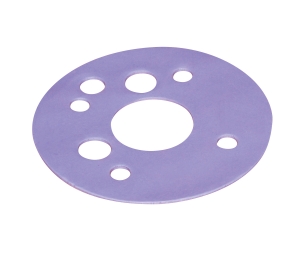 Tealon
The 3R8000 is produced from virgin PTFE resin filled with hollow glass micro spheres. This unique process of fabrication provides the Tealon® a high level of fibrillation to overcome the creep relaxation and cold flow problems associated with mechanical grade (3R810) and virgin grade (3R812) PTFE sheets.
Downloads
Applications
It is suitable for services with a wide variety of aggressive fluids, including hydrocarbons, acids and caustics, solvents, water, steam, hydrogen-peroxide and refrigerants. The high compressibility of 3R8000 makes it particularly suitable for use with stress sensitive and/or fragile flanged joints.
Specifications
Technical Data
Availability
Sheets of 62"x62" in 1/16" and 1/8" thickness
Color
Blue
pH Range
0-14
Max. Pressure
55 bar
Temperature
-210°C to 260°C (-350°F to 500°F)
P * T = psi * °F / (bar * °C)
350 000 (12 000) based on 1.5 mm thick
250 000 (8 600) based on 3.0 mm thick
Physical properties
ASTM F-36A
Compressibility Range @ 350 bar (%)
35
Recovery @ 350 bar (%)
25-30
Tensile strength (Mpa) (ASTM 152)
14
ASTM D-792
Specific Gravity (g/cm³)
1.7
ASTM F-38
Creep Relaxation (%)
40
ASTM F-37A
Sealability (ml/h @ .7 bar)
0.12
DIN 3535
Sealability (mg/m²)
<0.001
N.B. The information, details and values indicated are to the best of our knowledge. We recommend to conduct tests according to local conditions. The data is subject to some variations without notice.