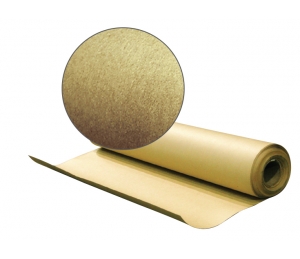 Oil proof sheet packing
The 3R 835 consists of a cellulose fiber base which has been impregnated with a protein and glycerine binder. It has exceptionally good sealing properties and is highly conformable to compensate for distortions in flanges. This material is chemically inert in the presence of petroleum lubricating oils, automotive gasoline, diesel fuels, heating oils and many organic solvents. It contains an antimicrobial compound to resist fungus organisms.
Downloads
Applications
It possesses excellent sealing properties and adapts well to uneven flanges. It is used to fabricate gaskets when there is a presence of oil, grease, tar and water.
Specifications
Physical properties
Colour
Beige
Temperature
120°C (245°F)
Compressibility at 1000 psi, (6.89 Mpa) load %
25-40
Recovery minimum %
40
Tensile strenght minimum psi
2000
ASTM - "Fuel B"
Thickness increase, maximum %
5
Weight increase, maximum %
15
ASTM - Oil #3
Thickness increase, maximum %
5
Weight increase, maximum %
15
Distilled water
Thickness increase, maximum %
30
Weight increase, maximum %
90
Thickness available
0.06'', 0.015'', 0.032'', 0.062'', 0.125''
Width
40''
N.B. The information, details and values indicated are to the best of our knowledge. We recommend to conduct tests according to local conditions. The data is subject to some variations without notice.